Recollections

Stockbridge

On the Water of Leith

At the northern edge of Edinburgh New Town

1.

Yvonne Cain
(née Dorr)
New South Wales, Australia

- Pawn Shop

2.

- Leslie Place

- Shops

3.

Eddie Duffy
Fox Covert, Edinburgh

with comment from
Bob Henderson
Burdiehouse, Edinburgh

- Home

- Horses and Carts

- Other Businesses

- Sunday Walks

- Return to Stockbridge

- The Old Homes

4.

Dorothy Land
(née Jeremy)
Suffolk, England

1930s

- The Depression

- Stale Bread and Bruised Fruit

- Broken Biscuits

- Shivery Bite

- Apples

- Clothes

5.

Jim Patience
Alberta, Canada

- Madame Doubtfire

- Jamaica Street

6.

Shirley Thomson
(née Canale)
Yorkshire, England

- Bedford Street

- Raeburn Place

- Around Stockbridge

7.

Allan Dodds
Nottingham, Nottinghamshire, England

- The Steamie and Washing

- The Steamie

8.

Keith Main
London, England

1960s

- Milk Deliveries

- Bruce's the Bakers

- Clinigan's, Newsagent

- The Store

- Tokens, Coupons, Stamps

- Ice Cream

- Edinburgh Hse + Paper Stall

- Opposite Edinburgh House

- Maison Victor

- Methven's, Wirelesses

- Cheyne Street

- Doctor's Surgery

- Cleaning Clothes

- Near Woolworths

- Ottie Gall, Barbers

- Evening News Office

- Pet Shop

- Tudor Picture House

- Rankins, Fruit Shop

- Baird's, Shoe Shop

- Near Hamilton Place

- Kerr Street

Reply from

Ian Young
Hawick, Scottish Borders, Scotland

1960s

- Cheyne Street

9.

Elspeth Wallace
Cambridge, Ontario, Canada

- Shops

- Evacuation

- Return to Stockbridge

- Family at Work

10.

Elizabeth Fraser
(née Betty Simpson)
Sydney, New South Wales, Australia

- St Vincent's Street

- Servants' Bells

11.

John Clark
Canada

- 78 Great King Street

- 126 St Stephen Street

12.

Danny Callaghan
Falkirk, Stirlingshire, Scotland

1950

- Doctor

- Dentist

- Johnny the Fishman

1960s

- Wayne's Café

- Moir & Baxter-

13.

Bob Sinclair
Queensland, Australia

- Tudor Picture House

- Another Stockbridge Cinema?

14.

Eddie Duffy
Fox Covert, Edinburgh

- Tudor Picture House

15.

Allan Dodds
Nottingham, Nottinghamshire, England

- Dentist

16.

Lorraine Bruce
(née Dutton)
Dingwall, Ross & Cromarty, Scotland

- The Colonies Houses

17.

William Stewart
Kingston, Ontario, Canada

- Preachers, the Bakers

18.

Dorothy Finlay
(née Cossar)
Queensland, Australia

- John Finlay

18

Reply

1.

Hugh Gray
Australia

- The Grand Cinema

19.

Margaret Cooper
Colindale, North London, England

- Grand Cinema

20

Elizabeth Fraser
(née Betty Simpson)
Sydney, New South Wales, Australia

- Inside No.18

21.

Eddie Duffy
Fox Covert, Edinburgh

- Bedford Street

- Mrs Guthrie's Toy School

22.

Philip McIntosh
Fox Covert, Edinburgh

- Philip McIntosh Butcher

23.

- Jamaica Street: Grandfather

24.

- Raeburn Hall

25.

- Jimmy and his Milk Horse

26.

- BBC2 Documentary

- Secret History of Our Streets

- 2012

- 2014

- Which Street?

27.

Robert Thomson
Hamilton, Ontario, Canada

- Boys' Brigade: 27th Company

- My Home

28.

Robert McLean
Buckinghamshire, England

- Stockbridge Cinemas

- The Grand

- My Family

29.

Robin McAra
Trinity, Edinburgh

- 1940s

- Water of Leith

- Sneaking for Apples

- Streetwise Attitude

- In the Streets

- Aleavoy

- The Botanics

- Inverleith Park

- Summer in the Park

- Winter in the Park

- Accies' Rugby Field

- Glenogle Swimming Baths

- Flora Stevenson Schoool

- Dean Village School

- The Cinema

- History of 'The Grand'

- The Halls

- Street Parties

- Grieves' Dairy

- Friends at Mary's Place

30.

Allan Dodds
Nottingham, Nottinghamshire, England

- Visits to Stockbridge

- The Butcher, Gavin Nimmo

31.

Bob McLean
Buckinghamshire, England

- Stockbridge Colonies

- Move to the Colonies, 1962

- After Falshaw Bridge

- 'Glennies'

- Water of Leith

- Puddocky

32.

Ian Tait
Pitlochry, Perthshire, Scotland

- Grieves' Dairy

- Ramage's Dairy

- Flora Stevenson School

33.

Kathleen Hughes
Liverpool, England

- Bedford Street

34.

Alex Dick
London, Ontario, Canada

- Cheyne Street

35.

Simon Clegg
Australia

Shops in 1980s

36.

John Keen
Sandtoft, Berkshire, England

- Stockbridge Fire Station

37.

Allan Dodds
Nottingham, Nottinghamshire, England

- Shops in 1980s
Recollections
1.
Yvonne Cain (née Dorr)
New South Wales, Australia
Yvonne wrote:
Pawn Shop
"My dad's friend had the pawn shop at Stockbridge. His dad had it first. It was called Duncan. I don't know if it is still there."
Yvonne Cain (née Dorr), now living in Sydney, New South Wales, Australia: October 6, 2006
Jim Patience replied:
Pawn Shop
"The pawn shop was Wm. Duncanson's. It was turned into a two bedroom flat in 1998 . The three brass balls were still on the wall outside at that time"
Jim Patience, Alberta, USA: April 25, 2008
Recollections
2.
Peter Gilchrist
Peter wrote:
Leslie Place
"I stayed at Leslie Place from birth 1944 to marriage 1966 and remember the milk cart well as I helped the milkman whose name was Jimmy to deliver the milk to our street and St,. Bernard's Crescent."
.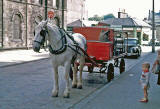 ©
Shops
"Threshers was originally one of Rankins' shops, the other being on the other corner opposite the Fishmonger.
Mrs Bird and her two sons stayed at number 2 Leslie Place. Their shop was formerly a 'Cigar and Tobacco' shop run by a little lady called Isa.
I stayed at number 6a."
Peter Gilchrist, January 25, 2007
Recollections
3.
Eddie Duffy
Fox Covert, Edinburgh
Eddie wrote:
Home
"I grew up in a tenement at 38 Bedford Street in the 1950s and early 1960s. We were just up from the bottom of Dean Park Street
There is a street there now called Bedford Street, but this was built after the original tenements were pulled down in the late 60's.
We lived on the first floor, my Aunt lived in the basement. My grandmother lived at No: 32, her sister at 24, a 2nd cousin at 26 and my Grandfather eventually moved from over the Water of Leith at Saunders Street to Bedford Crescent, so we were all within 50 yards of each other.
We moved away from there in 1967."
Horses and Carts
"There were plenty of characters in Stockbridge in the at that time:
- Jimmy "the milkman" delivering for St. Cuthbert's (with his horse Falcon) as shown in your Leslie Place picture, having his lunch and a wee nip at 38 Bedford Street on Saturdays. I was sometimes allowed to help Jimmy on a Saturday and the seat on the Cart seemed very high up to a 10 year old."
.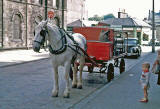 ©
- Jimmy Simpson, the Rag 'n' Bone man, who seemed to live around the bottom of Dean Street on the left hand side past Di Angelo's Ice Cream Shop. The houses there were mostly derelict at the time, with boarded-up windows and open doorways and I am pretty sure he kept his horse in one of them?"
Other Businesses
"I remember:
- Dora Noyce at 17 Danube Street, who ran a very well-known house of "ill repute". I delivered milk here until the early 70's when I worked for Forrest's Dairy in Deanhaugh Street.
- Madame Doubtfire's on the corner of N.W. Circus Place and Howe Street. I often wondered if the film, Mrs Doubtfire, was named after her.
(It was: see 5 below.)
- The Home Bakery and Preacher's in Raeburn Place, where everything was freshly made and the hot rolls were great.
- Johnny's Fish Van, which came to Saunders Street every Saturday morning. I had to travel there from West Granton Crescent each and every week as my mother said that his was the best - fresh!
- Nan's wee shop, down a basement in Dean Street (just up past the Dean Bar), where you could buy a "fourpit" of tatties, but only if you brought your own bag for them."
Fourpit

"Eddie mentions a fourpit of tatties. I thought an explanation of this measure might be of interest to our younger readers. A fourpit = 3 1/2 lbs = 1 fourth part =1/4 of a stone. 1 stone = 14 lbs. 1 kilo = approx 2.2 lbs (lbs = pounds)

Bob Henderson, Burdiehouse, Edinburgh: April 22, 2008
Sunday Walks
"I remember my Grandfather taking my sister and me walking along the Water of Leith on a Sunday morning, ending up at the sweet shop in Huntly Street for a "wee bottle of juice" which had to be finished on the premises.
Then the long walk home again, as my grandad never got the bus anywhere!!
Those were the days."
Return to Stockbridge
"I am in Stockbridge quite a lot still, going to Bert's Bar for the Scotland Football Games, especially. I keep trying to move back there, but it's now so expensive.
The Old Homes
"When I lived there, you could not give property away. No-one wanted to live where we lived. Only one flat out of three on each floor had inside toilets. The other two had to share one on the landing.
There was no central heating or bathrooms. These flats were known as "room 'n' kitchens". Literally a kitchen with a bedroom recess off, divided by a curtain.
I was totally unaware how underprivileged we were.."
Eddie Duffy, Fox Covert, Edinburgh: February 20 + 24, 2007
Recollections
4.
Dorothy Land (née Jeremy)
Suffolk, England
Stockbridge in the 1930s
Thank you to Dorothy Jeremy, now Dorothy Land, who wrote about Edinburgh in the depression of the 1930s
Dorothy wrote:
The Depression
"My Grandfather had a light engineering works ASPEY & SONS, in Leith, which did badly during the Depression in the 1930's.
I imagine the Depression was felt by most people throughout Britain from all walks of life.
My grandparents lived in Leslie Place, Stockbridge, and had expectations of a good standard of living."
Stale Bread and Bruised Fruit
"During the Depression my grandmother fed her four sons and daughter with great ingenuity.
- She would send out a son in the early hours with a pillowcase to call at the baker for stale bread. She would cut off the dry crusts, sprinkle the loaf with water, wrap it in a tea towel and then heat it through in the oven to soften it.
- Another son would be sent to the fruiters (greengrocer) to collect "bruised" fruit. She would then slice off the bruises, peel away any mould and make a fruit salad."
Broken Biscuits
"My mother's task was to collect a paper bag full of 'broken biscuits'. These were the damaged ones left at the bottom of the manufacturer's tin.
Biscuits were not sold in packets in the 30's but scooped out with an aluminum scoop from a large square tin behind the counter.
The kindly shop keeper would sometimes give my mother a couple of whole biscuits as a treat. All the children felt humiliated by having to do the rounds of the shops - but at least they ate well."
Shivery Bite
"The children had no sweets so, as a treat, my mother would save the bullet-hard peas she found at the bottom of her mother's pea and ham soup, twist them in a bit of paper and save them to suck on later.
If you took these to the swimming baths and ate them afterwards, as you were getting dressed, this was called your "shivery bite", she told me.
The local fleapit cinema would let children in for the price of a handful of empty jam jars. Inconceivable!"
Apples
"Despite the hardship my mother was acutely aware there were some even worse off than her own family. Her most poignant memory of Edinburgh poverty was always having a handful of children hanging around her on the school playground while she ate an apple, all begging her to "gie us yer stump hen" (give me your core).
She would leave a few bites on the apple, and reluctantly hand it over.
Clothes
"As for clothes, (apart from hand-me-downs), the women would laboriously unpick woolen knitted garments and re-knit them.
My grandmother cleaned for a few well-to-do ladies and they gave her their old coats. She would then cut them down to make coats and jackets for her children and the neighbours' children.
Everyone helped everyone else out. They were all in the same boat."
Dorothy Land, (née Jeremy), Suffolk, England: June 3, 2007
Recollections
5.
Jim Patience
Alberta, Canada
Jim wrote:
Madame Doubtfire
"Re Eddie Duffy Recollection of Madame Doubtfire. The movie was based on her. There was an article in 'The International Express' a couple of years ago about her."
Jamaica Street
"I stayed in Jamaica Street, a stone's throw from her shop and I still have two cigarette cases I bought in 1950 or 1951 when I was 13."
Jim Patience, Alberta, Canada: April 22, 2008
Recollections
6.
Shirley Thomson (née Canale)
Yorkshire, England
Shirley wrote:
Bedford Street

"I was born at home at 26 Bedford Street and lived there until 1951. My Granny and Grandad lived in the street as well.

My house is long pulled down now but reading other peoples recollections brought it all back:

- Neighbours

who were always there to lend a hand -

No

secrets due to the fact we all lived on top of each other. - Mothers who sat out on their stools and gossiped in the street (on fine days) -

T

he street cleaner who turned on the water so we could splash about.

"
Raeburn Place

"I remember Raeburn Place with all it's shops:

- Remos, where we got our rations of sweets and cigarettes

,

during and after the war.

-

A shop where we got our accumulators which ran the

'

wireless

'

. - Trams up to Princess street

,

but having to walk back because Mum would only give us fares one way.

"
Around Stockbridge

"I remember:

- Glenogle Baths - Inverleith Park - Bonfire

Nights

-

'

Guising

'

. - Trams up to Princess street

,

but having to walk back because Mum would only give us fares one way. Happy days indeed.

"
Shirley Thomson, Yorkshire, England: July 7, 2008
Recollections
7.
Allan Dodds
Nottingham, Nottinghamshire, England
Allan wrote:
The Steamie and Washing
"In Henderson Row, just before the Edinburgh Academy, there was a place my Mother used to call "The Steamie". Women in headscarves and a 'fag' (cigarette) hanging from the lower lip, wheeling pram (perambulator) frames containing tin tubs full of dirty laundry, used to frequent it.
My Mother used to refer to them as the 'hoi polloi', ie the low life who lacked any form of practical skill whatsoever, as she herself used to take pride in doing her own washing at home - a scrubbing board followed by squeezing out on the Acme Wringer - the vanguard in technology!
I was allowed to operate such equipment at the tender age of five. We were obviously 'posh' and 'with it' as is the revamped 'steamie'."
Allan Dodds, Nottingham, Nottinghamshire, England: October 21, 2008
Allan added
The Steamie
"The 'steamie' was the municipal wash-house where scores of Canonmills women took their dirty laundry.
The building has been revamped by the addition of ornamental railings and it now looks quite attractive."
Allan Dodds, Nottingham, Nottinghamshire, England: October 21, 2008
Recollections
8.
Keith Main
London, England
Keith wrote about his memories of Stockbridge, around the 1960s.
Shops and Other Memories
Milk Deliveries
"I remember Willie's (Thomson's) Dairy at the foot of Dean Park Street. I knew the family. Getting a ride on the open-backed Murchies' milk van was a big thrill. Can you imagine that being allowed in 2008?
The Store (Co-Op) milk was delivered by horse & cart."
©
My granny lived at 17 Dean Park Street, where another occasional milkman would visit - Sean Connery. He knew my Aunt Margaret who was a Moxon Girl (a dance troupe that were the Scottish equivalent of the Tiller Girls) I'm sure if they were ever 'winching' (another word for your glossary - going steady).
Margaret danced at The Kings Theatre and The Gaiety in Edinburgh, and abroad! My earliest memory was meeting her at the Caley Station where she came off the boat train from Dublin armed with hat boxes and valises - very glam."
Bruce's, The Bakers
"A boy at our school (Flora Stevenson) died in Comely Bank Place when a milk van reversed over him on the cobbles, not far from Bruce's The Bakers (where my sis was a Saturday girl).
Another staffer was Mrs Dawson, a glamorous woman who later became a 'floorwalker' at Goldbergs.
Bruce's cakes were legendary - French fancies, cream buns, pyramids, pagodas, fresh cream meringues (very exotic in 1961). The baker's family lived at 41 Comely Bank Rd."
Clinigan's, Newsagent and Sweet Shop

"Clinigan's sold stuff like Mivvi ice creams, Cowan's Highland

Toffee

, snowballs, Spanish Gold 'tobacco', Lucky Bags, Fry

'

s 5 Boys, Caramac, Blackjacks, Bazooka chewing gum, Duncan's Walnut Whips, iced tablet, a poke of bonbons, pan drops and

Parma Violets

(to mask the smell of alcohol so your dad wouldn't be 'caught out')

.

Other shops nearby were:

- Cowan's fruit and veg (on the corner). - Matheson, the Butcher (on the corner of Raeburn Place). - Mackies, bakers' and Café, on the corner of the road that leads to

Inverleith Park. It's now a pizza place."
The Store
"The store was a collection of St Cuthbert's shops. They included a bakery (on the corner of Bedford St), a butcher, a paint shop and a self-service supermarket where you paid your account and put money in 'the club' - a savings scheme.
'The Divi' was a big annual day out with long queues at Bread Street Coop. There was a loyalty scheme whereby you got cash back and the money went to buy necessities such as school uniform, new shoes etc.
Opposite Bread St store was a shop that sold small glass animals - quite the thing to collect back then and a nightmare to dust!!"
Tokens, Coupons and Stamps
"You also bought your milk tokens at the store, to put out in the milk bottles on your doorstep. The tokens were red, black and blue, but I'm not sure what each represented - half pint? pint? and what?"
Saving stamps off packs of co-op tea was a big thrill.
I also opened my parents' packs of Kensita's ciggies, to save the coupons redeemable against gifts. ('We better hurry up and smoke some more if we're going to get that Li-lo out the catalogue in time for summer!!')"
Ice Cream - The Park Café AND Remo's
"The Park Café was a sweet shop/ ice cream parlour, but it was not as cool as Remos further along the road . Remos had a juke box and booths.
Remo was an elderly slim Italian man with a moustache. He always wore a white coat. The popular drink was Coke Float (ice cream in Coke).
The Park Café was run by a stern woman called Miss Martin who was a scout or guides mistress. The ice cream was great
Mr Whippy's pink & cream vans were all the rage. But, better was the old van that came around selling 'oysters, '99's and ice cream in wafers, one of which included nougat covered in chocolate. The PC brigade wouldn't allow it's name nowadays."
Edinburgh House AND Paper Stall
"Edinburgh House was a crammed-high china and giftware shop. Before it was this, Edinburgh House had been a strange old ironmongers where you went to buy paraffin, outside which 'George' sold all the Sunday Papers from a stand there in all weathers - "The Mirror, The Post and The Sunday Pictorial please!"
FAB 208 magazine was for me. It had all the lyrics to the hit parade in it so we could sing them on top of the SMT green and cream bus from St Andrew's Square on the way to Sunday outings at Gullane Beach, or in whatever car my Dad had bought from Trotter's Garage in the Pleasance.
Car radios were a luxury , so we'd take our 'tranny' in the car and hope to pick up Radio Luxembourg as it played pop, unlike the BBC which played a lot of 'square ' stuff like Bing Crosby. As you drove away from Edinburgh the reception faded and you might not pick it up again until nearly at Newcastle on the A68."
Opposite Edinburgh House
"Across the road from Edinburgh House was a philatelist. The owner was a tiny wifey that looked like Queen Victoria and stood on a box to see over her counter.
Then, there was a haberdashers, and Dougal's grocery (now a charity shop).
Further along was Preacher's 'Patisserie Perfection' (from around 1966, I think). It had dark blue walls and pine shelves - very 'mod'. My Auntie Eileen worked in it.
Armstrong the fishmonger is still there, with its waterfall cascade window.
Robin in the dairy sold Jubblys - pyramid shaped frozen orange ices and rolls in big wooden trays. He also sold Abdine- a popular hangover cure!
Next door was another Café with a juke box."
Maison Victor, Hairdressers
"I would be taken to the hairdressers at Maison Victor (near where L'aquila Blanc chippie is) as a nipper while my mum was 'under the drier' - a huge beehive-shaped metal affair where the women had plastic cups put over their ears to stop them from being burned.
The 'girls' would give me half a crown (2s 6d) to play 10 songs,
Ray Charles, Eddie Cochran, Susan Maughan, The Springfields, Billy Fury, Bobby Vee, Del Shannon's 'Runaway' and The Shadows' 'Wonderful Land' were all big hits."
Methven's, Wirelesses
"Opposite Maison Victor, and next to George Bower the butcher (still there on the corner) was Methven's, a wireless shop that also sold the 'hit parade'.
It was here that I was bought my first ever record: Elvis singing 'Return to Sender'. I was really disappointed because I' had wanted Cliff Richard's 'The Next Time', but it was sold out. (My taste got better through the years.)
"Cheyne Street was a bit of a grim place. A woman who fostered kids there was charged with murdering one.
I remember. Mary the stair-cleaner, a lovely but poor old soul with a huge goitre on her neck lived there . She made a living cleaning people's stairs with a big brush and a zinc pail full of disinfectant.
Opposite, was George Young's the butcher *** which had a cuckoo clock and a weather vane in it for some strange reason, and old style pay desk with a lady who sat in it and gave kids Smarties from a jar. I always wanted a piece of pressed beef or potted haugh, not having a sweet tooth.
*** UPDATE
Thank you to Ian Young who wrote:
Butcher's Shop
"The butcher's shop in Cheyne Street was owned by my granddad Andrew (not George) Young. The cuckoo clock and weather vane were placed there as a gimmick to get customers looking into the window.
There was also a clock which my granddad ensured kept accurate time and a chrome 'hunkered' hare mounted on a wooden plinth which had been the bonnet mascot from a 1930s Alvis.
The Smarties, another sales gimmick, were kept in an Ovaltine jar."
Ian Young, Hawick, Scottish Borders, Scotland: October 19, 2009
UPDATE 2

Thank you to Lindsay Young who wrote:

Butcher's Shop

"I

've

just read the recollections of Andrew Young's butchers shop

in Stockbridge

, and the response by Ian Young

(above)

who happens to be my cousin! I don't remember the lady who took the money but

I

do remember

,

very well

,

the stool in the cashiers' office because I used to sit on it as a very small child when my father (also Andrew) took me to visit

Grandad's

shop It was

a

black

leather

-

covered

chair,

and the front pulled out to reveal papers and bills etc. Happy days!"

Lindsay Young: October 6, 2010
Doctor's Surgery
"The doctor's surgery (Drs Rankin & Scott) was in a villa set back from the street, opposite the Post Office (run by Angus) next to The Bendix."
Cleaning Clothes
"The Bendix was a terrifyingly boring place for a wean. It was the first of its sort in Edinburgh, the steamie in Henderson Row being the previous place to clean your clothes back when washing machines were a real luxury item.
At the Bendix, the 'penny extractor' a big copper drummed spinner you used before the days of tumble dryers was always trapping garments in it and shredding them.
You then took the still damp garments home in a trolley or pram or a tub strapped on to a guider to 'peg out in the back green'.
Kids in Bedford Street (rough as hell in those days) would climb over the walls and nick your clothes! The solution was to put barbed wire and broken milk bottles in cement atop the walls - again, imagine this being allowed now!"
Near Woolworths
"Wayne's a Café / restaurant was behind net curtains. It was cheap but not very good as far as I recall. (Latterly, it became a shop called Pickwicks.)
Next to Wayne's, in what is now Peckhams, there was a shop that sold nothing but cots, baby stuff and extremely grand prams with fringed canopies.
There was a TV repairer's yard where Woolworth's was to be built: the big Woolies was at the East End of Princes Street (now Burger King, opposite the Balmoral Hotel)."
Ottie Gall, Barbers
"Ottie Gall, the barbers, was in the next block (It's still there, as if preserved in aspic with its wood panelled individual booths.) It was for old men.
I was taken to get my hair cut at Bob's in Tollcross (the Comely Bank branch came later) where I'd be allowed to have it styled in a quiff like Billy J Kramer!"
Evening News Office
"Further along still was the Edinburgh Evening News Office. I'd be dispatched on a Saturday, late afternoon, to get The Pink, a special edition on pink paper that had all the afternoon football scores.
It was here too that you handed in your 'Spot The Ball' entry - a long running game where you had to imagine where a football was hidden in a picture from a league match and win £50 - a FORTUNE!"
Pet Shop
"There was a pet shop nearby and a strange drapers (now an estate agents) with a curtain made out of bottle tops on its door.
It was next to Bert's bar (still there)."
Tudor Picture House
"On the street that leads from Raeburn Place to the Colonies, before you got to the orphanage, stood The Tudor picture house, also called The Savoy at some later point ***
***
Please see, also, Recollections 13 below
Films went on for ever The B picture, the news cartoons, trailers and then the Big Picture . You were there for about 4 and a half hours. It's a block of flats now.
Stockaree's other picture house was in Dean Street. I don't recall it, but my Mum said you could get in by paying with jam jars (which like lemonade bottles from Hendrys in Abbeyhill got you money when you returned them)."
Rankins, Fruit Shop
"Opposite the foot of Leslie Place was posh fruit shop, Rankins. They even sold fresh pineapples, melons & tangerines wrapped in blue waxed and gold paper and posh apples imported from Canada called Macintosh Reds.
I remember kids from my school thinking we were a bit special to have these in a fruit bowl on the sideboard.
In 1976 I was home in Edinburgh and remember that not one shop, not even Rankins at the West End sold avocados! The assistants didn't even know what an avocado was!"
Baird's, Shoe Shop
"Nearby was Baird's shoe shop with its foot X ray machine! You looked into a big contraption in dark wood and saw the bones of your feet. You were only allowed to go on it twice a year.
I was in this shop with my granny when JFK was shot. I was too young to grasp the significance, but my 'nana' was really shocked and the atmosphere was tense and very strange that day. People were crying in the streets . It felt VERY wrong.
My granny dragged me home, abandoning the purchase of Start Rite sandals, saying 'a bad thing has happened in America. We need to get home'. It felt quite scary, I recall."
Near Hamilton Place
"What is now Pizza Express was TSB's HQ, with its clock tower.
Opposite, on the corner of Hamilton place was a wallpaper shop.
India Place, with its tenements, was further along across the street, up behind the fire station in Saunders Street (long since demolished). India Place had a terrible reputation as one of the roughest street's in town. I was forbidden to even go near it lest I 'catch nits or be sold to the tinkers!!!'."
Kerr Street
"The last shop in Stockbridge was Hodge's, the confectioners, opposite St Stephen's Street.
That whole area was quite dark and grotty. The bookie's shop was opposite . The owner got shot dead - a huge local scandal in the early 1970s.
There was a posh furniture shop on the corner (a dreaded Starbucks now) opposite The Baillie which became a very trendy bar in the early 1970s by which time I was out at the discos!
Further up the hill was Madame Doubtfire's rag and bone shop (Doubties) It stank of cats' pee and wet old clothes !!"
Keith Main, London, England: December 20+23, 2008
Recollections
9.
Elspeth Wallace
Cambridge, Ontario, Canada
Thank you to Elspeth Wallace who wrote:
Shops
"I was raised at 126 St. Stephen Street, until I was 8 years old. We were in the top flat, above Strachan's bakery and Neil's. I can't remember what they sold."
Up the street, the last store opposite the Grand Cinema was owned by a Miss Kerr. She lived in the back of the shop.
I always remember her biscuit tins, all hung some way in front of the counter. I think they had see-through tops, or there may have been pictures on the tins. I don't think there is a store there any more."
Evacuation
"During the war years, I was evacuated to Inverness and when I came back we lived at 17 Dean Bank Lane. The house is gone now."
Return to Stockbridge

"We had one wireless, a gramophone and no telephone. I remember walking along to Saunders street and taking the acid battery for the wireless in to be recharged.

I remember

:

- Baird's -

Johnny

,

the fish man who came around -

Preachers

, the bakers.

My husband who is Canadian thought Preachers the best bake shop ever

. We

were sorely disappointed

,

on a visit home

,

to find it was gone.

-

Madame Doubtfire

'

s

shop. I was never in there, but

passed it on the tram going to work.

"
Family at Work

"My father worked at Waldie's at the top of Clarence street. My Grandparents

(

Kennedy

) and

great

-

Grandparents

(Keith)

all lived and worked in Stockbridge.

"
Elspeth Wallace, Cambridge, Ontario, Canada: February 22, 2009
Recollections
10.
Elizabeth Fraser (née Betty Simpson)
Sydney, New South Wales, Australia
Thank you to Elizabeth Fraser who wrote:
St Vincent Street
"This 'Modern Athens Engraving' of St Stephens Church made me think of when we moved into 18 St Vincent Street (which was to the right of the church looking down Howe Street).
Servants' Bells
The house was still gas lit, in parts, and the servants' bells downstairs were still connected - much to the annoyance of my mother when my brothers kept ringing from upstairs).
On each side of the marble? fireplace there was a round object with a handle which rang the bell downstairs.
The long hallway had an enormous gilt mirror on the right hand side and a very long hall sideboard thing, where I used to keep my hockey sticks, tennis racquet and other 'junk' ."
Elizabeth Fraser (née Simpson), Sydney, New South Wales, Australia: March 17, 2009
Recollections
11.
John Clark
Canada
Thank you to Joh Clark for responding to Elspeth Wallace's comments (Recollections 9 above).
John wrote:
78 Great King Street
"I moved to 78 Great King Street when I was 16 when my Dad took the job as Clubmaster of the Royal Engineers' Club, I believe it still remains there as that club.*
I have many fond memories of these days, helping my parents to run the bar, and sometimes running it myself. My Mum and Dad taught me to be a pretty good bartender."
* Yes: The Royal Engineers club is still at 78 Great King Street. I have attended meetings of the Edinburgh Transport Group there, this year, and meetings of the Edinburgh Photographic Society at 68 Great King Street. - Peter Stubbs: Nov 3, 2009
126 St Stephen Street
"After I was married and came out of my National Service, my wife and I bought a house round the corner from Great King Street, at 126 St Stephen St., where Elspeth lived.
We were on the top floor, First door on the left. Our window looked out the back. It was 1960, and we paid £650 for it. We loved it and we were so proud to be home owners, as it wasn't very common in those days with young couples.
When I emigrated to Canada before my wife, a lawyer told her that these buildings were due for demolition, and she sold for £625. I believe these flats go for well over £100,000 now.
Oh well, never mind, I'm happy with my life now. I enjoyed being a Stockaree kid for a while, and Stockbridge holds many happy memories for me. My three boys were born there, while we were living at 126 St Stephen Street."
John Clark, Canada: October 27, 2009
Recollections
12.
Danny Callaghan
Falkirk, Stirlingshire, Scotland
Thank you to Danny Callaghan who wrote wrote about his memories of Stockbridge.
Danny wrote:
Around 1950
Doctor
"Our doctor was Dr Young. His surgery was up a flight of outside stairs in Kerr Street, about 25 yards up from traffic tights on right. We used to sit on hard chairs and benches waiting to see the doctor, whom I remember had a very bald head."
Dentist
"I went to a dentist on corner of Eyre Place and Brandon Street. I remember that once I had apparently punched the dentist when under gas. He told my mum he would not treat me again.
Johnny the Fishman
"I remember Johnny the Fishman. He used to come to Broughton Road and, although we had a fish shop only few doors along from no 50, my mother used to say, like Eddie Duffy's mother, that 'his fish was the best'."
1960s
Wayne's Café
"Around 1962 to 1965, we used to go to Wayne's Café, next to Woolies, for some of the best bacon rolls. Parking was easy then. (Our other favourite bacon roll spot was The Toddle In at foot of Cockburn Street in Edinburgh Old Town.)
Moir & Baxter
"Our company used Moir & Baxter for our petrol account and van and car repairs. They were along at end of Comely Bank on both sides of road, where Safeway Supermarket (now Waitrose)) was built and next to to the school.
I remember the day that when petrol hit five shillings (£0.25) a gallon there was almost war. Once, I drove off with the pump nozzle still in the van. It caused a bit of damage, not much to van but but it ripped the pipe off pump and damaged the pump.
We used to get vouchers for mugs and glasses and as I was getting petrol all the time collected cases loads. I still use a few of these free mugs and glasses today."
Danny Callaghan, Falkirk, Stirlingshire, Scotland: November 4, 2009
Recollections
13.
Bob Sinclair
Queensland, Australia
Thank you to Bob Sinclair who wrote:
The Tudor Picture House
"Keith Main from Stockbridge (Recollectons 9 above) wrote that the Tudor became the Savoy. I thought it was the other way round.
Agreed, Bob. The book 'The Last Picture Shows - Edinburgh' by Brendon Thomas states that the cinema:
- opened as The Palais in 1911
- changed its name to The Savoy in 1921
- changed its name again, to 'The Tudor' in 1960.
Bob added:
Complimentary Seats?
"I remember the Savoy with its row of single seats above and to the left of the main block of seats and often wondered if they were complimentary seats?
Another Stockbridge Picture House?
"Nearby, on the NW corner of Raeburn Place and St Bernard's Row, my mother took me to a picture show. It was on the second floor of the building which showed two films, one of Old Mother Riley and another of Charlie Chaplin.
Does anyone know if it was a hall that could be hired, or was it a Picture House?"
Bob Sinclair, Queensland, Australia: January 19, 2010
Reply to Bob Sinclair?
If you'd like to send a reply to Bob, please email me, then I'll pass on your message to him.
Thank you.
Peter Stubbs: January 20, 2010
Recollections
14
Eddie Duffy
Fox Covert, Edinburgh
Thank you to Eddie Duffy for replying to Bob Sinclair's question above.
Eddie wrote.
The Tudor Picture House
"The only Picture House that I know of in Stockbridge was the Tudor. This was situated in St. Bernard's Row, just behind where the Raeburn Bar (recently Bert's Bar now the Stockbridge Tap) was,, on the corner.
You did have to climb up a steep staircase to get in, so maybe this is the same place? A block of flats now stands there."
Eddie Duffy, Fox Covert, Edinburgh: April 6, 2010
Recollections
15.
Allan Dodds
Nottingham, Nottinghamshire, England
Thank you to Allan Dodds for responding to Danny Callaghan's comments in 12 above. Danny wrote
Dentist
"Danny Callaghan mentions the dentist that I attended in my childhood. He was Mr McArthur and his sister acted as Receptionist
When you rang to make an appointment, her sepulchral tones announcing: 'McArthur Dentist!' would put the fear of God into you. However, this actually set realistic expectations as Mr McArthur never used any form of anaesthesia when drilling teeth and it was invariably a white knuckle ride followed by a splitting headache for hours after."
Allan Dodds, Nottingham, Nottinghamshire, England: October 21, 2008
Recollections
16.
Lorraine Bruce (née Dutton)
Dingwall, Ross & Cromarty, Scotland
Thank you to Lorraine Bruce who wrote:
The Colonies Houses
"Before we moved to the Outer Hebrides, we lived in 31 Bell Place probably the best of all The Colonies houses at Stockbridge as it was lived in by the master builder that had overseen the building of the houses
Our house had beautiful carved ceilings, a lovely oriel window looking out onto Glenogle Road, and two good bay windows upstairs. I recall that even the washing line stands and carved iron window boxes were all listed, as was the house.
It was a happy time with Sya, a toddler, there and Fergus, a baby. We have often wished we could have held on to the house when we moved. I recall Sya playing 'Poo Sticks' on the little bridge. It was a great place to live."
Lorraine Bruce (née Dutton), Dingwall, Ross & Cromarty, Scotland: September 24, 2010
Recollections
17.
William Stewart
Kingston, Ontario, Canada
William Stewart responded to Elspeth Wallace's comments (9 above) about Preachers, the Bakers.
William wrote:
Preachers, the Bakers
"Thanks, Elspeth, for the nice comment about Preachers. I served my apprenticeship there, starting in 1963 when we were in Prestonfield. We moved to Raeburn Place in 1965.
Jimmy Preacher was a friend of my dad, who was also a baker. I worked at Preachers until 1973, when I came to Canada and settled in Kingston Ontario, and I'm still a baker.
What I learned from Jimmy, I'll never forget. He was a true craftsman as a baker and confectioner and owe him a lot. Sadly he passed away a few years ago. It's nice to read your recollections of Stockbridge."
William Stewart, Kingston, Ontario, Canada:
Recollections
18.
Dorothy Finlay
Queensland, Australia
Thank you to Dorothy Finlay who wrote:
John Finlay
"I was born at 7 St Bernard's row, Stockbridge. My grandfather, John Finlay lived in Dean Street. He was one of eleven children. He was killed at the battle of the Somme in 1916.
Does anyone in Stockbridge remember the Finlays?
I remember the Grand Cinema where you always caught fleas."
Dorothy Finlay, Queensland, Australia: October 2, 2011
Reply
1.
Recollections
18.
Hugh Gray
Australia
Thank you to Hugh Gray for replying to the message from Dorothy Finlay above.
John Finlay
"I remember the Grand cinema at Stockbridge. We used to get two films and an episode of Flash Gordon. The seats were rock hard and it was always cold. I remember it mainly because i had my first snog there in the front row. Nae shame eh?."
Hugh Gray, Australia: Message posted in EdinPhoto guestbook, January 25, 2013
Recollections
19.
Margaret Cooper
Colindale, North London, England
Thank you to Margaret Cooper who replied to Dorothy Finlay's comments, above:
Grand Cinema
"I remember the Grand Cinema at Stockbridge. We used to get two films and an episode of Flash Gordon.
The seats were rock hard and it was always cold. I remember it mainly because I had my first snog there, in the front row. Nae shame eh?"
Margaret Cooper, Colindale, North London, England:
Reply posted in EdinPhoto guestbook, October 3, 2011
Recollections
20.
Elizabeth Fraser (née Betty Simpson)
Sydney, New South Wales, Australia
Thank you to Elizabeth Fraser (née Simpson) for sending the photograph of some of her family inside their house at 18 St Vincent Street, Stockbridge.
Elizabeth wrote
Inside
No.18
"This photo was taken in the lounge room (front room as it was known) at 18 St Vincent's Street, around 1941.
My uncle posed some of the family and took the photograph. Of note is the marble fireplace with the servants' bell pull on the right hand side. There were several bells down in the kitchen, but my mother insisted they be taken off as she was fed up with my brothers being annoying!
I was contacted some time ago with the current tenants. The house has been changed enormously. There is no longer a marble fireplace in the house. It wasn't there when they purchased the property."
Elizabeth Fraser (née Betty Simpson), Sydney, New South Wales, Australia
April 16, 2012
Recollections
21
Eddie Duffy
Fox Covert, Edinburgh
Thank you to Eddie Duffy who wrote:
Bedford Street
"I grew up here, at No. 38 Bedford Street, Stockbridge (on the right in this photo) until 1967."
Mrs Guthrie's Toy School
"I attendedattended the Mrs Guthrie's 'Toy' School (nursery). The school was located in the back courtyard between Dean Street and Bedford Crescent."
Eddie Duffy, Fox Covert, Edinburgh: October 29, 2012
Recollections
22.
Dave Ferguson
Blairgowrie, Perth & Kinross, Scotland
Here is a message that Dave Ferguson added to the EdinPhoto Guestbook.
If you feel that you might be able to help Dave to get in touch with Philip McIntosh, please email me, then I'll give you Dave's email address so that can try sending a message direct to him.
Dave wrote:
Philip McIntosh
Butcher
"I'm trying to contact a Philip McIntosh. I believe he had a butcher's shop in Stockbridge. We last met in Osnabruck Germany in 1957 when we were in the army.
I'd be much obliged if anybody can help me to contact him."
Dave Ferguson, Blairgowrie, Perth & Kinross, Scotland:
Message posted in the EdinPhoto guestbook: April 19, 2012
Recollections
23.
Caroline Wilson
Here, Caroline Wilson remembers visiting her Grandfather in Jamaica Street, Stockbridge.
Caroline wrote:
Jamaica Street
Grandfather
"My Grandfather lived in Jamaica Street. His name was Peter McErlean. We used to visit him as kids in the 1950ss and possibly in the 1960s.
He was very hospitable. He used to make us 'worm biscuits' (two Rich Tea biscuits squashed together with butter until the butter came out the holes.
He used to sew the 'Oor Willie' and 'The Broons' cartoons from the Sunday Post together to make a comic for us to read when we visited him. He was a kind man.
I didn't like the toilet in the Jamaica street flat as it was shared, and smelly. But apart from that, the flat was ok."
Caroline Wilson, April 18, 2013
Recollections
24.
Madeline Sweasey
Trinity, Edinburgh
Madeline Sweasey wrote:
Raeburn Hall
"I am trying to locate an address in Stockbridge, but have had no success so far. Some of my ancestors, according to their marriage certificate, were married in 1921 at the following address: Raeburn Hall, 33 Raeburn Place Stockbridge.
There are villas there now. Currently, No.33 is the shop Maxi's.
I wonder if one of the villa's was called Raeburn Hall and was possibly the church manse? Maybe your website user's may have a memory of this building."
Madeline Sweasey, Trinity, Edinburgh: August 5, 2013
Reply to Madeline?
If you'd like to send a reply to Madeline, please email me to let me know, then I'll pass on her email address to you.
Peter Stubbs, Edinburgh: August 7, 2013
Recollections
25.
Margaret Fairbairn
The Wirral, Merseyside, Cheshire
Thank you to Margaret Fairbairn for following up the comments about Jimmy the Milkman with his horse and cart at Stockbridge in Recollections 2 and 3 above.
Margaret wrote:
Jimmy and his Milk Horse
"I love this photo. I remember Jimmy. He was our milkman.
.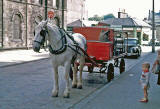 ©
A lady who lived in our stair always fed the milk horse. One day she was chatting away to another old lady in Raeburn Place, opposite Preachers the Bakers, and was so engrossed in her conversation that she forgot about giving the horse his treat.
He got so fed up waiting that he took himself off and the cart and went through Preachers' window."
Margaret Fairbairn, The Wirral, Merseyside, England, November 29, 2012
Recollections
26.
Jaime Taylor
Century Films / Halcyon Films
Thank you to Jaime Taylor who wrote about a forthcoming BBC Programme that will feature a street in Edinburgh.
Jaime is looking for suggestions as to which Edinburgh street might be used in his programme, and has invited me to add his request to the EdinPhoto web site. So I've added most of the details that he sent me to this page
Jaime wrote:
BBC2 Documentary Programme
'The Secret History of Our Streets'
"I'm currently doing some research on Edinburgh's social history for a new BBC2 documentary. We're looking to identify a specific street in the city with an interesting 20th century history that could be explored for a one hour film."
2012
"To explain a little: in 2012 the award-winning television series 'The Secret History of Our Streets' was shown on BBC2 to great acclaim. Each episode focused on the history of a different London street and the stories were told by the people who lived and worked on them over the last 120 years."
2014
"The response to the series was incredible, both from the public and the press and so the BBC have now commissioned a second series for 2014, this time based in Scotland.
Across three episodes on BBC Two, we'll focus on three particular Scottish streets (including one in Edinburgh) and their residents, tracing their history over the 20th century. It's a living history and we hope to find residents (and workers) past and present to tell us about their experiences (as opposed to a TV presenter or historian who is connected to the place by research only)."
Which Street?
"We've only just started our research and at this early stage we're hoping to get advice from residents of the city to help us identify streets that we should research further.
Ideally they'll have the same architecture as it would have had in the early 20th century (at least), a street that isn't solely commercial properties and hopefully some long standing residents living there too.
We prefer to explore the less famous streets, for example just as we decided against Covent Garden, Portobello Road and Carnaby Street in the first series, we would look beyond the Royal Mile in this series to try and find a lesser known / less iconic street and history."
Jaime Taylor: Century Films / Halcyon Films: September 12, 2013
1.
Reply to Jaime
Jaime:
Many of the people who have sent the fondest memories of growing up in Edinburgh have written about streets that have since been demolished, such as East Thomas Street and the Dumbiedykes area.
However, there are still areas where I think you might be likely to find some old residents who have lived for a long time in the street, and still a 'community spirit' amongst some of the residents.
Perhaps you might like to consider one of these streets. All are in or near Stockbridge, about a mile or less NW of the centre of Princes Street:
a) 'The Colonies' - philanthropic housing developments for artisans and skilled workers. Ten such schemes were built in Edinburgh between 1850 and 1910, including one at Stockbridge (Reid Terrace, beside the Water of Leith, and ten streets parallel to it, to the east).
Here is an old engraving and a recent photo of Reid Terrace
c.1890
2004
b) St Stephen Street, Stockbridge. It has a mix of shops, cafes, etc. on the ground floors and basements, and housing above. House prices rose in the second half of the 20th century, as this became an attractive area to live, beside the Water of Leith and only about half a mile from Princes Street. An annual Stockbridge 'street party' used to be held in this street.
Here are two photos of the shop at 51 St Stephen Street
Early 1900s
2009
c) Ann Street, a street on the high ground above Stockbridge, close to Dean Bridge, near the West End. The street was built in early C19, in the days of horse and carriage, rather than the motor car. Unusually, for Edinburgh's New Town, the street has houses with front gardens. About twenty years ago, I met one of the residents of the street who had made a scale model of his house.
2.
More Replies to Jaime?
There must be lots of other Edinburgh streets that could be suggested.
If you'd like to send a message to Jaime, suggesting a street in Edinburgh that he might like to consider for his programme, please email me to let me know, then I'll pass on his email address to you.
Peter Stubbs, Edinburgh: September 13, 2013
Recollections
27.
Robert (Rab) Thomson
Hamilton, Ontario, Canada
Thank you to Robert (Rab) Thomson who wrote:
27th Company
Boys' Brigade
"I was a member of the 27th. company Boys' Brigade in Stockbridge in the early 1950s.
I wonder if any of your contributors from Stockbridge have any memories of that Company. We had a drill hall and clubhouse in Dean Street.
In 1955 we won the football championships of both League and Cup. There was a picture taken of the team but I have lost mine and I wonder if anyone has one.
My Home
I used to live at 13 Dean Park Street so the stories of some people from there and from Bedford Street really bring back some good memories.
Robert (Rab) Thomson, Hamilton, Ontario, Canada: October 25, 2013
Recollections
28.
Robert McLean
Buckinghamshire, England
A few people have already mentioned Stockbridge cinemas. Here is another contribution, this one from Robert McLean who writes:
Cinemas
"The Grand picture house was in Stockbridge, on St Stephen's Street. By the time I was growing up in the 1960s it had become a bingo hall and later, I believe, it became a casino."
My Family
"I was born in Dean Park Street in 1951 and later moved to The Colonies (Colville Place). My mother, née Margaret Smith, was born and raised in Stockbridge — India Place then Collins Place in the Colonies — and her mother and father were both born and raised in Stockbridge also
In fact, I believe both her grandparents were from Stockbridge. I can remember visiting my great granny (Annie Smith née Lindsay) who lived in one of the upper flats, right on the corner of Spring Gardens. She could look out over Kerr St onto Deanhaugh St.
In fact, there was a huge collection of Smiths throughout Stockbridge. This meant my uncles, aunties and cousins were all within a few minutes' walk."
Robert Mclean, Buckingham, England: November 5, 2013
Recollections
29.
Robin McAra
Trinity, Edinburgh
A few people have already mentioned Stockbridge cinemas. Here is another contribution, this one from Robert McLean who writes:
1940s
Water of Leith
"During the summer, we would go and play in the park and climb the trees along the Water of Leith. It has now become so gentrified that it's no longer a children's paradise. We would catch minnows and make gang huts from wood we found along the river."
Sneaking for Apples
"We'd go on adventures around Stockbridge, sneaking in to the parks, cinemas and gardens, where we would pinch apples."
Streetwise Attitude
"In the season we would play conkers, climb trees, or play with fireworks (It was more fun if you held them in your hand!) so we gradually developed a streetwise attitude, knowing people to avoid and where to hide when chased."
In the Streets
"The streets were our playground. We exchanged scraps and played:
- Marbles along the gutters. (There were not as many cars then.)
- Pierries (whipping a small wooden top along the street. If you had a good whip and a piece of hemp string you could make it jump and spin for hours!)
- Diablo.
- Hide and Seek
- American and Japs
- Cowboys and Indians
- Robin Hood
- fencing with sticks
- bows and arrows
- Aleavoy and other chasing games."
Aleavoy
"Aleavoy was a chasing game played by two teams of about 5 or 6 kids (or more). One team would hide and the other team would have to catch them.
The boundaries were about a half a mile radius from the den, usually Portgower Place, and so, again, you learned how to:
- run fast
- climb walls
- get into stairs without having a latch key
- then go through the back greens and generally hide.
These games all took place around the streets. You got to know the neighbourhood and all the children who stayed there."
The Botanics
"The Botanics was not somewhere we, as children, went too often as all the green areas were fenced off with low iron railings and there were signs saying."
We were chased a lot by the Keepers, though few of them would risk their air of authority by actually running after us!"
Inverleith Park
"We usually went to the Inverleith Park which was still three quarters ploughed up and used as allotments. Nowadays only a small part is given over to allotments."
Summer in the Park
"The pond was good, watching the sailing boats going from side to side during the regattas. The owners had a special building where the model yachts were kept. This has since been pulled down and the pond has now become a wild bird sanctuary.
In the summer time you would make a fishing net from an old flour bag (made of cloth in those days) a piece of wire and a bamboo cane.
You would catch minnows and put them in a jam jar. Sadly, by the time you got them home they were usually dead."
Winter in the Park
"If the winter was cold enough the pond would freeze and skaters would be on the ice. How did you test the ice? You persuaded some wee kid to walk across and if he didn't fall in, it was probably safe!
If it snowed we'd use the big hill for our sledges trying to avoid crashing down to the waters' edge and breaking through the ice!"
Accies' Rugby Field
"The Accies' rugby field, in my youth, had a large earthen mound flattened on the top. This had been the site of Ack-Ack guns in case of a German bombing raid.
It eventually was bulldozed away in the 1950s."
Glenogle Swimming Baths
"Swimming in Glenogle Baths, you could pay a penny and get a slice of carbolic soap and have a shower before going into the pool, which was rather chilly as the pipes needed cleaned out.
Usually, the pool was so busy, that there were set times when you could swim, according to the colour of your arm band.
In those days they had spring boards and a high dive, but now they have been taken away - the dreaded 'Health and Safety'!"
Flora Stevenson's School
"School was Flora Stevenson's Primary at Craigleith. I walked there most days, about a mile. If it rained, a penny fare on the tram would be the treat.
School meals were provided for 5 pence. We had free school milk at break time; it came in wee glass bottles and was given out by the milk monitor. In the winter, it would sometimes freeze and the foil tops would be forced up by the frozen milk."
Dean Village School
"In the winter of 1947 (one of the coldest) the school closed for boiler repairs and we went to the Dean Village School, a place that I was to get to know very well later in my life.
They had pot-bellied cast iron heaters in the classroom and all the children were asked to bring a lump of coal to feed the stoves and the open fires. There was a coal shortage as the miners were on strike."
The Cinema
"A great source of entertainment and escape from the drabness of everyday life was the cinema.
Stockbridge had two cinemas:
- The Grand in St Stephen Street and
- The Savoy round the corner from Malta Terrace.
You could get into The Grand for a penny and stay as long as you wanted, in those days they were all continuous performances, which meant you could go in at 2.30pm and stay till 10.30,pm, seeing the same film again and again.
- If you had no money you could try to sneak in and pretend you had paid.
- Jam jars were an acceptable form of currency, 1 penny for a 1 lb jar, 2 pence for a 2 lb jar.
- Prices for the cinema tickets ranged from 3d for wooden seats to 1/9d for the seats with covers on them."
History of 'The Grand'
"Originally, The Grand had been large stables for horses and carriages. The rich of the New Town would have their servants go there to collect their carriages and bring them to their fine houses in Moray Place, Queen Street and the like.
With the rise of the automobile it turned itself into a cinema and showed films. The programme changing twice a week and then every 2 days as the competition from television increased."
The Halls
"Another pastime was to go to one of 'The Halls' in the evening where whist drives and beetle drives were held. Both were very popular as they were cheap and you had a chance to meet friends.
I remember that there were twohalls, one in Allan Street and another in Dean Street."
Street Parties
"As the war came to an end, the men came back to claim their jobs.
I remember the street parties held to celebrate the ending of the war. We, in Malta Terrace, didn't have one - I think it was because they thought they were too posh!
The Colonies had lots of street parties and it was amazing to see all the tables being brought down from the houses and laid out with cakes, sandwiches, lemonade and bottles of Indian Pale Ale.
The streets were festooned with bunting and Union Jacks and music was provided by wind-up gramophones and by radios with extension wires leading from the lower houses."
Grieves' Dairy
"In 1948, my Mother bought Grieves' Dairy at 70 Raeburn Place.
It was a 'wet' dairy. That meant that the dairy bought its milk in churns, each holding 10 or 20 gallons. There was a machine into which the milk was decanted and where bottles were filled, 6 at a time.
There were 4 sizes of bottle:
- half pint
- pint
- pint and a half
- 2 pints.
So, we had to have hundreds of bottles ready with their cardboard stoppers. When the shop was quiet, we would be filling them up ready for the next day's deliveries. This could go on into the night and we would get home at all hours.
The bottles had to be washed when they came back from the customers. This was done in a large (8 feet by 4 feet) galvanized bath in the back shop. Hot water and soap powder was used and there was a cylindrical brush attached to an electric motor. This was an ongoing job. We employed Mrs Forrest, who stayed in Bedford Street. She came in every day to wash the bottles and do any cleaning that we needed done.
The milk we bottled was delivered by a horse was called Prince with his horse-drawn cart. Prince and the cart were housed in a mews off Dean Park Street, a run-down area where the rich ('the Ann Street mob') used to keep their horses and carriages, with space above for their drivers to live.
We employed a man to do the deliveries."
Working at the Dairy
"Our life was getting up very early, 6am, and going to the shop were we lived. We ate all our meals there, did our homework, socialised and helped out when we could. At night, around 11 pm, sometimes later, we went home once all the work was done.
The dairy was open 7 days a week, and at Christmas and New Year we opened for half a day so that customers could get their cream and milk fresh. We also sold milk straight from the churn.
The customers would provide their own jug and we'd fill it using a pewter measuring jug. When we went on to glass bottles the complaint was that the glass 'made the milk taste funny'."
Friends at Mary's Place
"I had a friend who stayed at 4 Mary's Place on the top flat with his parents and two sisters. It was a very basic way to live.
- The hot water system didn't go as far up as the top floor.
- Neither did the electricity.
- In the morning they would get a ewer filled with hot water, then put it in a basin and, all would wash in the same water.
- That water would then be used for washing dishes and anything else that needed washed.
- The family would go to Glenogle Swimming Baths, one a week, for a 'proper bath'.
- Their cooking was done on a black range in the sitting-room-cum-kitchen.
- Light was provided by gas. You could buy gas mantles for about 2d each. They were made of cotton which had been treated, so they were brittle. They gave off a good light but if they were holed the light became very poor.
- The gas, which was made from coal, was very dangerous. Death by carbon monoxide poisoning was a very real hazard.
It was said that if things in your life became too much, as long as you had a shilling for the meter, you could always stick your head in the oven and get out that way!
- The family had a radio powered by an accumulator - a glass container filled with acid which had 2 strips of copper inside, the reaction between the two would create an electrical current and thus power the radio.
The accumulator had to be recharged ever so often by renewing the acid or the copper strips, so it was taken to the electrician's shop, next to Bower the Butcher."
Robin McAra, Trinity, Edinburgh: November 6, 2013
Recollections
30.
Allan Dodds
Nottingham, Nottinghamshire, England
Thank you to Allan Dodds for following up his memories of Stockbridge in Recollections 7 and 15 above with more memories below.
Allan wrote:
Visits to Stockbridge
"Regular visits to Stockbridge were made as the few local Canonmills
shops had little to offer during wartime rationing.
Butcher
Gavin Nimmo
"Meat, such as could
be obtained, was purchased at Gavin Nimmo's shop in Henderson Row,
now a private dwelling house, even although we lived immediately next
door to Porteous the Butchers in Howard Street.
Mr Nimmo was
reputed by Mother to be fond of the drink, and his purple nose
confirmed her suspicions without the need for any independent
evidence or indeed professional opinion."
Allan Dodds, Nottingham, Nottinghamshire, England: October 21, 2008
The memories above are an extract from Allan's book about his
growing up in Edinburgh, "Laughin' on the Ither Side o' ma Face"
Recollections
31.
Bob McLean
Buckinghamshire, England
with a few comments added by Peter Stubbs
Thank you to Robert McLean, who wrote Recollections 28 above, for writing again with more recollections of growing up in Stockbridge. Here, Robert describes living at the Colonies, beside the Water of Leith, between Canonmills and Stockbridge.
Robert wrote:
Stockbridge Colonies
Move to the Colonies
"I'd started life in Dean Park Street, Stockbridge and we moved to the Colonies in 1962, when I was 10years old.
With a sizeable extended family in Stockbridge, I was familiar with the Colonies as I had a two aunts and their families already there.
We moved to Colville Place (high doors). One of my aunts lived in the next street, also Colville Place, but a low door. **
My mother had moved with her parents and sister from India Place to Collins Place in the early 1930s, so I was now growing up in the same street as my mum. **
Streets
and
House Numbers
** A few comments on the streets and house numbers at Stockbridge Colonies may make the paragraphs above a little easier to follow.
The Colonies at Stockbridge consisted of 11 parallel streets of houses between Glenogle Road and the Water of Leith, built s low cost housing for artisans, from 1861 onwards.
Each row of houses consisted of separate houses on two floors:
- lower floor houses had doors opening to the west.
- upper floor houses had doors and steps opening to the east.
It was the rows of houses, rather than the streets between them that were named. so upper floor houses in one block opened onto the same street as houses on the lower floor of the next street.
e.g. upper floor houses in Colville Place opened onto the same street as houses on the lower floor of Collins Place.
Peter Stubbs: November 10, 2013
After Falshaw Bridge
"For me, you entered the Colonies when you crossed Falshaw Bridge."
Falshaw Bridge
Falshaw Bridge is the bridge taking Glenogle Road over Water of Leith, as you approach Stockbridge Colonies from the west. i.e. from Stockbridge.
Peter Stubbs Nov 10, 2013
"First, on your left, there were a few houses and a few small shops: one was a milliner's or a draper's, another was, as I recall, Nellie's Dairy, which had been there since the days when my mother was growing up.
As Glenogle Road swung right and became the long straight that led to the cooperage and Canonmills, you passed the bright red front of Linton's shop."
Linton's Shop

Here are a couple of views of the bend in the road where Linton's shop once stood.

Engraving - 19th century

Photo - 2004

Peter Stubbs Nov 10, 2013
"Mr Linton was a lovely older gentleman. It was a treat for us youngsters was when he'd sell us, for a few pennies, a bag of broken biscuits. Mr Linton retired and sold to another nice gentleman, a Mr Kelly, who painted the shop-front grey.
You'd be wakened to the clip-clop sound of the Store milkman's horse."
'Glennies'
"Living in the Colonies was wonderful.
At the top of our street were 'Glennies' (Stockbridge Baths, later renamed Glenogle Baths). Like almost all Colonies kids, I became a strong swimmer and I loved going to the baths, particularly in winter when it was virtually empty and you could go in at 7pm and stay until 10pm.
I can remember going to Glennies to see the great Bobby McGregor show off his speed in the pool. The crowds flocked to see Scotland's great hero."
On either side of the baths, there were routes up to Saxe Cobourg Place - the 'Dummy Steps' and the 'The Snakey' - or 'The Snekkie' as we tended to call it.
Gabriel's Road
The 'Dummie Steps' were part of the original Gabriel's Road.
Gabriel's Road dates back to 1717 or earlier, It's a road that once led from near where Register House was built at the East End of Princes Street, through Silvermills, then across a ford on the Water of Leith to Inverleith.
Parts of Gabriel's Road still exist:
- as a footpath off West Register Street, near Register House.
- at the 'Dummies' steps on the east side of Glenogle Swimming Baths.
Source: 'The Place Names of Edinburgh (Stewart Harris) p.262.
The Snakey
The 'Snakey' was the path that zigzagged up the grassy bank, with railings beside it, on the west side of Glenogle Swimming Baths.
Peter Stubbs Nov 10, 2013
"I suppose it wasn't very PC to call it the 'Dummies' (it had a proper title, 'Gabriel's' something) but I was told the popular name was because it fringed Donaldson's School for the Deaf.
I also remember a bright red postbox on the wall just before the 'Dummies'. I remember it had VR embossed on the front."
Water of Leith.
"At the foot of our street ran the Water of Leith, which, for some unknown reason, was always called 'The Dam'. It was called that in my mother's day, too. We kids would have great fun down the Dam in late spring or early summer: if we weren't guddling for minnows, sticklebacks or tadpoles, we'd be building a makeshift dam ourselves, then using improvised rafts to cross the water. I don't think we ever crossed without at least one of us falling in!"
Puddocky
"At the far end of the Colonies was Bell Place, which led to the wooden bridge, the 'Puddocky', over the river then on to a small park, 'The Bellsie'.
As we got older, on those days when we couldn't be bothered to go up to 'The Big Park' (Inverleith Park) to play football, we'd have a kickabout in the Bellsie, although if you ever knocked the ball into the water, you had to go in yourself and fetch it, no matter how far it had floated downstream.
You'd be surprised just how that water concentrated the mind and made us all much more accurate in our play!"
Bob Mclean, Buckingham, England: November 8, 2013
Recollections
32.
Ian Tait
Pitlochry, Perthshire, Scotland
Thank you to Ian Tait for replying after reading Robin McAra's comments in Recollections 29 above.
Ian wrote:
Grieves' Dairy
"I recently had a bit of homesickness after spending some time in Stockbridge. I browsed your web site and found this page where I read about a Robin McAra whose Mother had bought Grieves dairy in Raeburn Place.
Ramage's Dairy
"My Grandfather had Ramage's dairy in Dean Street, latterly Hills dairy for whom I delivered the milk.
By Jove! It certainly helped developing your quadriceps, climbing the stairs and making sure you would be in time for school."
Flora Stevenson's School
"From reading Robin's recollections I feel I may have something in common with him from our school days as, coincidentally, I was also decanted to the Dean Village School from Flora Stevenson.
My Teacher was a Miss Smith......................Ouch!"
Ian Tait, Pitlochry, Perthshire, Scotland: December 23, 2013
Recollections
33
Kathleen Hughes
Liverpool, England
Kathleen Hughes wrote:
Bedford Street
"I've been reading the messages above with great interest, especially people's comments about living in Bedford Street.
My Grandfather
David Wilson
"I'm seeking information on my grandfather, David Wilson. He would have been born in the early-1900s. His address on my mum's birth certificate, was St Stephens Street, and I've been told that he also lived in Bedford Street, and that he was in the army and his profession was given as 'Hotel, Boots'.
My grandmother was Catherine, a domestic servant. My grandfather never married her, but gave her two children, Catherine (my mother) and George. After giving my mum her name, he left her.
That's all the information I know about my grandparents. If anyone knows anything more, I'd love to know"
Kathleen Hughes, Liverpool, England: April 24 + May 4 (4 emails), 2014
Reply to Kathleen
If you know anything about Kathleen's grandparents and would like to send an email to her, please email me, then I'll pass on her email address to you.
Best wishes:
Peter Stubbs, Edinburgh: May 4, 2014.
Recollections
34
Alex Dick
London, Ontario, Canada
Thank you to Alex Dick who wrote:
Cheyne Street
"I was a member of the 27 Boys Brigade and lived at 15 Dean Park Street.
Upon reading recollections of Stockeree, I remembered Cheyne Street and 'The Slanty', the section of wall where boys would dare one another to walk across it.
It was refreshing to read the recollections of Stockbridge."
Alex Dick, London, Ontario, Canada: May 5, 2014
Recollections
35.
Simon Clegg
Australia
Thank you to Simon Clegg who wrote:
Shops in 1980s
"I remember some of the shops in Stockbridge in the 1980s.
There was:
- a weird record shop, 'Gutter Music'
- a wee junk shop, Brozecki (spelling?).
It was opposite a school of some sort.
- an old clothes shop, 'Madame Doubtfire', the inspiration for the Anne Fine novel. I have a picture of the door knocker from that shop.
Is it really 35 years ago that I came to live in Edinburgh? I'm now living in Australia, with gum trees and kookaburras in my garden."
Simon Clegg, Australia: August 26, 2014
Recollections
36
John Keen
Sandtoft, Berkshire, England
Thank you to John Keen who wrote:
Stockbridge Fire Station
"I'm trying to find out as much as possible about Saunders Street Fire Station, Stockbridge, Edinburgh, as that's where my wife's father, John MacDonald, was born in 1921..
I have some history of this building and pictures of it:
- in 1935 and
- close to demolition in the late 1960s
Request
Ideally, I'm trying to find:
- possible sources or pictures of the fire station in the 1920s
- any information or recollections about, John MacDonald, who was born there in 1921.
Can anyone suggest where I should be looking? That would be extremely helpful."
Kohn Keen, Sandtoft, Berkshire, England: August 28, 2014
Reply to John Keen
Hi John:
Good luck in your search for a suitable picture of the old fire station! Here are three places that you could try contacting. All are in Edinburgh. I trust that you'll be able to find their email contact details on the Internet:
- Edinburgh Room, Edinburgh Central Library
- Royal Commission on the Ancient & Historical Monuments of Scotland
- Museum of Fire, Lauriston Place.
If anybody would like to contact John Keen (possibly with information relating to his father-in-law, John MacDonald) please email me to let me know, then I'll pass on his email address to you.
Peter Stubbs, Edinburgh: September 1, 2014
Recollections
37.
Allan Dodds
Nottingham, Nottinghamshire, England
Thank you to Allan Dodds for replying to Simon Clegg's Recollections 35 above.
Alan wrote:
1980s
"Simon Clegg's recollections of Stockbridge in the 1980s brought back memories to me.
He rightly identifies Mr Borzecki's shop. It was an antique shop from which I purchased a 1934 Kodak Retina 1 camera for the princely sum of £4 - two weeks' wages for me in those days.
I sold it recently on eBay for £120 - an hour's wages for me today!"
Allan Dodds, Nottingham, Nottinghamshire, England: October 21, 2008