Wet Collodion and Ambrotype Process
Scully & Osterman
Mark Osterman and France Scully Osterman
Mark Osterman works for the International Museum of Photography at George Eastman House, Rochester, New York. There, he researches and teaches historic photographic processes to photograph conservators.
He has been experimenting with the collodion process since 1987.
Mark Osterman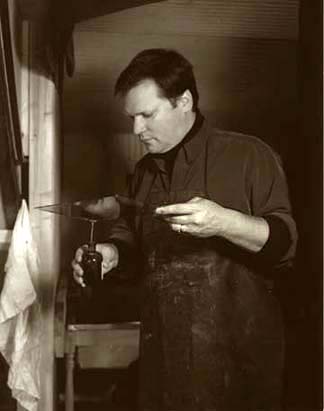 © Reproduced by courtesy of Scully & Osterman
Mark works with his wife France Scully Osterman, also a photographer. Together, they set up the company Scully & Osterman in 1991.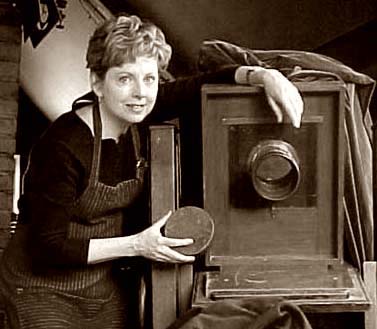 © Reproduced by courtesy of Scully & Osterman
From a skylight studio at their home, Mark and France regularly produces collodion negatives and ambrotypes. Collodion plates have a rating of about ASA1, so long exposures are required.
Scully & Osterman Skylight Studio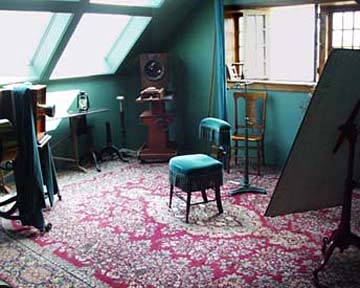 © Reproduced by courtesy of Scully & Osterman
Wet Collodion and Ambrotype
Early Experiments
Mark and France have been teaching the wet collodion process since 1995. Their experiments with the wet collodion process began in 1987.
Publications
Mark and France have:
- published The Collodion Journal for five years (24 issues).
- published a manual The Working Guide, giving advice to those wishing to experiment with the wet collodion process.
- contributed to other books on early processes, including a chapter on the wet collodion process in John Barnier's book, Coming into Focus, published by Chronicle Press..
Exhibitions
Mark and France are also both artists represented by the Howard Greenberg Gallery, 41st East 57th Street, New York City, one of the best known galleries in the world for fine art photography.
Mark's next show there will open 5 February 2004 and will be a series of 8x10" ruby ambrotypes. These will be exhibited along with the Hallsman images of Salvador Dali.
France's last show there was a series of waxed salt prints from collodion negatives of people sleeping; they were also reviewed at last years Paris Photo.
Workshops
Mark and France plan to give a week-long workshop on the wet-collodion process at Nicéphore Niepce House in Burgundy, France in 28 June to 2 July 2004. This is where the first photograph was made in 1827.
At the workshop, he intends to make ambrotypes, tintypes, collodion negatives and salted paper prints.
Web Site
Mark and France have a web site, www.collodion.org giving more details of:
- exhibits
- publications
- workshops