Recollections

Lochinvar Camp

1940s and 1950s

PRESS REPORTS

1946

Aerial View

1951

1956

RECOLLECTIONS

1.

Shetland, Scotland

From 1946

2.

Edinburgh

Buildings

Families

Mixed Recollections

3.

Somerset, England

Overspill

4.

Kinghorn, Fife, Scotland

Navy

Small Home at Lochinvar

Mixed Recollections

'Homes for the Homeless'

Protest March

5.

Somerset, England,

Navy Camp

6.

Donald Grant
Penicuik, Midlothian, Scotland

Granton Road House

Back Garden

Emigration

7.

Bert Fairburn
Gold Coast, Queensland, Australia

My Family

Our Homes

Emigration

8.

Robert Hamilton
Soest, Germany

Age 5

Our Family

Scottish Community Singing

Memories
Press Reports
Emergency Housing Site
1946
During World War II Lochinvar Camp was a Naval training establishment, but following the end of the war, in 1946, it passed to Edinburgh Council and was used to house homeless families that did not qualify for council housing.
The camp was on the northern half of Wardie Primary School playing fields, Granton Road, about half a mile to the south-east of Granton Harbour.
Lochinvar camp can be seen in the aerial view below, taken in 1947. When I knew the Wardie School playing fields in the 1970s, they were still sometimes referred to as 'Lockies'.
Lochinvar Camp
key
1951
An article in the Evening Dispatch newspaper on November 16, 1951 described the camp as Edinburgh's third largest housing site and easily the most habitable of the city's camps.
At that time there were 168 families living in the camp, living in a barrack block, Nissen huts and new wooden huts, with communal kitchens and washhouses. The charge for a two-apartment home was 12s 6d (=62p) a week. [The UK average weekly wage in 1951 was £8 8s 6d (=£8.42).]
The article said that in the oldest part of the camp there were only three basins and two baths to be shared by the men of 25 families:
1951 Comments
Here are some comments from the Evening Dispatch article:
"Conditions are not all they might be. Crowding is a serious problem'"
"There are no playground amenities for the children, so the youngsters make the best of a large puddle"
Nevertheless, the children were reported to be healthy with the sea air and the residents were quoted as saying:
"We have little to complain about - it could be worse".
1951 Photos
The article was accompanied by photographs of:
- a crowded kitchen
- a kindergarten run by two voluntary workers
- children playing in a large puddle and a Nissen hut with painted slogan 'A Hero's Welcome Home!!"
Here are some of the photos:
1956
Five years later, the Evening Dispatch reported :
- The city's other camps at Duddingston, Craigentinny and Sighthill. had already closed.
- The 71 families living in Lochinvar Camp at the end of 1955 had all now been re-housed - the final residents, George Carson (caretaker) and his wife and four children, moving out of on October 31, 1956.
This article referred to the camp as:
"an eyesore ... a scene of desolation with crumbling buildings, dilapidated huts with masonry, barbed wire and rubbish"
"probably one of the worst camps of its kind."
"living conditions so bad that in 1951 residents protested outside St Andrew's House."
It apparently did not take long to demolish the camp after the last residents moved out.
In October 1956, the Evening Dispatch reported:
"a crowd of happy youngsters was seen breaking up the entrance to the recently vacated hut"
"Soon, all that will be left will be the roadways, concrete Nissen bases and heaps of rubble"
Edinburgh Dispatch November 16, 1951 and October 31, 1956
Recollections
1.
Duncan Shedden
Shetland, Scotland
From 1946
Thank you for the message sent to me by Duncan Shedden who tells me that he was born in Lochinver Camp in 1946 and lived there for a few years, attending Granton School, then David Kirkpatrick school, Leith
He later moved to stay with his Grandad at 4 Royston Mains Gardens and attended Royston School. His Grandmum staid at West Pilton Drive North, so Duncan knew the old Embassy Picture House quite well. Duncan then moved to Leith Links. Around the mid-1970s, Duncan moved to Shetland and is still living there.
Duncan is now trying to trace his childhood, and looking for information and any close-up photos of the camp
Duncan's Dad was Peter Burns Shedden, Royal Navy. Duncan says:
Wardie Steps
"I remember my Dad taking me down Wardie Steps every morning in the summer to the pier then down the steps to the water, then I would get on his back and thatís where I learnt to swim."
Here are views taken from Wardie Steps and Granton Eastern Breakwater, a few decades later:
Duncan Shedden, Shetland, Scotland: December 10 + 13, 2005
Recollections
2.
Allan Hosey
Edinburgh
Thank you to Allan Hosey for passing on his parents' memories of Lochinvar Camp.
Allan wrote:
Buildings
"The camp was still laid out in a dormitory/block format with shared kitchen and toilets. There were, according to my parents' recollections, approximately 10 blocks containing a total of about 100 families.
The officers block was lined with plasterboard and was wood-panelled. The other blocks were constructed of corrugated sheet and other cheaper materials."
Families
"Most families had young children, so the camp was a lively place.
My father, like most men in the camp, was out at work all day and my mother would take her four children, two of whom were born in the camp, out with the pram and visit her mother or friends in Dean Village."
Mixed Recollections
"My parents' recollections of the camp are mixed. On the one hand there were hygiene problems and gastroenteritis outbreaks were frequent. And petty thefts, including my fatherís war medals, were not uncommon.
However, despite these negative aspects, Pat and Agnes did have some fond memories of the camp and made some friendships that lasted a lifetime."
Allan Hosey, Edinburgh: December 7, 2006
Recollections
3.
Jack Wilson
Somerset
Thank you to Jack WIlson who wrote:
Granton Road
"I lived at 142 Granton Road, right opposite Lochinvar. When the Navy had the camp, the overspill were put out to people round the camp my mother had some."
Thank you to Jack for also sending memories of Granton and T L Devlin's yard
Jack Wilson, Somerset, England, January 6 + 7, 2007
Recollections
4.
Peter Shedden
Kinghorn, Fife Scotland
Thank you to Peter Shedden who wrote:
Navy
"When I came out of the Navy, I was already married and had the problem of where to live. For a while, I stayed with the father of a pal, Alphie Humphreys, in Royston Mains."
Small Home at Lochinvar
"I kept begging the Council Office for a home. A small place in the Lochinver Camp was offered and that was where we took residence.
When I say 'small', it was big enough to take the bed and cabinet and the pram for the young one when he arrived. It was the office storeroom in the original Naval Camp.
They were all nissen huts, made of rounded corrugated iron, built as a barracks and Medical Centre for the Navy Patrol and minesweeping service in the Forth at wartime. The ladies' and gents' toilets were outside.
The camp was no longer required by the Royal Navy after the war."
Mixed Recollections
"After a lot of agitation to the Housing Dept, to the Housing Dept, we were eventually moved into the ex-hospital wing. This was the main structure with main corridors and branches from them to what were wards. The toilets and bathrooms here were, at least, inside."
'Homes for the Homeless'
"I started a Committee and called it 'Homes for the Homeless'. This grew into an Edinburgh-wide group that also included:
- Craigentinny Camp (now the golf course)
- Pilrig House (the big house situated in Pilrig House).
We held protest demonstrations, and had secret trips at night, painting slogans in white emulsion - 'Homes for Heroes', etc."
Protest March
"There was a large march from the Meadows to the Mound, with Pipe Bands from the Lothians and a Police escort. What a great turnout! We had some great speakers on the Mound, and at night there was a Meeting in the 'Oddfellows Hall' in Forest Road.
I had invited Mr McMillan, the then Housing Minister, and a Mr Willis, the local politician, to answer questions. Oh yes, I was carried away with the thrill of the campaign.
At that time i had taken a job with 'The Pru' (Prudential Insurance) and had the 'book collection' in Prince Regent Street, Madeira Street, Junction Street and all around that area, so I was in the middle of human stories and life's problems with a whole cross-section of people in those days.
Peter Shedden, Kinghorn, Fife, Scotland: March 3, 2007
Recollections
5.
John Stevenson
Trinity, Edinburgh
Others have written above about Lochinvar Camp when it was a camp for the homeless following the ending of World War II, such as soldiers returning to towns on the Clyde who found themselves homeless, their homes having suffered bomb damage.
Here is an aerial view of the camp, taken in 1947, when it was being used to provide social housing
Camp for the Homeless
Wardie School Grounds - 1947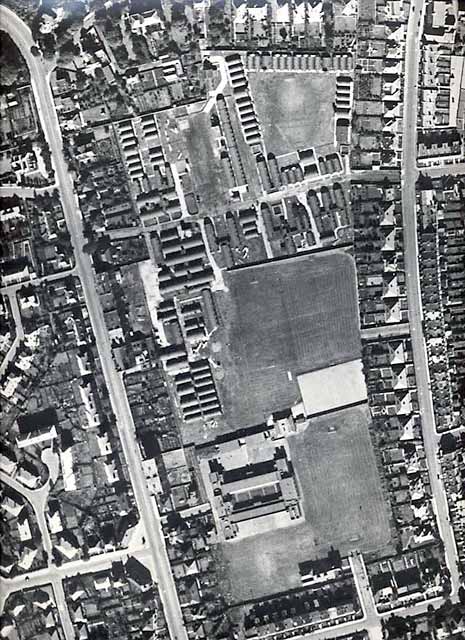 © Reproduced courtesy of RCAHMS
However, here John Stevenson (who lived nearby and went to Wardie Primary School, adjacent to the camp from 1937 to 1941) recalls the wartime years when Lochinvar was a Navy Camp with a lay-out similar to the sketch below.
Lochinvar Navy Camp
Beside Wardie Primary School - Around 1940
© Reproduced courtesy of RCAHMS. N N N = area of Nissan Huts. F = Flagpole
Sketch of the Navy Camp around 1940, based on discussions with John Stevenson
John recalled
Home and School
"I grew up close to Lochinvar Camp. I lived at 181 Granton Road and attended Wardie Primary School from 1937 until 1941. The house and school are shown in the sketch above.
The public were not allowed into the camp, but I had a good idea of the general lay-out from what I could see from our house.
The large potato patch at the southern end of the camp prevented us looking too closely at the activities of the sailors from our school grounds."
The Parade Ground
"I remember that you could look into the camp from the entrance in Granton Road, and see the flagpole on the Parade Ground, in line with the entrance. We used to be regularly woken in the mornings by sound of the bugle at 6am.
The area where the Parade Ground was built was waterlogged when the navy moved into the camp. This was due to Wardie Burn running through the camp. So the Parade Ground had to be built on a substantial concrete base."
Camp Entrance from Granton Road
"There was a sentry box on either side of the entrance to the camp from Granton Road, and a Guardroom beyond them on the right as you entered the camp.
The sailors at the sentry boxes had white gaiters and carried guns. They had a white bull terrier which had become their mascot after having been given to them by Mr & Mrs Wilkie who lived at 165 Granton Road, beside the camp entrance.
The Wilkie family owned two old-fashioned ironmongery shops in Leith, one in Junction Street and the other in Coburg Street - the sort of shop where they would weigh out 4 oz of nails for you."
Camp Entrance from Netherby Road
"There was also an entrance to the camp from the east, from Netherby Road. This was never used, except by sailors who arrived back late late and climbed over the gate and into the camp."
Boswall Road Orchard
"The sailors were frequently tempted to help themselves to apples in the small orchard in Boswall Road, near the NE corner of the camp, now the site of modern houses. But old PC McBeth, who had been called back from retirement on the outbreak of war to serve with the Police for a few more years,, was aware of their activities and used to catch them.
PC McBeth had an old, heavy Police bike. When we saw that it had been left close to railings, we used to tie it to the railings with an old rope, then watch as he tried to dash away on it."
John D Stevenson, Trinity, Edinburgh: January 28+29, 2014
Recollections
6.
Donald Grant
Penicuik, Midlothian, Scotland
Thank you to Donald Grant who wrote:
Granton Road House
beside
Lochinvar Camp Entrance
"I was interested to read the comments from John Stevenson regarding the camp, in particular the section relating to the camp entrance in Granton Road. He mentions the occupants of the house next to the entrance, number 165 Granton Road.
My late brother, Iain, bought this house and moved in with his family in the 1970s, living there for a number of years. I recall one incident relating to the camp whilst they lived in the house.
By then, of course, the camp was long gone and the site was playing fields used by Wardie Primary School on occasion, but also the home ground of Broughton School's former pupils' rugby club. It was also used one or two days a week by Hibs football club before their training facility was opened near Tranent."
Back Garden
Metal Object Found
"One Sunday, Iain was working in the back garden digging over his vegetable patch when his fork hit a metal object as he turned over the soil. It was immediately obvious that he had what looked like an unexploded bomb and so he telephoned the police who, in turn, contacted the army's bomb disposal unit.
However it wasn't quite as dramatic as first thought, as it turned out to be an anti-aircraft shell which had probably been fired from the camp. It was quite safe though, as it did not contain any explosive material, it was just a solid metal missile. The army explained that there were anti-aircraft guns in the camp and that (as we all know) what goes up must come down.
On that basis it's probably safe to assume there are more still buried undetected in the gardens of the surrounding area, possibly even in the playing fields too."
Granton Road
Traffic Accident
"Some of your site visitors who lived locally may remember a local incident that occurred involving Iain in the 1970s. He left home one morning to drive off up Granton Road to work.
As he got to the junction of Granton Road and Afton Terrace a bus driver heading north down Granton Road suddenly decided to overtake a car that was waiting for Iain to go past so it could turn right into Afton Terrace. The resulting collision sent Iain's car (a Mk 1 Ford Escort) spinning away causing it to crash through the garden wall on the corner of the junction.
When the car came to rest Iain was left heavily shaken and bruised with the gear lever in his hand and the engine pushed into the front passenger foot well. I believe that wasn't the first (or last) time the garden wall had suffered damage because of a collision! Even today I can still see where the rebuilt section of the wall is as it looks slightly rougher than the rest of the wall."
Donald Grant, Penicuik, Midlothian, Scotland: 3 February 2014
Recollections
7.
Bert Fairbairn
Gold Coast, Queensland, Australia
Thank you to Bert Fairbairn who wrote:
My Family
"I was born at 76 Lower Viewcraig Row Edinburgh in Nov 1945. My granny and grandad, Mima and Bert Jones, lived there. My mum was Ina, and her her sisters were Mary, Helen, Georgie Mima and Dorothy."
I was browsing the net on the Dumbiedykes site and spotted a wedding picture my Aunty Dot was a flower girl in 1948. The photo was sent in by Jeanette Keighren."
Our Homes
"My granny' family moved to Moredun and my family moved to Lochinvar Camp at Granton then to The Inch, Liberton, until 1961. When we were living at Lochinvar Camp my father' Thomas Fairbairn' received a Bravery Award for saving a young girl whose dress had caught fire."
Emigrartion
"In 1961. we sailed to Melbourne Australia on P&O liner, 'Orion'. I've been sending info to my mum in Melbourne. She knew a lad Bertie Butters, and Pim Mackenzie and Betty Stewart who lived in Prince Albert Buildings."
Bert Fairbairn, Gold Coast, Queensland, Australia: 23 + 27 February 2018
Recollections
8.
Robert Hamilton
Soest, Germany
Thank you to Robert Hamilton who wrote:
Age 5
"I was about 5 years old when I lived in Lochinvar Camp. I cannot remember when we moved there but it must have been soon after the War's end. We had been living with relatives in Stenhouse and then had to relocate to Lochinvar."
Our Family
"We were:
- Mum and Dad
- my elder brother, Eddie.
- my and younger sister, Lilian.
Scottish Community Singing
"I know that we lived at Lochinvar for a couple of years and, truthfully, in my childish memory it seemed ok. In fact one of the best memories I have is in some sort of club they had there in which we always had Scottish Community Singing, which through that I still love today."
Memories
"I remember great big rubbish bins which we used to climb into and take and eat any apple peelings we found. YŁck!
I remember having injured my leg and having to stay in bed for days, so Mum and carried me outside and there I lay and watched others playing.
Granton beach was always a target for us ..The communal washrooms at the camp were great.".
Robert Hamilton, Soest Germany: 31 August 2018