1

Early History of
Photography

2

Types of Camera and Photo

3

Photographic
Societies

4

Professional
Photographers

5

Collections of Photos and Books

Other talks: Ethnographic Postcards in Scotland

Other talks: History of Photography
Edinburgh University, School of Literature, Language and Cultures, Celtic and Scottish Studies
2nd Year Lecture: February 22, 2010 - Ethnographic Photography
Ethnographic Photography - Page 2 - Further Notes
Ethnographic Photography in Scotland
Types of Camera
and
Types of Photo
Further Notes
Daguerreotype
The image on the plate was very delicate so was covered with glass for protection.

Colour was added to some Daguerreotypes. This was a delicate process. Masks were cut for the shape of each colour. Then the artist would gently sprinkle a little finely ground colour and breath on the surface to make the colour adhere.
Prints, in the 1850s, would normally be made as 'contact prints' - i.e. the print would be the same size as the negative, so to get a large print, the photographer needed a large glass plate and a lot of chemicals and a large camera.

Here are examples of a carte de visite and a cabinet print.
Stereo views became popular in the 1850s. There is a man standing in front of the statue in the right-hand image, but he cannot be seen in the left-hand image. So the photograph appears to have been taken by a camera that had a single lens.

Duke of Wellington Statue

© Copyright: For permission to reproduce, please contact peter.stubbs@edinphoto.org.uk
Photogravure
Thomas Annan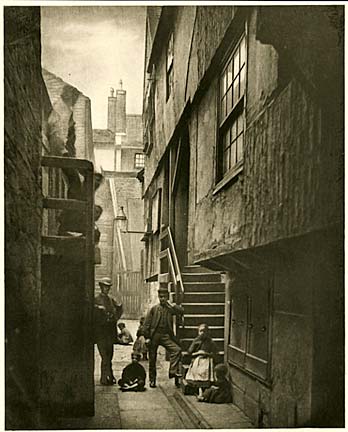 © Reproduced with acknowledgement to Fine Art Dealer Paul Cava
There was movement towards more artistic photography in the 1890s. Some prominent members of the Royal Photographic Society broke away from the RPS to form the The Linked Ring in 1892. They produced photos that they believed went beyond the scientific and had artistic merit. Many of these by Henry Peach Robinson, J Craig Annan and others were reproduced as high quality photogravure prints in Alfred Stieglitz' journal, Camera Work, between 1903 and 1917.

Here are some examples of photogravure photos - views of 'Old Closes and Streets of Glasgow' taken by Thomas Annan, the father of James Craig Annan in the late 1860s, then reproduced as photogravures in 1900. These were produced to make a documentary record of the closes that were soon to be demolished, but the photos have a pictorial quality.
Cameras and Film
There were now more photographers throughout Britain than there had been in the 19th century. But photography, including the materials, could be costly and there were still many people who had no camera and relied on trips to Jeromes to get their photos taken for birthdays and other occasions.

The Autochrome process for colour photography became available in 1907, but was not widely used. Kodachrome introduced their first colour film in 1935 but it was very slow (only 6 ASA). However, the speed was increased and Kodachrome continued to be sold until 2009.

There have been many changes in cameras and film since 1920:

Large format cameras, with large plates, were used by the press for most of the 20th Century, but are now largely seen.

Medium format film cameras (i.e. taking 120 size film) were popular until very recently with studio photographers and other professional photographers, but now most professionals seem to have accepted that they can get at least as good results with professional digital cameras.

Cameras with folding bellows were popular with keen photographers in the first half of the 20th century, but these photographers were likely to move on to 35mm SLR (single lens reflex) cameras with their inter-changeable lenses around the 1950s/60s then on to digital SLR cameras in the early 2000s.
Many more features have been added to SLR cameras over the years - split screen focus, auto-focus, motor drive, programme mode, auto-bracketing, TTL flash, etc. Even an 'entry-level' digital SLR now has many more features than a 'top-of-the-range' SLR had a couple of decades ago.

At the other end of the range, disk cameras with their miniature film size were introduced in 1982, but discontinued in 1999.

Instant photo cameras were introduced by Polaroid in 1963, but with the advent of digital cameras, Polaroid 'instant pictures' no longer have the same appeal. Polaroid recently discontinued making their film.

Disposable cameras using 35mm film and cheap plastic lenses have been sold by Fuji since 1986 and by Kodak since 1988. They are easy to use and inexpensive. They are now often left on the tables at weddings so that guests can capture their own images of the event.
___________________________________
End of Page 1
1

Early History of
Photography

2

Types of Camera and Photo

3

Photographic
Societies

4

Professional
Photographers

5

Collections of Photos and Books

Other talks: Ethnographic Postcards in Scotland

Other talks: History of Photography