1839 is generally regarded as the beginning of photography.

Earlier experiments - pictures faded.

7 Jan 1839: Daguerre (France) announced his success.

Talbot (England) immediately announced his results.

25 Jan 1839: Talbot displayed his work at the Royal Institution in London.

31 Jan 1839: Talbot read a Paper 'Some Accounts of Photogenic Drawing' to the Royal Society in London.

In fact Daguerre's and Talbot's discoveries were quite different.

Daguerre: a single delicate image with fine detail, on metal.

Talbot: an image on paper, with more texture and less detail.

Talbot's Calotype method could produce multiple images from a single negative.
The Latticed Window (Talbot)
A print from the oldest photographic negative in existence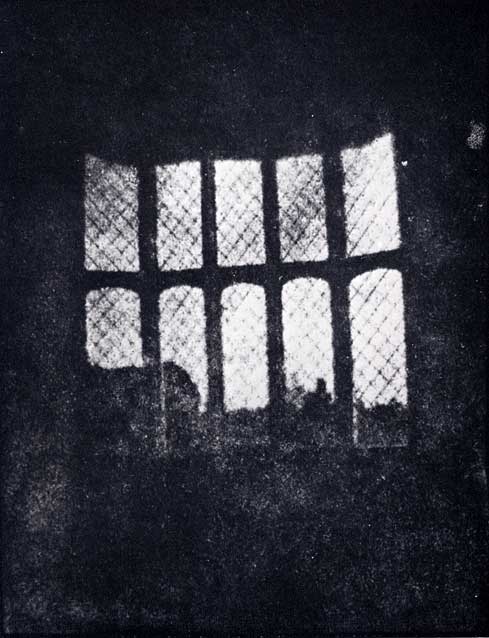 © Reproduced from the National Museum of Photography, Film and Television collection,
by courtesy of the Science and Society Picture Library.
Daguerre painted stage scenes. Here is one of Holyrood Palace:

Did he ever come to Edinburgh?
Holyrood Abbey, Edinburgh (Daguerre)
An oil painting
© Reproduced by courtesy of The Board of Trustees of the National Museums & Galleries
on Merseyside (Walker Art Gallery, Liverpool)
Talbot visited Edinburgh in the early 1840s to take photographs for 'Sun Pictures of Scotland', a book published in 1845.

Talbot lived in Edinburgh for 10 years from 1855. He was elected one of six prominent photographers elected to be Honorary Members of Edinburgh Photographic Society in 1862. Did he attend any of the society's meetings?
___________________________________
to the announcement of Photography in 1839
Edinburgh was well placed to react to the discovery of photography.

Societies in Edinburgh were keen to discuss and follow up new discoveries. Edinburgh University had a long-established Chemistry Dept, so there were people around with a good understanding of chemistry who were keen to learn about photography and experiment with photography.

On 27 March and 10 April 1839, Andrew Fyfe, Vice President of the Society of Arts for Scotland, gave lectures on photography to the Royal Scottish Society of Arts in Edinburgh.
Dr Fyfe's lectures were not merely reports of the Talbot's invention. They were Dr Fyfe's accounts of how he had attempted to improve upon the process announced by Talbot, together with a display of some of his results.
Early in 1839, Sir John Robinson, Secretary to The Royal Society of Edinburgh, visited Daguerre in Paris. On his return to Edinburgh he gave a lecture to The Royal Society of Edinburgh on 29 May 1839, in which he spoke enthusiastically about the Daguerreotype:

"The discovery is one of the most splendid and important which has ever graced the progress of the fine arts."

There were Exhibitions of photography in Edinburgh in 1839.

On 15 October 1839, James Howie placed an announcement in The Scotsman:

Exhibition Advertisement

Mr Howie, artist, 64 Princes Street, begs leave respectfully to inform the Nobility, Gentry and Public, that he has succeeded in producing some beautiful specimens in the above

NEW ART on SILVER,

the first public exhibition of its kind in Scotland

Two months later, an Exhibition of Arts, Manufacturers and Practical Science was held at Assembly Halls, George Street, from 24 Dec 1839 until 7 Jan 1840.
Twenty photographs (or photogenic drawings) by Talbot were exhibited, together with a Photogenic Camera made by Mr Davidson, who would soon be making cameras for Robert Adamson.
Photographs by Daguerre were also exhibited this month in Edinburgh, possibly at the same exhibition.
The Exhibition attracted over 50,000 visitors.
___________________________________
to the announcement of Photography in 1839
Sir David Brewster
© Reproduced by courtesy of Edinburgh City Libraries and Information Services
Sir David Brewster, Principal of the united colleges of St Salvator and St Leonard at St Andrews University, inventor of the kaleidoscope had been in correspondence with Talbot, and learnt of his Calotype process.

Brewster gathered a number of early photographers around him in St Andrews. There were:

It was Sir David Brewster who introduced Robert Adamson from St Andrews to David Octavius Hill in Edinburgh. The 'Hill & Adamson' partnership went on to create several thousand calotypes - but that's the subject of a different lecture.

David Octavius Hill

Secretary of Scottish Academy / RSA, 1829-69

© Reproduced by courtesy of Edinburgh City Libraries and Information Services
George Washington Wilson
in Edinburgh
Princes Street - c.1859
© Reproduced with acknowledgement to Jenny and Ray Norman
Web site: World of Stereoviews
Princes Street - c.1860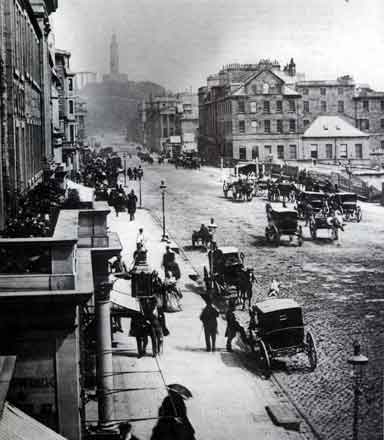 © Reproduced by courtesy of the Yerbury family. Click here for link to web site.
Lantern Slide - Edinburgh Old Town and Waverley Bridge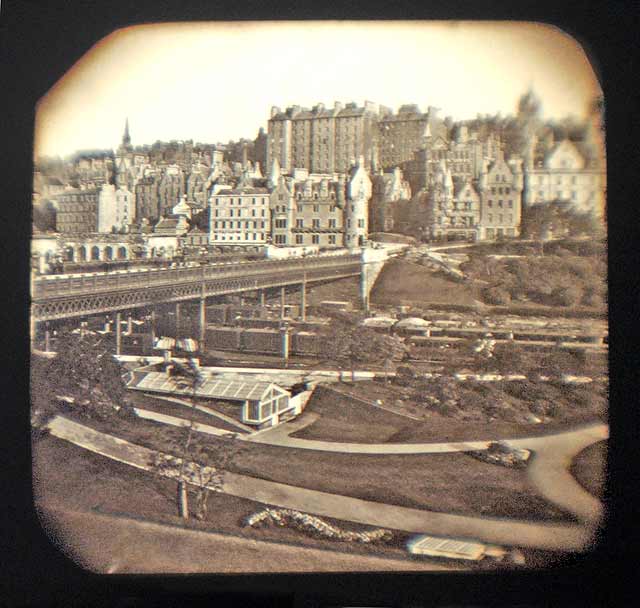 © Reproduced with acknowledgement to Alastair Griffiths, Middlewich, Cheshire, England