Edinburgh Photographic Society
150th Anniversary
2011
Edinburgh Photogrpahic Society celebrates its 150th Anniversary in 2011. Here is a very brief history of the society's first 150 years.
Please scroll down this page, or click on one of the links below.
Note
I wrote the notes on this page in 2010 , as the 150th Anniversary was approaching. I've now written a rather longer version of the same note. Please click on this link to read it:
Brief extracts from this note are to be included at the start of a book of photographs by EPS Members being published in 2011 to commemorate EPS 150th Anniversary.
1.
Background
1861
In 1861, Lincoln was elected President of the USA. It was the year that the American Civil War began. In Edinburgh this was the year that the One o' Clock gun was set up at Edinburgh Castle and the foundation stone was laid for the Royal Scottish Museum in Chamber Street. It was also the year that Edinburgh Photographic Society was founded.
Before EPS
Photography had been practiced since 1839, when William Henry Fox Talbot (in England) and Louis-Jacques-Mandé Daguerre (in Paris) had announced their discoveries. But it was not until The Great Exhibition at Crystal Palace, London, in 1851 that photography had caught the imagination of the wider public and photographic societies began to be established, first in Leeds then London, Liverpool, Manchester and Edinburgh.
Photographic Society of Scotland
© Reproduced with acknowledgement to Edinburgh Photographic Society
The Edinburgh Society was the Photographic Society of Scotland (PSS), founded in 1856. It provided lectures, demonstrations, outings and exhibitions. Its members included both professional and amateur photographers. Prince Albert was Patron of the Society and Sir David Brewster was President.
However, despite its early success, not all members were happy with the PSS. Some found the meetings to be too formal, allowing little scope for discussion. Others objected to a decision to reject Oscar G Rejlander's photograph, 'Two Ways of Life' at the 1857 PSS Exhibition because it included semi-nude female figures. Rejlander considered his photo to be fine art. The Daily Express argued that the exhibition should have accepted it. 'The picture was exhibited at the Art Treasures Exhibition in Manchester. Sir David Brewster has a copy of the photo and The Prince Consort has three copies of it.'
2.
Early Members
Founding of EPS
Those dissatisfied with the PSS began to meet informally in Edinburgh, and on 20 February 1861, in a small room behind J Traill Taylor's watchmaker's shop at 81 South Bridge, they formally established Edinburgh Photographic Society.
J Traill Taylor
© Reproduced by courtesy of Edinburgh Photographic Society
J Traill Taylor went on to become the society's first Secretary. Three years later, he moved to London to become editor of the British Journal of Photography, a post that he held until his death in 1895 (except for seven years spent in the USA).
James Valentine, whose company in Dundee produced photographic views of Scotland, and later postcards, was another founding member, as was Archibald Burns, landscape photographer, whose studio was at Rock House, formerly the home of Edinburgh calotypists, Hill & Adamson.
Honorary Members
In 1862, EPS elected six honorary members:
- Sir William Henry Fox Talbot, creator of the negative/positive process.
- Sir David Brewster, Professor at St Andrews University and President of PSS.
- James Sinclair, Earl of Caithness, photographer and exhibitor from London.
- Professor Piazzi Smyth, photographer and Astronomer Royal for Scotland.
- Dr Lyon Playfair, Professor of Chemistry at Edinburgh University
- George Shadbolt, Editor of the British Journal of Photography.
Classes of Member
EPS welcomed all into its membership. Secretary, George H Slight, said in 1867:
"In a good working society, there should be a thorough admixture of different classes of the community among the members, such as professionals, working amateurs of all ranks, and others calling themselves amateurs who may have only a general hankering after photographic pursuits."
He said this last class was not to be despised. He referred to them as
'ornamental members, useful from their position and influence in giving a certain status to a society, and in assisting to augment the funds.'
3.
Lectures
Lecture Titles
In the 1860s, photography involved a lot of experimenting and learning from colleagues, rather than reading Amateur Photographer and camera manuals, so many of the society's early lectures were instructional. Lecture titles included:
- My First Photographic Trip to the Country and what befell me
- A New Tent for Photographic Purposes mounted on a Wheelbarrow
- The Velocipede as an adjunct to Landscape Photography
- Some Recent Explosions and their causes in connection with the Oxyhydrogen Light
- The Beer and Albumen Process
- Repairing Broken Negatives
Popular Lectures
EPS also held Popular Lectures each year. These were open to the public, sometimes with up to 1,000 attending. There were 'Magic Lantern Slide' tours of Russia, Italy, Egypt, India, Japan, and several of Scotland, some accompanied by poetry readings and song.
4.
Excursions
Travel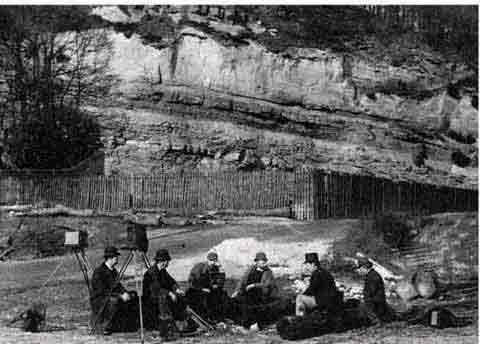 © Reproduced by courtesy of the Yerbury Family. Click here for link to web site.
There were photographic excursions to the country by wagonette, train, steamer, canal barge and cycle.
Annual Picnics
© Reproduced by courtesy of Edinburgh Photographic Society
The society's annual picnic was a popular event in the 1870s and 1880s. All the photographic establishments in the city closed for the day. The report of the 1883 picnic at Almond Dell read:
"A party of 109 travelled on a decorated barge with a couple of violins, 'cello and piano, dances and song. On the outward journey, there was a solo singing competition with seven lady competitors, the prize being a 10" x 8" portrait in carbon of the winner. The bachelors won the tug of war between the married and single. There was music and dancing for 3-4 hours on the barge for the return journey."
Picnics in other years also included sports. Some of Edinburgh's better known photographers won prizes for the High Leap, 150 Yard Race, Barrow Race, Hopping Race and Running Backwards Race!
Photographic Convention
© Reproduced by courtesy of Edinburgh Photographic Society Photographer, Alex Ayton, 1892
In 1892, EPS extended an invitation to the Photographic Convention of the UK to hold its annual conference in Edinburgh.
Several lectures, photographic outings and visits to Edinburgh photographic studios were organised. Accounts of the week's events and a photograph of all the participants appeared in the British Journal of Photography.
5.
Membership
Membership of the society expanded. It had 162 members by 1870 and 374 by 1880.
The availability of hand-held cameras and dry plates in the 1890s encouraged more people to take up photography and join EPS. By 1900, membership had reached 509.
Edinburgh Photographic Club
Edinburgh Photographic Club (EPC) was established in 1881, with membership limited to 40. Membership was by invitation to some of the more experienced and distinguished members of EPS.
The aim, initially, was to act as an upper chamber to discuss the more advanced chemical and physical aspects of photography, but in later years the manufacturers of photographic materials took over this role and EPC became more of a social club. EPC survived for 67 years and is now commemorated by one of the EPS trophies, the EPC Memorial Shield.
6.
Premises
38 North Castle Street
After almost 30 years of meeting in rooms at Queen Street, St Andrew Square and George Street. EPS acquired its own premises in 1892. The new premises cost £920 and were at 38 North Castle Street. They had ten rooms and were on three floors. They were then fitted out with a library, an enlarging room, and darkrooms with ruby lights for plates and yellow lights for bromide work.
Sir Walter Scott
These premises were across the road from No 39, a house that Sir Walter Scott had occupied for many years until he was struck by financial disaster in 1826.
7.
Membership Fees
Increasing Numbers
© Reproduced by courtesy of Edinburgh Photographic Society
The annual EPS membership fee had remained at five shillings (25 pence) from 1861 up to 1892. It then increased to 10s 6d to include use of darkrooms and other facilities in the new premises. Membership fees also included a Presentation Print for each member, every year, specially printed from one of the prints exhibited in the previous year's International Exhibition.
8.
Exhibitions
1861 Exhibition
EPS Exhibitions have been held annually since 1861. The first exhibition was staged when the society was only six weeks old. It attracted some of Britain's best known photographers, including Fenton, Bedford, Mudd, Rodger, Silvy, and Bison.
1876 Exhibition
A major EPS exhibition was held in 1876, occupying the whole Royal Scottish Academy at the foot of the Mound. Six hundred guests were invited to the opening. The society reported that 'copies of a circular had been posted to nearly every photographer in Britain, America, India and the colonies, while the continent had also, so far as practicable, been attended to.'
The British Journal of Photography reported that 'nearly every civilised country was more or less adequately represented in the exhibition'. The exhibition included apparatus, chemicals, books and over 3,000 photos.
1890 Exhibition
© Reproduced by courtesy of Edinburgh Photographic Society
Exhibitions continued annually, usually in the society's premises, but in 1890 the exhibition returned to the Royal Scottish Academy. There were 1,500 photos on display, including examples of silver prints, carbon, platinum, bromide, Aristotype, Kallitype, Diazotype, vitrified enamel and other processes.
Exhibits included early Daguerreotypes, calotypes by Talbot and by Hill & Adamson, and copies of three books by Talbot:
- Sun Pictures of Scotland
- Pencil of Nature
- Photographic Drawings
Musical entertainment was provided by the String Band of the Queen's Own Cameron Highlanders, and there were Exhibition Lectures.
From 1900
9.
Groups and Meetings
Cycling and Golf
Some groups within the society declined; others started and flourished. The EPS Camera Cycling Corps (estd 1898) survived for only a couple of years, as did the EPS Golf Club (estd 1903).
Popular Meetings
Popular Meetings, open to the general public, continued until 1901. There was then no longer much demand for lantern slides, the cinematograph having arrived.
The final Popular Meeting, on 15 March 1901, included slides from EPS members shown by lime-light, intervals for concert and music, and two cinematographs, one of an International Rugby Match played at Blackheath on the previous Saturday and one of the funeral of Queen Victoria who had died on 22 January 1901.
EPS Survey Group
The EPS Survey Group (estd 1899) worked steadily towards its objective of creating a record of Edinburgh past and present. Photos were taken of many of the streets and buildings in the Old Town.
In 1904, the Survey Group staged an exhibition of 50 paintings, 107 engravings and 359 photos. Unfortunately, Survey Group activities were curtailed by the outbreak of war in 1914. However the photos have survived. Some are now in the Scottish National Gallery Collection, some in the Edinburgh City Library Collection and some in the RCAHMS Collection.
Other EPS Groups
Other EPS Groups were created during the 20th century:
- Portfolio (1916)
- Pictorial (1923)
- Cine (1927)
- Bromoil (1928)
- Colour (1955)
- Studio (1955)
- Colour Printing (1967)
- Creative (1973)
- Nature (1975)
- Audio-visual (1987)
- Digital Imaging (1997).
Full Moon
Wednesday evenings remained the night for the main society meetings, a tradition started in 1861. During World War 2 black-outs, the society's meetings were still held on Wednesdays, but were held monthly, on the Wednesday nearest to the full moon!
10.
Members
EPS Council 1903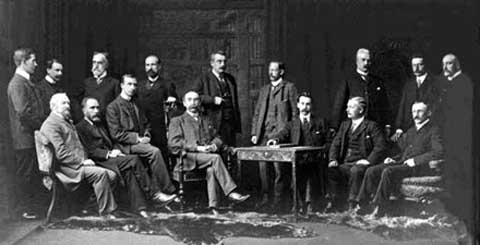 © Reproduced by courtesy of Edinburgh Photographic Society
Too many photographers to mention have played important roles in EPS over the years. Here are four. Between them, they have supported EPS throughout the past hundred years.
Archibald MacLucas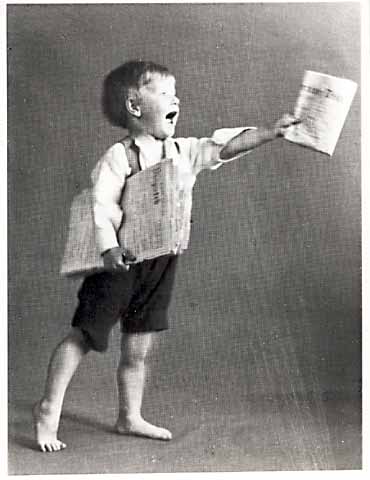 © Reproduced by courtesy of the MacLucas family
Archibald H MacLucas (18??-1954) was a landscape and portrait photographer and exhibitor who gave many lectures and demonstrations to EPS. The photograph above is one that he took of his son, Norman.
He took up photography in 1897 and joined EPS, but, with other members, broke away to form Midlothian Photographic Association in 1907. AH Maclucas became MPA President from 1907 until the society merged again with EPS in 1915.
A H MacLucas was elected EPS President 1917-18 and again 1941-46. By 1951 he was described as 'The grand old man of EPS'. In 1954, he was elected EPS Vice President, but died the following day.
Gracie Alison
© Reproduced by courtesy of Edinburgh Photographic Society
Portrait photographer, Gracie Alison (c1917-2001) was a regular exhibitor in EPS International Exhibitions. She joined EPS in 1940, and became EPS Secretary (1946-85). She was awarded Hon FRPS in 1957, and in 1964 became the first woman and the only Scottish photographer to be elected to the London Salon. EPS now holds a Memorial Lecture each year in honour of Gracie.
George Cruickshank
George Cruickshank (1908-98) was Treasurer for most of the time that Gracie was Secretary. George joined EPS in 1939 and became Treasurer (1947-88) except for a 3-year spell in the 1950s when he was President. He gave many lectures on developing and printing to the society.
Sandy Cleland
Sandy Cleland FRPS, nature photographer, is well known for the many lectures he has given to EPS and throughout Britain, and for his judging and awards in international exhibitions. He was elected EPS President (1985-87) followed by his daughter, Karen, 20 years later!. Sandy was in overall charge of the EPS International Exhibition for 12 years in the 1980s-90s, and has held many roles on behalf of the Royal Photographic Society.
11.
Premises
38 Castle Street
EPS premises at 38 North Castle Street served the society well, but in later years there were demands for larger premises, preferably with fewer steps to climb. So, in 1925, EPS sold 38 North Castle Street and entered into an arrangement with the Royal Scottish Society of Arts (RSSA) for shared use of their premises at 117 George Street.
16 Royal Terrace
The RSSA then moved to 16 Royal Terrace in 1929. EPS shared these premises and shared its Journal with the other societies, Edinburgh Association of Science & Art, Edinburgh Electrical Society, Electrical Association for Women and Edinburgh & District Radio Society. Unfortunately, the RSSA was forced to sell 16 Royal Terrace in 1952, so EPS shared the Edinburgh Cine Club's premises at Fettes Row for two years before acquiring their own home at 68 Great King Street.
68 Great King Street
In 1954, thanks to interest-free loans of £1,055 from members and donations of £120, the society was able to acquire its present premises at 68 Great King Street for £1,650, and spent a further £480 on plumbing, painting, electrical work, and refurbishment. Much of this work was carried out by a band of 50 volunteers and the new premises were formally opened in October 1955.
Work at 68 Great King Street was undertaken by members at regular intervals over the next 50 years. However, recent decoration and refurbishment has been carried out professionally, culminating in a major refurbishment of the interior of the building in 2009-10.
This 1958 report gives some idea of the work being undertaken: "Finally, a source of peril has been removed. Intrepid members who ventured to open that sinister little door marked 'Danger' in the darkroom flat, will have found that it plunged directly into Stygian blackness of a sub-basement. The council, in their mercy, have now stretched the funds to the wiring of this, so 'Let there be light'."
12.
Photographic Collection
Museum
By 1980, the society had built up a large valuable collection of photos and equipment. At one time there were plans to create an EPS Museum, but this never materialised.
Donation
Storage conditions for prints at the premises were not ideal, and three floods from burst pipes in the flat above during 1979 and 1980 did not help the situation. So, in 1987, many of the photos were donated to the Scottish National Portrait Gallery. In 1990, the gallery staged an exhibition based on the Hill & Adamson calotypes donated.
13.
Exhibitions
Venues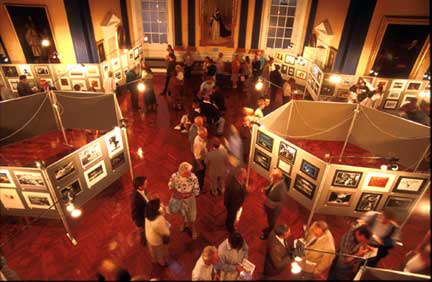 © Copyright: For permission to reproduce, please contact peter.stubbs@edinphoto.org.uk
EPS International Exhibitions and Members' Exhibitions of Photography have continued to be held annually. From 1949 onwards, the International Exhibition has been held in August, during the Edinburgh Festival. Venues have included:
- YMCA Exhibition Hall, then
- St Cuthbert's Hall, then
- Merchant's Hall, then since 1996
- EPS premises at 68 Great King Street.
Entries
The number of International Print Exhibitions around the world has reduced in recent years, as some societies have had difficulty in finding the resources to stage them. However, our exhibition continues to be staged and remains highly regarded. Only a small percentage of entries is accepted each year, so gaining an acceptance is regarded as an achievement.
Since the 1950s, EPS International Exhibitions have attracted entries from 130 countries, typically between 1,200 and 4,000 entries pa, from which about 200 have been selected and exhibited.
14.
Celebrations
100th Anniversary
Edinburgh Photographic Society's celebrations in 1961 included a formal dinner and a display at the Floral Clock in West Princes Street Gardens to mark the society's centenary.
125th Anniversary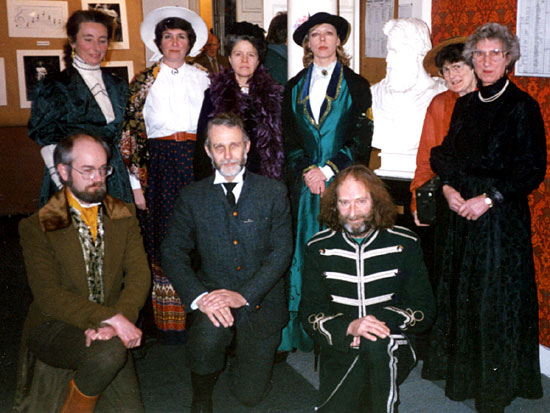 © Reproduced with acknowledgement to Sue Hill, EPS
The society's 125th anniversary in 1986 was marked by a social evening with some of the members in period costume.
15.
Poems
19th Century
When the Photographic Society of Scotland held its first exhibition in Edinburgh in 1856-7, there was still a novelty in viewing photos. The press enthused abut the exhibition, describing photos as 'paintings made by the sun (Old Sol)'.
The Courant Newspaper in Jan 1857 published a poem about the exhibition. It ended:
"Old Sol had scarcely spoken thus, when forth I went straightway
To his Great Exhibition-Room, my shilling there to pay.
And scarcely had I passed the door, and laid my money down
When I exclaimed, 'A shilling's worth! Why this is worth a crown.
He really is a painter! His own account is true.
I only wish we saw him here far oft'ner than we do'."
20th Century
Poems and songs continued to feature in EPS Bulletins and Journals for the next 150 years, some of the most memorable being poems in Scots by former EPS Secretary, Douglas Fraser and songs in the style of Gilbert & Sullivan by EPS Member, KoKo.
Here is the first of five verses of a song by KoKo titled "Captain of the EPS". I remember Brian Covell leading the singing of all five verses during the President's Evening at the end of his term of office:
"When I was a lad with a smile so sweet
I took a little walk along Great King Street
I moved the chairs and I swept the floor
And I polished up the handle on the big front door.
I polished up the handle with such finesse
That now I am the captain of the E P S."
Edinburgh Photographic Society