St Leonard's District Photos
Photo 3
Richmond Lane
See Answers below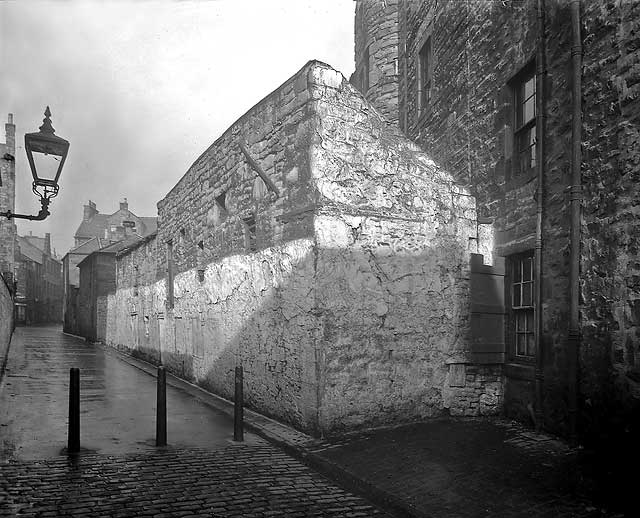 © Reproduced with acknowledgement to David Gordon, Old Town, Edinburgh
St Leonard's District - 1920s
Narrow Lane
This narrow lane with high wall, gas light and bollards to block the traffic looks unusual. Do you recognise it?
Many roads have been blocked by bollards in recent years, but these appear to be older than most.
Collection of Photos
The image above is taken from a collection of whole-plate negatives. The photos were probably taken around the 1920s.
If you recognise this street, please email me.
Thank you. Peter Stubbs: July 4, 2008
Answer 1
Thank you to Bryan Gourlay, Biggar, Lanarkshire, Scotland who wrote:
Richmond Lane
"The width and length of the lane and angle of the buildings at the end suggest photo 3 could be Richmond Lane running into West Richmond Street at its junction with Richmond Place.
There are also no buildings on the right-hand side, which would tie in with the wall being that of the back greens of the west side of South Richmond Street.
Thatís my best guess. Looking at the relatively tight area the photos are taken, I canít see any other lanes that fit the bill."
Bryan Gourlay, Biggar, Lanarkshire, Scotland: July 7, 2008
I think Bryan's explanation sounds very plausible. Here is a map of the area, published in 1925. (This map is large and may be slow to load.)
The lane that Brian mentions runs approximately north/south. It is not named on the map but can be found towards the lower-right corner of this map, about 4 streets ot the left of the letter 'C' of 'SALISBURY CRAGS' in Holyrood Park.
Peter Stubbs: July 7, 2008
Answer 2
I visited Richmond Lane and took this photo earlier this week:
2008
I believe it was probably taken from about the same position as this 1920s photo below. Both photos look NW towards West Richmond Street.
1920s
All the buildings on the right in the 1920s photo have now gone, probably demolished around the late-1920s. The old gas lamp and the bollards in the road have also gone. However, the change in road surface from cobbles to tarmac can be seen in both photos.
The wall on the left, barely visible in the 1920s photo, is still standing. The building over that wall is the former school in Davy Street.
Peter Stubbs: July 10, 2008
1891 Maps
Richmond Lane can be found half way down the South Side map on the extreme-right of the map extending into the top-left corner of the St Leonard's map below