Edinburgh, Leith and Newhaven - Social History
Funeral Procession
1928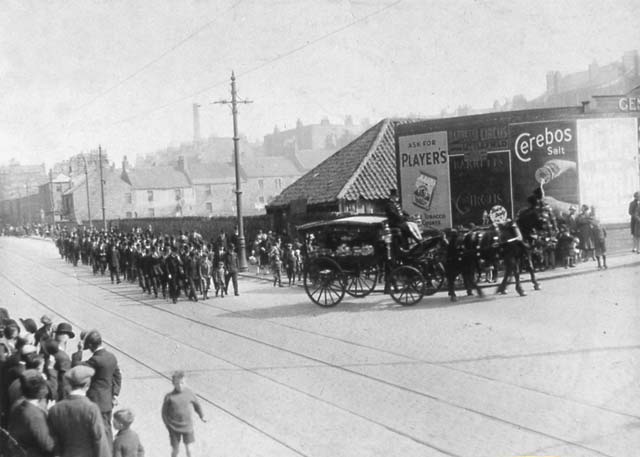 © Reproduced with acknowledgement to The Museum of Edinburgh
Funeral Procession
This photo was taken on 24 April 1928, as the funeral procession for David Dryburgh Finlay passed through the streets on its way to Rosebank Cemetery. There were over 600 mourners.
David Dryburgh Finlay had died in Leith Hospital following an accident when the door of a steam boiler had fallen in on the steamer, Inverneil.
Reply
1.
Catherine (Kate) Finlay
Adelaide, South Australia, Australia
Thank you to Catherine (Kate) Finlay for posting a message in the EdinPhoto guestbook.
Catherine wrote:
Funeral Parade
"This funeral parade at Newhaven is actually my grandfather's funeral. My father is the little boy in front of the mourners, wearing the light coloured coat.
My father remembers the day so well. My father's name was David Dryburgh Finlay. He was born in New Lane, Newhaven. in January 1921. I'd like to hear from anyone who knew the Finlays."
Catherine (Kate) Finlay, Adelaide, South Australia, Australia:
Messages posted in EdinPhoto guestbook and replies: May 28 + June 1, 2012
Reply to Catherine
Catherine is keen to hear from anybody who remembers her grandfather or her father. Both were named David Dryburgh Finlay.
I now have Catherine's email address. Catherine sent it to me on September 2, 2012.
So, if you remember Catherine's father or grandfather and would like to contact her, please email me to let me know, then I'll pass her email address to you.
Peter Stubbs, Edinburgh: July 22, 2014
Newhaven

Newhaven
Old Photos

Newhaven
Postcards

Newhaven
Other Pages