Conversion from Dual Door to Single Door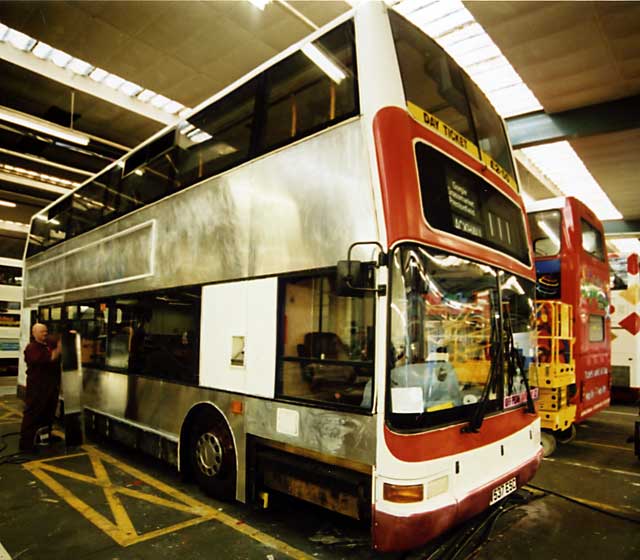 © Copyright: Peter Stubbs Photograph taken 28 September 2004
The Seating Department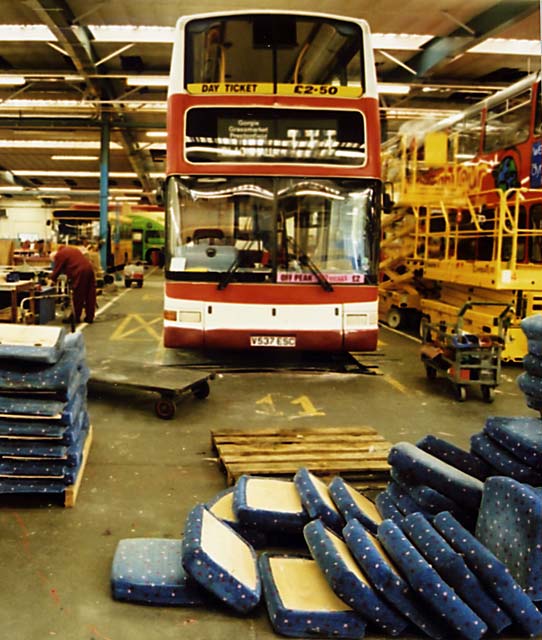 © Copyright: Peter Stubbs Photograph taken 28 September 2004
© Copyright: Peter Stubbs Photograph taken 28 September 2004
Seafield Works
Since the LRT works closed at Shrubhill, much of the maintenance work for the buses, now Lothian Buses, has been done at Seafield. Seafield Works are beside the Firth of Forth, a short distance to the west of Portobello Bus Depot.
Lothian Buses can be seen in these photos. The distinctive harlequin livery is visible behind the Albion chassis in the third photograph.
Question
Which vehicle does the Albion chassis belongs to?
- Peter Stubbs: October 30, 2004
Answer
Thank you to Alistair Liddle, now living at Bonchester Bridge in the Scottish Borders, for giving me the following details in November 2006:
Alistair wrote:
"This is an Albion 20/45hp chassis.
I don't know how old it is but it has now had a van body put on it in the livery of Edinburgh Parcels. I understand that it was an apprentice project.
Here are a couple of photographs of it."
Alistair Liddle, Bonchester Bridge, Scottish Borders: November 20, 2006