Recollections
Lochend
and
Easter Road
Recollections

1.

Valerie Mills
Luss, Argyll & Bute, Scotland

- Albion Place

- 'Pour-Oot'

- Football Matches

- Move from Edinburgh

- Churches

2.

Question

Leith History Society
Leith, Edinburgh

- Dunbar Aerated Waters

- Alexander Dunbar

Answer
1

Bryden (Dunbar) Ritchie
Edinburgh

- Two Dunbar Companies

(A) Dunbar & Co

(B) James Dunbar Ltd

Answer
2

David Dunbar
London

- James Dunbar Ltd

- Brothers

- The Next Generation

- Other Dunbars

Answer
3

Bill Hall
Musselburgh, East Lothian, Scotland

- Elgin House

Answer
4

- James Dunbar & Co

- bottles

- Dunbar Ltd

- Questions

Answer
5

- Dunbar Ltd

Answer
6

Alastair Berry
Nanaimo, Vancouver Island, British Columbia

- James Dunbar

- James' Father

- James' Brother

- Music in the Factory

- James' Family

- Dunbar's: The Pleasance

- Other Drinks Companies
Recollections
1.
Valerie Mills
Luss, Argyll & Bute, Scotland
Thank you to Valerie Mills, now living at Luss beside Loch Lomond, who wrote:
Albion Place
"When I was 8yrs old, in 1966, my family moved from Lochend Road to No 15 Albion Place, Edinburgh Edin. (5 of us in a 1 bedroomed house, no bath).
At one end of the Street there was the Hibs Football Ground and at the other end was a Church.
Well, myself, my 2 younger brothers and all the other kids in the street lived for Saturdays, because that was when most of the weddings were held at this church."
'Pour-Oot',
"We would be out there from the minute we were allowed out to play, swinging on the railings and jumping of the steps of the church waiting for the Wedding to 'Get Over and Done With', then we'd get the 'poor oot'."
A 'poor oot' is an old Scottish custom. The groom would throw money out of the wedding car, to be scrambled for by children, as the car left the church.
Peter Stubbs, Edinburgh: October 2007
Football Matches
"But it broke our hearts if there was a football match on that day, as we were all brought indoors, because of the 'crowds'. The minute the football crowds had gone, and my Mum let us out again, it was a race to the church to see if they had thrown anything, and also to beat the other kids from getting there first.
I learned to hate football from an early age! And to my shame, I don't know the name of that Church."
Move from Edinburgh
"I left Edinburgh 5 yrs ago. I now live 1 mile outside the village of Luss, on the Banks of Loch Lomond. But I do miss Edinburgh so much."
Valerie Mills, Luss, Argyll & Bute, Scotland: October 14 2007
Churches
There were two churches in Albion Road, St Mungo's Church and Lockhart Memorial Church. Please click on the thumbnail image below to enlarge the photo to see both churches, and the framework for the new stand at Hibs Football Ground in the background.
Peter Stubbs: November 22, 2007
Recollections
2.
Leith History Society
Leith, Edinburgh
Question
Dunbar Aerated Waters
Albion Road
Dunbar & Co, aerated water manufacturers were based at Albion Road, close to Hibs Football Stadium.
Members of Leith History Society are looking at the history of this company. Do you know anything about the company? Did you perhaps work for the company? If you have any information about it, please e-mail me and I'll pass on any details you send me to the history society.
Thank you.
- Peter Stubbs: November 25, 2007
Alexander Dunbar
I've now added a profile of one of the company's Directors, Alexander Dunbar ***, to the web site.
He became President of Edinburgh Photographic Society.
- Peter Stubbs: November 26, 2007
*** But see also Answers 1 and 2 below.
Recollections
2.
Answer
1.
Bryden (Dunbar) Ritchie
Edinburgh
Thank you to Bryden Ritchie for providing the explanation below.
Bryden wrote:
Two Dunbar Companies
"You have fallen into a little trap here. There were TWO lemonade firms in Edinburgh called Dunbar; Dunbar & Co and James Dunbar."
I have referred to these two companies as (A) and (B) below.
(A)
Dunbar & Co
"Dunbar & Co's works were in the Pleasance, down from what is now the University Sports Club.
The owner of Dunbar & Co was an Alexander Dunbar. But, to the best of my knowledge, he was never a member of the Edinburgh Photograpic Society. In fact, I can't ever remember him having a camera - and that's not his photo! **
Dunbar & Co was wound up in the late 1960s, and the assets, such as they were, were sold to James Dunbar.
Jimmy Dunbar, the last scion of that family, used to work at the Edradour distillery, Pitlochry, about ten years or so ago. One of the James Dunbar side was Lord Provost at one time, I think."
** Please see 'Answer 2' below for more info on Alex Dunbar in the photograph above.
(B)
James Dunbar Ltd
"James Dunbar had the factory in Albion Road."
Bryden (Dunbar) Ritchie, Edinburgh: August 29, 2010
Recollections
2.
Answer
2.
David Dunbar
London
Thank you to David Dunbar who replied:
James Dunbar Ltd
"I stumbled on your website and was delighted to see references to my family's former business, the James Dunbar Ltd lemonade factory at 68 Albion Road.
I am the grand-son of the late Sir John Greig Dunbar who was indeed Lord Provost in the early 1960s. He was councilor for the Calton ward and was Managing Director of James Dunbar Ltd."
Brothers
"Sir John's brother, Alex Dunbar, was a Director of James Dunbar Ltd, not Dunbar & Co, and he was President of the Edinburgh Photographic Society.
Alex Dunbar
There was another brother, James, who too was a Director."
The Next Generation
"Latterly, my father Greig, and his cousin Jimmy ran the factory. The business was sold to Dunn & Co in the late-1960s or early- 1970s.
Sadly, Greig passed away in 2007. Jimmy too passed away, a little earlier. If only they were alive, they could tell you exactly the history of the place. Yes, Jimmy did indeed work at a distillery but I cannot confirm which one.
Are you familiar with Elgin House ** at the top of Easter Road? That was the house that belonged to James Dunbar himself from the 1860's, and his first factory was at 14 Maryfield (the street behind Easter Road)."
** I was not aware of Elgin House, but I'll look out for it next time I'm in the area.
Other Dunbars
"Finally, the 'other' Dunbars were certainly, at one time, at 3 Greenside Row. They were not part of the James Dunbar 'clan' as far as I know - but I can try and find out for sure.
I have an old marketing poster for Dunbar's Aerated Tonic."
David Dunbar, London: May 2, 2011
Recollections
2.
Answer
3.
Bill Hall
Musselburgh, East Lothian, Scotland
Thank you to Bill Hall for suggesting where I might be able to find James Dunbar's home, Elgin House.
Elgin House
"Elgin House could be the one behind the tenements in Easter Road, between Easter Road and Maryfield. Not many people know it. You have to go through a stair just up from Rossie Place near A & A Stores and the house is at the back. It is quite a large villa.
You can see it on Google Earth nestling in the angle between Maryfield/Rossie Place and Easter Road, I used to deliver papers from Blackhall's Newsagent in Easter Road to this house in the late-1950's and early-1960s."
Bill Hall, Musselburgh, East Lothian, Scotland: May 16, 2011
Recollections
2.
Answer
4.
Keith
Thank you to Keith for sending me this photograph of two bottles from his collection. These date from the late-1950s and come from the lemonade works of James Dunbar Ltd., 68 Albion Road, Edinburgh.
James Dunbar Ltd. was established in 1868.
James Dunbar Ltd
Kola and Appleade Bottles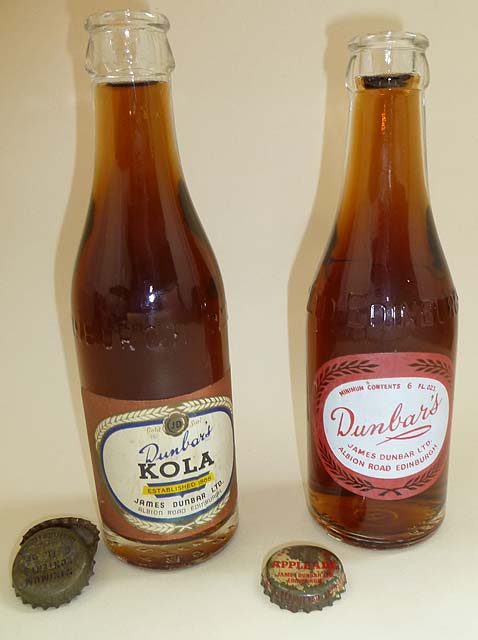 © Keith (full name to follow later, I hope)
Keith wrote:
Dunbar Ltd
"I would appreciate any info you had on James Dunbar & Co. eg.
- When did it close?
- Was it sold to one of the major brands, eg Barrs etc.?"
Keith: July 20, 2011
Reply to Keith?
If you'd like to send a reply to Keith, please email me, then I'll pass your message on to him. Thank you.
Peter Stubbs, Edinburgh, July 23, 2011
Recollections
2.
Answer
4.
Update
April 2012
Thank you to Lucy Stock who wrote:
Lemonade Bottles
"I have been particularly interested in getting a lemonade bottle. It looks like your Keith has decided to sell his two bottles on eBay.
Note the price!!! A bit beyond my budget, alas."
Lucy Stock: April 8, 2012
eBay
Well done, Lucy, for recognising these two bottles!
The link above should take you to the web site offering these bottles for sale, though the link may not work after the sale has ended in mid-April, 2012.
The eBay page uses the same photo as in Keith's Recollection 2, Answer 4 above. It describes the bottles as VINTAGE James Dunbar 1950s Scottish Coca Cola bottles.
The starting bid figure is set at £159.99, but there have been no bids yet.
Peter Stubbs, Edinburgh: April 12, 2012
Recollections
2.
Answer
5.
Keith
Dunbar Ltd
Thank you to Keith for sending me another email, answering one of his own questions above. i.e. The Dunbar soft drinks business was sold to Barrs.
Keith discovered this from recollections about the Dunbar drinks company, written by a grand-daughter of one of the directors. Her message can be found on this web site.
Acknowledgement: Keith: July 28, 2011
Recollections
2.
Answer
6.
Alastair Berry
Nanaimo, Vancouver Island, British Columbia
Thank you to Alastair Berry, who wrote:
James Dunbar
"I was a kid, aged twelve and living at Liberton in 1942, when I took a College of Agriculture course on Beekeeping. It was through beekeeping that I met James Dunbar from out Murrayfield way. He kept bees too, in his back garden.
He was the mainstay of Dunbar's lemonade factory in Albion Road. He knew the inner workings of every bit of machinery and on every Sunday night would light the boiler fire so that there would be steam up on the Monday morning.
James' Father
His father was elderly and lived down Hillside Crescent way. He would occasionally be in the factory office. Another brother looked after the formulae of the various colas and orange squashes - and ginger beer, some of which left the factory in 5 gallon pressurized stone crocks.
James' Brother
I think it was this brother who became Lord Provost later, but I cannot guarantee the information as I left Edinburgh 'for abroad' in 1952 .
Music in the Factory
They played music throughout the day in the factory and speeded it up if increased production was required.
The output of lemonade depended on the speed at which the workers fed the bottle washing machine
James' Family
This Jimmy Dunbar had:
- a wife, Lottie
- a son. 'Junior'. He went to the Institution, i.e. Melville College.
- a daughter, who married the son of a farmer out Dalmeny way and ended up in a farm on the Water of Ae, towards Dumfries
Dunbar's: The Pleasance
"The Dunbar lemonade company at The Pleasance was an entirely different company but might have been set up for the 'natural ' son of one of the older Dunbar Clan, many years before I was born.
The Albion Road DUNBARS certainly kept their distance from the Pleasance ones."
Other Drinks Companies
"Cola Cola made some overtures to Albion Road but were rejected as their product was deemed inferior.
I believe that there were some connections to Barr's Iron Brew and their Kirkcaldy factory but, as I was only a boy, I was not privy to all the details."
Alastair Berry, Nanaimo, Vancouver Island, British Columbia, Canada: January 26, 2012