Edinburgh Photographic Society
142nd International Exhibition of Photography
8 Aug to 5 September 2004
ALSO
RPS Pictorial Group Exhibition
Entry to the EPS International Exhibition 2004 also includes entry to the exhibition of the Royal Photographic Society's Pictorial Group, currently on show in the basement of the same premises, at 68 Great King Street.
Poster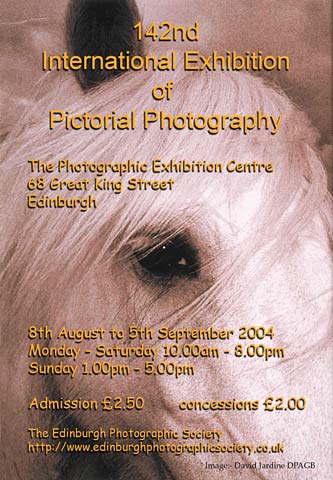 © David Jardine DPAGB
Above is one of the photographs in the 2004 Exhibition:
- Title: Bad Hair Day
- Photographer: David Jardine DPAGB
Catalogue
© with acknowledgement to Edinburgh Photographic Society
Above is one of the cover of the catalogue for the 2004 Exhibition. The building featured is Edinburgh Photographic Society's premises at 68 Great King Street where the International Exhibitions are now shown.
Venue
This Exhibition of Photography is the 142nd in a long line of Edinburgh Photographic Society Annual Open Exhibitions. Here is another photograph of Edinburgh Photographic Society's Premises at 68 Great King Street, the venue for its International Exhibitions of Photography.
The Edinburgh Photographic Centre
68 Great King Street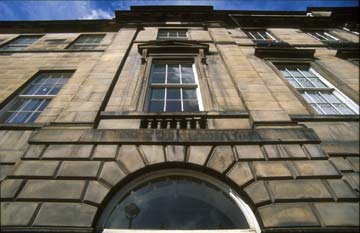 © Copyright: For permission to reproduce, please contact peter.stubbs@edinphoto.org.uk
(This section to be updated soon.)
The 3,002 prints received in 2004 comprised
- 1,212 mono prints
- 1,790 colour prints
- from 56 countries
From this entry, 218 prints (7.26%) were selected be hung in the exhibition. They were:
- 84 mono prints
- 134 colour prints.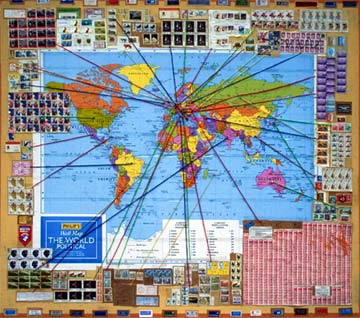 © Copyright: For permission to reproduce, please contact peter.stubbs@edinphoto.org.uk
FIAP Gold Medals

Three FIAP Gold Medals were awarded, one by each of the

Selectors:

John A Robertson APAGB BP** awarded a FIAP Gold Medal to Ian Platt MFIAP, FRPS for the print entitled Winter in the City

Tony Worobiec FRPS awarded a FIAP Gold Medal to Rowland Hill ARPS for the print entitled Solitude

Peter Stubbs ARPS AFIAP awarded a FIAP Gold Medal to to Barbie Lindsay ARPS MPAGB for the print entitled Spot the Dog
FIAP Ribbons
FIAP Ribbons were awarded to:
- Simon Allen EFIAP MPAGB for Cat Woman
- Carol Lawton for Daybreak
- Dave Wheeler FRPS EFIAP for Lake in the Forest
- Chris Shore FRPS AFIAP for Quiet Water
- Pham Duc for Smiles
- Margery J Maskell ARPS for Three Silvers
Edinburgh Medal
The Edinburgh Medal for the best print from an EPS Member was awarded to Douglas May for his print entitled Douglas Ormiston, Fishmonger.
Selectors' Comments
The selectors thanked Douglas Hamilton and his team from Edinburgh Photographic Society for their monumental logistical exercise in coping with 3,000 prints received, from which about 200 were to be selected for display in the exhibition. Commenting on the entries in the exhibition, they wrote:
"Each exhibition reflects current trends in photography. It was interesting to note that the vast majority of the prints submitted had been digitally produced. This has both a positive and a negative outcome. On the positive side, it was wonderful to see such a wide range of beautifully produced images, many of which we suspect may not have been produced, even only five years ago. The quality of the better composites was simply breathtaking.
By way of comparison, we found a dearth of traditionally printed monochrome work, but those that were submitted tended to be of a very high standard. Rather surprisingly a large number of entries featured figures (and cats!) but high quality traditional landscape work was in relatively short supply, many of the landscapes submitted having been over-sharpened or over-saturated at the digital printing stage."