The Whitehouse
Darts Team
1974
The Whitehouse Darts Team - Trophy Winners, 1974
BACK ROW: A Tulloch, R Dawson, R McGovern, R Slight, M McPhillips.
FRONT ROW: ?, ?, ?* ( * See Recollections 1)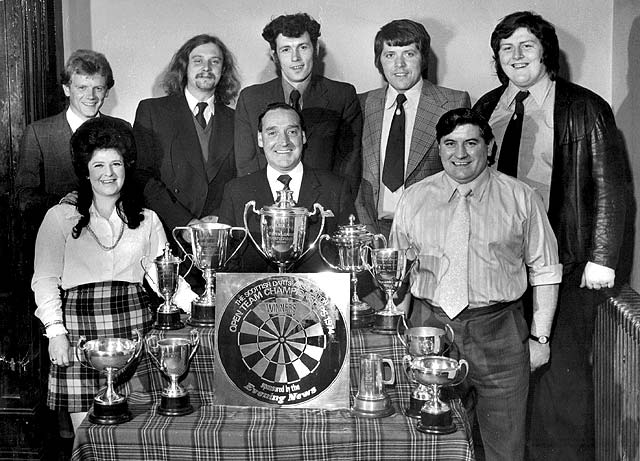 © Reproduced by courtesy of Evening News. Click here for web site details.
The Whitehouse Darts Team - 1974
The Photo
Thank you to Andy Tulloch for sending me this photo. Andy was one of members of the darts team from The Whitehouse, Craigmillar, seen here standing with their trophies in 1974.
The centrepiece is the Scottish Team Championship Plaque, sponsored by the Even ing News. The prize for winning this plaque included a holiday trip to Majorca.
The Team
Those on the back row of the photo are named above the photo. Also in the team were A Burnham, J Cowe, D Hill, D McGlynn, R Stuart, A Young and T Young.
Here is another photograph of some of the members of the team with their trophies:
The Whitehouse
Here is how The Whitehouse Pub looked, many years later, rather derelict, but due to be restored:
Andy Tulloch
Andy also won other darts trophies in 1973:
- The Portobello Singles Trophy, playing for the Marischal Arms Darts Team
- The foursomes, playing with Archie Young, John Cameron and Ged Herriot.
He was Runner-up in the Pairs Event, in 1973, playing with Archie Young.
Recollections
1.
Davy Turner
Craigmillar, Edinburgh
Thank you to Davy Turner who wrote to tell me the name of one of the three men in this photo that had not yet been identified.
Davy wrote:
Mick Meecham
"I just wanted to put a name to the gent front row on the right. I'm sure he was Mick Meechan - but I'm not 100% sure of his surname.
He was the Manager of the Whitehouse Pub during the 1960s and 1970s. I believe he moved on to manage a pub in the Leith area ,possibly Easter Rd
Davy Turner, Craigmillar, Edinburgh: February 6, 2010