Valentine Postcard - 'The Call of the Seaside, Portobello' - 1935 or 1936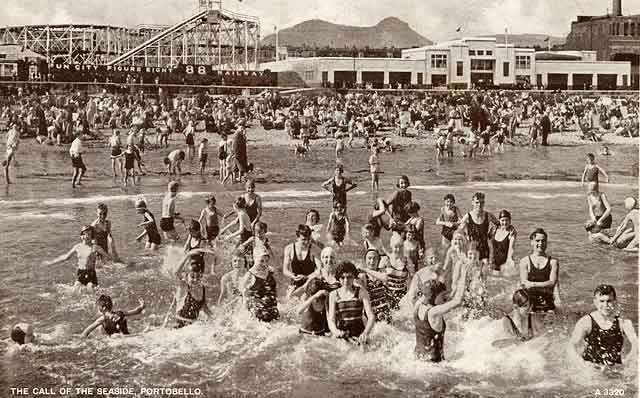 © Peter Stubbs: For permission to reproduce this picture, please contact peter.stubbs@edinphoto.org.uk
Portobello Beach
Bathing
This Postcard
The title of this postcard is: "The Call of the Seaside, Portobello"
There is no publisher's name on this card, just the words:
Post Card
The Address to be written on this side
The View
This view looks from the Firth of Forth back towards Portobello Promenade and Edinburgh.
On the promenade, there can be seen:
- The Funfair with its 'Figure of Eight' Railway.
- The new Portobello Bathing Pool.
In the background is the silhouette of Arthur's Seat in Holyrood Park, Edinburgh.
Portobello Beach
Bathing
Question
Who published this postcard? Was it Valentine?
Comment 1
Thank you to Archie Foley who wrote:
J B White
"I have a copy of this card. It has the same number, A3320, as your one but was published by J B White of Dundee in the 'Best of All Series'. It was posted on 15 August 1939 and although the original photograph could have been taken well before this I would date it later than 1935. The open-air pool did not open until May 1936 but seems to be operating with flags flying from the building.
Archie Foley, Joppa, Edinburgh: July 1, 2007
Comments 2
Thank Archie Foley has a sending me a copy of the this a list of several postcards of Portobello and Joppa, all published by J B White, and their numbers.
So this card above certainly appears to be a J B White postcard.
I don't know the exact year that J B White published this card. The J B White numbers, at least for Portobello and Joppa, appear to be grouped by 'place' rather than by 'year of publication'. See J B White - Postcard Publisher.
- Peter Stubbs: July 8, 2007
Comments 3
Why no Publisher's Name?
Thank you to Alastair White, grandson of J B White, the founder of the company for the following explanation. Alastair ran the J B White business in the 1960s.
Alastair wrote:
"Yes, there are quite a few J B White cards with anonymous backs. These were (a bit ingenuously I think) issued for a new customer, whereby an old customer down the road might be fooled into believing that he still had exclusivity on J B White cards."
Alastair White, Northumberland, England: July 24, 2007