St Andrews
St Andrews is a Royal Burgh by the coast in Fife, about 50 miles to the North East of Edinburgh by road. It has oldest university in Scotland, founded in 1410, and is home of the Royal & Ancient Golf Club.
St Andrews played an important part in the pioneering days of photography in Scotland. Many of St. Andrews' early photographers had links with Edinburgh.
Sir David Brewster
(1781-1868)
Sir David Brewster was scientist and prolific writer for scientific journals. He invented the kaleidoscope and was renowned for his work on optics. He corresponded with Talbot in the 1830s, and was sent details of the Calotype process by Talbot before the process was patented.
Brewster also had an early daguerreotype camera and introduced the daguerreotype process to Dr John Adamson. [SAU:Ex]
In the 1840s, a group of legal gentlemen from Edinburgh visited Brewster in St. Andrews, then returned to Edinburgh and formed the Edinburgh Calotype Club.
Sir David Brewster later went on, in 1856, to become President of the Photographic Society of Scotland, based in Edinburgh.
Dr John Adamson
(1809/10-1870)
Medical Doctor
Dr John Adamson was born in 1909*. [From what I have read, opinion seems to be fairly equally divided as to whether John Adamson was born in 1809 or 1810.]
He was educated in St Andrews and Edinburgh, where he achieved a diploma in Surgery in 1829. He practised in Paris and as Ship's Surgeon on a voyage to China, returning to set up a practice in St Andrews in 1835.
He sat his M.D. Examination in 1843. He was a founder member and curator of the St Andrews Literary and Philosophical Society from 1838.
[St Andrews University Library gives date of birth for John Adamson:1809.
Photographer
John Adamson is believed to have taken the first portrait in Scotland, a calotype made in St Andrews, in May 1840, before Talbot had made the process public.
He, together with Sir David Brewster, was a central figure in the development of photography in Scotland. He taught photography to his younger brother, Robert, and to his laboratory assistant, Thomas Rodger.
It was John Adamson who suggested that Robert should give up his plans for a career in engineering, and should take up the calotype process, entering into partnership in Edinburgh with David Octavius Hill.
John Adamson may also have suggested, after the death of his brother in 1848, that Thomas Rodger should set up the first photographic studio in St Andrews.
Lecture to EPS on early photography in Edinburgh by the Edinburgh Librarian, C S Minto.
Daguerreotypist
Dr John Adamson was also a daguerreotypist.
Robert Adamson
(1821-1848)
Robert Adamson moved to Edinburgh in 1843 to become a partner of David Octavius Hill.
Together, from their studio at Rock House, they produced several thousand calotype photographs over a period of 4 years. Robert returned to St Andrews in ill health in 1847 and died a few months later, aged 26. [or aged 27? MIT]
Thomas Rodger Sen
(1809-1876)
Father of 'The Photogrpaher'
Thomas Rodger's father, also named Thomas Rodger, sent work for exhibition at the Photographic Society of Scotland's exhibitions in Edinburgh. He was very modest about his work, making a particular request when he submitted the work that it should not be confused with that of his son, which he considered to be superior.
Thomas Rodger [father] was also the subject of a number of memorable photographs, including one where he sat beside a violin player, but was playing a set of bellows, and another in which he was dressed as a Newhaven fishwife!
Copies of these are held by St Andrews University Library.
FULL INDEX
Thomas Rodger Jun
'The Photographer'
(1832-1883)
Thomas Rodger was taught photography by John Adamson, and went on to become a Calotypist, opening the first photographic studio in St Andrews in 1849 aged about 17.
The exact date that Thomas Rodger opened his studio is not known, but 1849 is the year given on the back of Rodger's cartes de visite. The old studio building still exists, with a plaque to Thomas Rodger outside, but is now a Careers Advisory Service.
Thomas Rodger taught photography to Ivan Szabo, a Hungarian who came to Scotland and
Thomas Rodger was a member of the Photogrpahic Society of Scotland, based in Edinburgh, and regularly submitted his photographs to the society's exhibitions.
Thomas Rodger subsequently opened a studio in Edinburgh under the name of T Rodger & Sons (1879-81) then TR Rodger (1882). Who were the sons?
Thomas Rodger Jun. photographed several of the photographers associated with St Andrews in the early 1840s:
FULL INDEX
Ivan Szabo
(1822-1858)
Ivan Szabo was taught photography in St Andrews by Thomas Rodger, and produced portraits in a similar style.
He became a member of the Photographic Society of Edinburgh, won international acclaim for his work, and submitted photographs to the Photographic Society of Scotland's early exhibitions in the 1850s. exhibitions.
He opened a studio in Edinburgh in 1857, but died the following year.
IVAN SZABO's GRAVESTONE
The Grange Cemetery, Edinburgh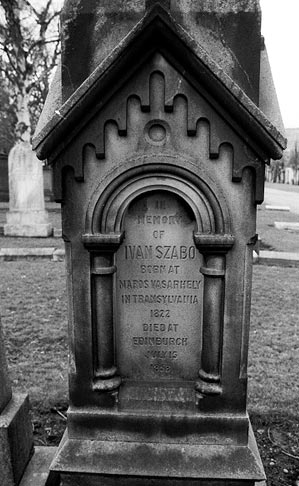 © Reproduced by courtesy of Alan Wilson
Photographs in Collections at St Andrews
St Andrews University has a collection of 300,000 photographs, including a large archive of Valentine's work. The St Andrews Preservation Trust has a further 8,000 photographs.