EdinPhoto Web Site
Review
Decisions
After finding that emails had been arriving faster than I was able to reply to them, and that I was no longer able to find the time to add all the messages that I was receiving to the EdinPhoto web site, I considered my options for the future of the web site.
I wrote this page, setting out my conclusions, and added it to the web site on 12 June 2017:
EdinPhoto Web Site - What Next?
Briefly, my decision was that I would try to ensure that the EdinPhoto site in its current form would remain on the Internet for people to view, but I would not add any more information or images to the site, other than in exceptional circumstances.
Update
In the few days since making this decision, I've come across some contributions sent to me for the web site which I feel are well worth adding to the site.
Previously, I would have done a little editing to the recollections, then added them to the appropriate parts of the web site. To do that, and ensure that all the links created between the various pages were working correctly, might have taken me anything from perhaps half an hour to several hours. I no longer have the time to do that.
So now, I'll just add the contributions, as received to this page on the web site. Even though they may not be on the most appropriate page on the site, I hope that people will still fined them, perhaps coming across them on the What's New page or perhaps as a result of doing a search on from the Home Page of the EdinPhoto site.
Peter Stubbs, Edinburgh: 16 June 2017
A Selection of

Recollections

I've updated the web site to include these recollections over the period beginning 12 June 2017 - the date that I decided that
I would have to make fewer updates to the EdinPhoto site

1

.

Robert McDonald
Cranleigh, Surrey, England

- Lorne Primary School

- Tynecastle Secondary School

- Colinton Mains

- Work`

2

.

Stenhouse Avenue West

- My family

- The War Years

- Emigration

3

.

Jenny Rutherford
Stirling, Stirlingshire, Scotland

Leith Links School

- Leith Links

- Leith

4

.

Richard Vivian
Barnsley, South Yorkshire

Greendykes 1948-1961

- Prefabs

- Peffermill School

- Shops and Bonfires

- Football and Guiders

- County Cinema

5

.

Ian Wood
Norway

Calder Drive

- Lorne Primary School

- Our Prefab

- Our Garden

- Wester Hailes School

- Aircraft

- Shops

- Play

6

.

Graham Marshall
Southern Spain

Marchmont

- St Margaret's Convent

- James Gillespie's Primary School

- Bruntsfield House

- My Research

- Sister Porter

7

.

Patrick Clinton
Alkmaar, Holland

Primary Schools

- St John Vianney's

- St Catherine's Gracemount

- The Tin School

8

.

Bob Davidson
Australia

Apprenticeships

- Bertrams

- National Coal Board

9

.

Living in Niddrie / Craigmillar: 1939-2013

- A New Estate

- Entertainment

- Anderson Shelters and Rationing

- Changes

- History

- Other Memories

10

.

Elaine Gilbertson
England

Granton, Grierson, Wardie, Trinity

- Hot Rolls

- Wardie School

- Edwards Bakeries

- Steve Morrison

- More Shops

- Wardie Residents' Club

- Trinity Academy

11

.

Bill Aitchison
New Zealand

Moray House School

Ice Creams

Duncan's Chocolates

Calder Road

12

.

Gloria Rigg
New Zealand

Craigentinny Primary Schooll

Leith Academy

13

.

Gloria Rigg
New Zealand

Sweets, Drinks, Snacks and Cakes
Further Recollections
1.
Robert McDonald
Cranleigh, Surrey, England
Thank you to Robert McDonald who wrote:
"I have reached that age where the past is as interesting as the present . Thank you for this wonderful site. Hope these comments are of interest."
Schools
Lorne Primary School
"My school days in Edinburgh started in 1946 at Lorne Street School, not a happy time for me with an acquired Northern Irish accent, which didn't go down well. Miss Thompson the teacher was very understanding inviting my mother and I to tea. Books were in short supply and we used wood rimed slates and took a small bottle of water and a rag with us to clean them. In 1947 we moved from Dalmeny Street to Colinton Mains Grove and Craiglockhart school. I was welcomed by Mr Cowe and recall Mr Vickers who followed. I remember him coming into our classroom, on the 6th February 1952, to tell us the King had died and we now had a Queen. A year or so earlier he announced that Britain's largest aircraft, the Bristol Brabazon was to fly over Edinburgh and its tail was as high as the school. The teachers we had were Miss Fogo, Mr Gowan for the final years and Miss McIntosh was the music teacher. I do remember Miss Struthers and Mr McCaig and the piano playing Colonel Boggy as we filled out at the end of classes. The Piano was later replaced by a gramophone record. I lost my front tooth there while running in the playground. We were given plastic 1d tokens for the buses and trams. I was often picked up by our lodger who had a lorry, much to the envy of others waiting for the tram at lunch time. Others in the class I remember were John Smart, Andy Kinghorn, Frankie Thorburn, Terry Marr, Betty Hastie, Mary Bell, Jessica Wilson, Mary Sinclair."
Tynecastle Secondary School
"In 1952 I moved to Tynecastle secondary school in Mcleod street next to the Hearts football ground, teachers I recall were Mr Chapman (Maths), Mr Baird (Head of Maths), Miss Davie (English), Miss Combie (French), Mr Don ( Geography), Mr Dalziel (Music), Me Stephens (Science), Mr Miles (Technical Drawing), Mr Stirling (Woodwork), Mr Young (PE), I can't recall the name of the teacher who took us for Metalwork and Mechanics. Miss Dowdeswell was the PE mistress and Head Mistress. She would stand on the Balcony on the south block and watch my friends and I flying model aircraft at lunchtime. The railway running behind the south block in now a relief road. During the coronation of the Queen we were given time off to watch the events. Annual end of term concerts were held in the Usher Hall and sports days at Megetland, as the school had no playing fields of its own. At the end of the third year were three memorable trips, 1) To the Fleet Air Arm base at Doniebristle on the fife coast, 2) HMS Vanguard moored just east of the Forth Rail Bridge as it was too tall to pass under and 3) the Scottish History Museum in Queen Street."
Colinton Mains
"This was a happy Edinburgh suburb separated from the tram route with its own bus service that ran from Oxgange Avenue To Firrhill and tram connections. My father met up with three other men who started a Sunday School, first in the park, then in the barn of Oxgangs Farm, and when built Oxgangs Infant School in Oxgangs Road North. Each year they would hire four single decker Coaches from a garage in Colinton. Destinations included Harlow Farm Balerno and Buckstone near Fairmilehead. Each child was given a bag of pies and cakes. Races and games were always fun, preparations for the day always involved heating a large urn for tea, and checking the fields for cow pats. The Band of hope run by others was held in the Church of Scotland hall next to where the present church stands.
Shopping was done at the Co-op in a corner of the park. Mr Fowlis was the manager. Other shops in Colinton Mains Drive were Neals the grocers, a Chemist, a hairdresser, Edinburgh & Dumfrieshire Bakers and Dairy and Sorleys Newsagents. The doctor was Dr Motley who had lived and worked from Colinton Mains Road off Oxgangs Terrace, until he built a house and surgery just above the police station which had been the Oxgangs Farmhouse.
Reference has been made to the closure of St Johns Church. It was the summer of 1949 that a man with a shovel was given the task of levelling and preparing the ground for the church's foundations in Oxgangs Avenue. It was just too good an opportunity to miss when the contractors installing the waste water pipeline to the proposed Oxgangs Farm site, turned up with a bulldozer. A fee of 10 shillings and the site was levelled during the drivers lunch hour. Every one was happy. Watching the installation of that pipeline taught me a lot which was to come in very useful when I became involved in the water industry. The park or 'field' as it was known was a great place to fly model aircraft with its long grass at the Morningside end before the flats were built."
Work
"My father worked as an umbrella maker with Alexander Gibb & Sons in Hanover Street.
I would love to hear from any who knew of his work. He would bring home Shepherds crooks to be polished, I would get 2/6d for each one. The royal garden parties were always a busy time for him and men would come into the shop just to get their umbrella rolled neatly, completing the attire of a well dressed gentleman."
Robert McDonald, Cranleigh, Surrey, England
(for the past 57 years, and Edinburgh before that)
12 May 2017
Further Recollections
2.
Derek Laing
Thank you to Derek Laing who wrote:

Stenhouse Avenue West
"I lived in No 4 Stenhouse Ave West. The families in our tenement were the following Hoatsons, Ramseys, Knights, Farquersons and Robertsons.
The Robertsons went to Stenhouse School before and during the war."
My Family
"I had two sisters Betty (dead) and Margaret. My father was Fred and my mother was Lizzie.
My wife's maiden name was Anderson After finishing school she worked for the Post Office in the Rose Street main telephone building
I went to Heriot's school. My wife, Margaret lived in Murdoch Terrace.
I was a member of the Gorgie Salvation Army band.
It was good to see Louisa Clark's name . I knew her brother and sister, John and Mary."
The War Years
"My father joined the Royal Scots at the beginning of the war and was posted to Dunbar for the whole war period - favorite meal white pudding suppers.
My mother was employed by the railroad at the top of Ardmillan as an engine boiler cleaner and worked on night shift.
My sister and I were evacuated to Keith for three years.
I remember that we walked everywhere in Edinburgh. We did have the tram cars but it was nicer to walk home from Gorgie Road to Stenhouse."
Emigration
"We emigrated in 1956 and now live in Reno, Nevada USA.
I still have great memories of Gorgie."
Derek Laing: 19 June 2017
Further Recollections
3.
Jenny Rutherford
Stirling, Stirlingshire, Scotland
Thank you to Jenny Rutherford who wrote:

Leith Links School
"I moved away from Edinburgh in 2004, and now live in Stirling. I do though miss living beside the sea. I find it really quite therapeutic.
I can remember the teachers at Leith Links School.
Mr. Kenneth Hislop, headmaster, had been the Headmaster at Castlebrae Secondary school in Craigmillar. My two older brothers had him as their headmaster at that school, and I had him as headmaster Leith Academy Secondary.
He was extremely strict, and believed that we should believe in our school motto, persevere. It has stuck with me ever since.
In fact both the primary school and secondary school had strictness running through them. Mrs Lumsden was also strict and this was at the time when the belt was on offer. No, I never received it though I only very narrowly missed having it, but that is another story I do not wish to go into.
If I where standing beside you, I could point out every classroom that I went into at Secondary School.
I have learnt that the school was sold off for private flats. The building, I know, is very much a listed one, because of its Georgian look.
Another thing I know about the secondary school is that prior to it becoming a state school, in either 1921 or 1922, it was a private school, that rich kids in Edinburgh attended.
When the boundary was altered and Leith came a part of Edinburgh, the school was turned into a state school, and remains that way today."
Leith Links
"Leith Links, itself, you may know is where golf was invented. A small plaque at the bottom of the links, outside tennis courts, tells the story of it. The plaque was erected in 1985.
Leith
"I recently graduated from university. I done some social history and housing, and some of this covered the cooperative movement in Leith.
As I mentioned above, Leith was once an independent town, which exported into Edinburgh.
The north end of Leith, Great Junction Street, Commercial Street, Bernard Street, around the Dock area, was very working class. Most of the housing was owned by landlords and rented out to several families at the same time.
This could result in two or three families sharing the same flat at the same time.
The working classes, would have lived in squalor, little lighting or ventilation, and basically very poor housing conditions.
That's why some of the houses which still stand in Leith are of large proportion. Leith was heavily populated with a mix of immigrants, of different Faiths.
Much of the male population would have been working in the local Dock area in heavy industrial work. Women would have been employed within the Whiskey bonds
With children in the family, the amount that a family could earn in a week was an important element. If they could not earn enough, they risked being evicted by landlords who were ruthless, and there were no laws at that time to protect tenants. The government was heavily in favour of the landlord.
Jenny Rutherford, Stirling, Stirlingshire, Scotland: 11 + 12 February 2017
Further Recollections
4.
Richard Vivian
Barnsley, South Yorkshire
Thank you to Richard Vivian who wrote:

Greendykes 1948-1961
Prefabs
"We lived at 26 Greendykes Avenue, set back from the road opposite the pylon and we were one of the first families to move in to the new prefabs.
My dad was a keen gardener and we had a lovely prize garden which people from far and near visited. "
Peffermill School
"I went to Peffermill primary school. We played in the Skinny Woods and sometimes, when we were feeling brave, we went to the big woods where the 'green lady' lived."
Shops and Bonfires
"We shopped at Densley's and at a great grocers shop and played football behind the store van where the bonfires were built and burnt.
The kids from Craigmillar Castle estate used to come over the hill behind the woods and try and raid our bonfire and we had fierce stone fights with them."
Football and Guiders
"We also climbed the steel fence with barbed wire between us and the Thistle Foundation to play football and built 'guiders' to race each other down the hill next to the Skinny Woods."
County Pictures
"We went to the County pictures at least once a week including the Saturday matinee Happy days that I will cherish forever."
Richard Vivian, Barnsley, South Yorkshire: 22 January 2013
Further Recollections
5.
Ian Wood
Norway
Thank you to Ian Wood who wrote:

Calder Drive
"Here's much of what I remember from my time at Calder Drive:"
Our Prefab
"We moved to Calder Drive in 1947 (or it could have been early 1948. Certainly I started in primary one at Murrayburn School because Wester Hailes School wasn't ready yet.
I have memories of visiting our prefab before we moved in, of running from room to room and being pleased to be getting my own room (being an only child had that advantage).
I remember too registering that my mother was happy to be getting a proper kitchen. With built-in fridge! (albeit tiny by modern standards).
Our house was one of the aluminium ones, with a primitive glass-wool insulation that we picked at and got itchy fingers as a reward.
Across the road the houses were built of corrugated asbestos sheets. In retrospect I think of them as well planned. Now, as a pensioner, I would have liked to have one, with upgraded insulation of course!
Our Garden
"We had quite a big garden. I know that at least a part of it came when the next door neighbours on our left (Burton) 'passed over' part of theirs.
Shortly after we moved in, father hired a couple of German ex-POW's, who were still held in the camp that lay where the biscuit factory is now, to dig over the garden. I remember them as cheery men in rather drab, anonymous, uniforms.
Over the years the garden provided lots of both veggies and flowers."
Wester Hailes School
"Wester Hailes School was a pretty basic construction where two and two classrooms shared a cloakroom. To go anywhere else, you had to go outside, and the toilets were in a separate building in the middle of the playground.
Painted brick walls offered protection against wind and rain, but not much else – winter was spent feeding the stove in the corner next to the teacher, which offered some comfort to those close to it, but little to those of us toward the back of the room.
The teachers were a mixed lot. Some were good, others distinctly scary - I have later wondered if they were among the reluctant recruits to the profession."
Aircraft
"Turnhouse was still a military airfield and we were under a flight path, so we initially were over-flown by Spitfires, quite low, on their approach. I remember too the first time I experienced a Gloster Meteor coming in.
I was playing in the garden when suddenly an explosion of noise passed overhead and a totally new (to me) air-plane shot across the line of vision. Later came Javelins and others, but the impact of the first jet remains."
Shops
"Groceries we bought on the whole from Bennet's (green wooden building) or Grieve's (stone/concrete?).
Toys involved a pilgrimage up to the petrol station on the main road – the Calder road – where Dinky toys were laid out in the window. Perhaps not all that imaginatively, but very clearly.
Any pocket money that I didn't spend on books, I spent there. I see now that had I hung on to some of the models I bought then, they would have been worth a minor fortune now. Ah, well..."
Play
"I remember the play environment as fine. There was a field where we played football and another where cattle were kept, presumably on their way to the slaughterhouse at Slateford. We went to that field, probably when it was cattle-free, either to play at the Murray Burn, or on our way to the canal.
We moved to Redhall when I was 16, and I took with me good memories – everything was of course so much better in the old days... :) "
Ian Wood, Norway: 1 February 2017
Further Recollections
6.
Graham Marshall
Southern Spain
Thank you to Graham Marshall who wrote:

Marchmont
St Margaret's Convent
"Here are a couple of my memories of St. Margaret's Convent from a slightly different perspective.
Unlike George Smith, who I think may have been in my class at Boroughmuir, I did manage to find out a bit about St. Margaret's.
Having spent my childhood in Marchmont within a hundred yards of the playing field and attended Warrender Church from infant Sunday School to Full Member between 1954 and it's closure, St. Margaret's was very much part of my childhood.
Like all of the Marchmont kids I viewed it with some awe. Unsure what happened behind these incredibly high walls. As we grew up, the mysteries of the playing field were exposed as we grew tall enough to find our way onto the wall which ran along the side of Warrender Baths.
If there was a black-robed figure in sight the visit would be a short one as they were terrifyingly strange figures to us.
Later, we discovered these girls who were locked behind the walls were actually let out to sleep and one of their houses lay opposite the hall of Warrender Church. It was always a difficult choice whether to encourage the guides to stray from their organised activities or persuade the boarders of St Margaret's out of their beds.
Girls being girls, we achieved both objectives but for either, the evening could end with us being chased - by the Girl Guide leader or by a nun.
James Gillespie's Primary School
and Bruntsfield House
"During the 1950s, one of my closest friend was Ronnie Froud, son of the janitor of James Gillespie's Primary School for Girls. The family lived in a flat on top of Bruntsfield House which gave Ronnie and me the run of the grounds outside school hours.
It was during this period my interest in history was awakened and I started to write about Bruntsfield House, I must have been about ten at the time. I wrote about the phantom coach, the Green lady and the more mundane history of the house.
Sadly, the manuscript of the book is long gone but maybe one day I'll check the Evening News for the articles which they published on my writing of the ghost stories."
My Research
"This was part of my research. It sounds grand for a ten year old but it must have been my first foray into research, which took me first through that iron-studded wicket gate, a gate with no external lock.
In these days, entry was achieved by ringing the bell and Sister Porter would open the gate, a crack but only a crack, and if you were not expected or if you were a stranger you waited outside while she enquired whether you should be let in.
A friend had told me there was an old nun living in the convent who would have memories of Bruntsfield House while it was still a family home. It seemed logical to me that I should ring that bell and discover the truth of the claim.
I can tell you I nearly turned back, at speed, when I rang that bell since it was no electric buzzer but a mechanical bell which seemed to toll a death knell.
Sister Porter
"Luckily, I waited and waited and waited. Sister Porter, it seemed, never hurried to open the wicker. I told her my story and did as bid and waited some more before a firmly closed wicker. After what seemed like hours I was ushered inside to a visitor's parlour where I waited some more.
I remember all this waiting because what should have been a short visit ended with me in trouble for being late home from school for my tea.
Eventually, this very short lady appeared, dressed as a nun but like no nun I had ever seen. She was smiling as she came into the room. We chatted and she recounted memories of Admiral Sir Victor George Scott Warrender the last private owner of Bruntsfield House driving out in his carriage and pair.
She told me how the flag flew when he was at home, how Bruntsfield House was then the next building to St Margaret's in Whitehouse Loan.
She recalled at that meeting, and at many more after, how she remembered the building of Lauderdale Street and bits of Thirlestane Road.
Mother Cuthbert greatly encouraged my interest in history and opened doors for me which would otherwise have remained firmly closed.
She was then a retired Mother Superior and lived at St. Margaret's until failing health relocated her to Craiglockhart where she died,
I believe in the 1970s. She also fostered my belief that doors only remain closed when not knocked. My friend must have been one of the last Victorian nuns in Edinburgh, perhaps Scotland."
Graham Marshall, Southern Spain: 7 February 2014
Further Recollections
7.
Patrick Clinton
Alkmaar, Holland
Thank you to Patrick Clinton who wrote:

Primary Schools
St John Vianney's
St Catherine's Gracemount
The Tin School
"I attended St John Vianney's in Edinburgh between 1964 and 1966. It was a Catholic primary school.
It was replaced by St. Catherines at Gracemount about 1969. I moved into Southhouse (Broadway) as a 10-year-old and went straight to 'the tin school' as it was called.
I'm not sure when it became St John Vianney's - maybe it was when Southhouse primary moved to Gracemount primary.
Presumably in the 'pre- tin school years' there was no other Catholic primary in Burdiehouse/Southhouse/Gracemount."
Patrick Clinton, Alkmaar, Holland: 22 Feb 2015
Further Recollections
8.
Bob Davidson
Australia
Thank you to Bob Davidson who wrote:

Apprenticeships
"I am now 74 years of age
Bertrams
When I finally managed to escape from Boroughmuir Penitentiary, I started my first full time employment with Bertrams of Sciennes, not in Leith. I did not know that there were more than one.
The hours of employment were 44 hours per week for which at 15 years of age I received the handsome stipend of 18 shillings, which did nothing for my hip pocket by the time most of it had gone on board and lodgings.
This was bad enough, but after what I assume was a probationary period I was called up to the office and invited to register my indetureship as an apprentice turner
On completion of the necessary forms, I was asked for the sum of £2. Well, you could have blown me over with a feather - 'Where the hell am I going to get 2 quid when you pay me a miserable 18 bob a week?' ."
National Coal Board
That was it for me. Although I went to work each day, I kept an eagle eye on the paper and landed an apprenticeship with the National Coal Board, where they paid for everything and also paid me in excess of 5 quid a week to sit my bum down in a classroom, learning all about mine safety and first aid.
I was in the original engineering gang on site installing machinery and slipper guides at the then being sunk Bilston Glen Coal Mine, and as I was earning more than twice what my father earned. He got the bright idea to come to Australia, and for family reasons I had to tag along, which was fortunate for me."
Bob Davidson, Australia Apprenticeships: 20 March 2015
Further Recollections
9.
Bobby McEwan
Niddrie, Edinburgh
Thank you to Bobby McEwan for sending me his memories below.
Bobby wrote:

My Memories of Living
in Niddrie/ Craigmillar
1939-2013
"I have lived in Niddrie all my life. I can remember the good and the hard days."
A New Estate
"The good days were when Niddrie was first built. HRH Princes Mary was the VIP guest on 17 Sep 1939. I can remember back to the 1944 War days.
Niddrie / Craigmillar was a safe and healthy place to bring up a family. In those days families went out and left their house doors open. there was no fear of the house being robbed as everyone knew each other.
It was a close community. Everyone helped each other with any problems they had. No matter what it was, help was always at hand.
It was a safe place because most of the traffic was horse-drawing carts or wheelbarrows."
Entertainment
"Our entertainment was a visit:
- from Stevie Cadonie, a one-man-band
- to The Salvation Army or
- to The Rio Picture House to see 'Batman and Robin', 'Flash Gordon', or 'Superman'.
I remember the adults went:
- to the pictures at 'The Whte House' or
- for a dance at the local hall that starred 'The Dickie Knox Trio'. This was the local Niddrie Tenants' Band."
Anderson Shelters and Rationing
"When the war siren went, we all went to the Anderson Shelters. We were packed into the shelters like sardines in a tin with very little food or clean clothing. It was Hell!
Most of the food was in powder form, such as eggs, milk, soup, etc. Most of the food, sweets and clothing were rationed. I remember the old Ration Books and the sweet coupons and clothing coupons.
The food was bought at St Cuthbert's Store in Craigmillar. Most of the clothing was bought at:
- Mr Gordon's shop in Wauchope Crescent
- Peggy Duncan's in Craigmillar, or
- Parker's store in Bristo Street."
Changes
"The area has changed over the years.
I remember:
- The Salvation Army Hall and Scout Hut in Niddrie Mains Terrace
- St Aiden's Church
- The Dumfriesshire Dairy
- St Cuthbert's Store.
These were all in Hay Drive. They have all become history like
- our old schools,
- mines,
- breweries
- pig farms
- etc.
that we had in our area."
History
"I'd like to say that part of our important history was the Duddingston Prisoner of War Camp
There was also General Andrew Gilbert at the Wauchope Family Estate. I believe that the family ownership goes back as far as the 16th century.
Although Niddrie Marischal and Niddrie House has been built on, I can still remember the Wauchope land and historical family mansion that was a very special attraction for local people and tourists.
It was surrounded with flowerbeds nd fruit trees and was a haven for wild life. Unfortunately the mansion and land was bought by the council in 1970.
All that remains to remind us of the General's family is the tomb, graveyard and a memorial cross that stands in the garden of the local Niddrie Mil School to remind nature generations of the General's bravery.
The General was killed on 11 Dec 1899 as he led h is men into battle at Magersfontein during the Boer War."
Other Memories
"There is much more that I could add, but I am in the process of writing a book. I'd like to ask if any of the readers can remember the first shop in Niddrie Mains Terrace
It was at the side of Bingham Tunnel and was a caracvan on wheels. I believe that the owner was Mr Walker. that was before Mrs Flockhart, Lettie and Mrs Gibbens."
Bobby McEwan: 15 January 2013
Reply to Bobby
Bobby added:
"If anyone wants to know anything else about Niddrie, I would be quite happy to help bring back memories that have long gone but will never be forgotten."
If you'd like to send a message to Bobby, please email me to let me know, then I'll pass on his email address to you.
Peter Stubbs, Edinburgh: 7 July 2017
Further Recollections
10.
Elaine Gilbertson
England
Thank you to Elaine Grierson who wrote
Granton, Grierson, Wardie, Trinity
Hot Rolls
"Hi, just came across your site on Edinburgh and wanted to provide some more info on Edwards (roll shop) and also to reply to Steve Morrison (Queensland)" **
Wardie School
"I was born in 1958 and went to Wardie school from 1963 to 1970 with Lorraine Edwards whose father owned the bakery."
Edwards' Bakeries
"You could never beat the taste of warm scotch rolls (as they call them now I am living south of the border) straight from the oven, and most visits ended with me being collected by dad to walk home with a bag of roles and another bag of pies or bridies.
Edwards also owned a bakery opposite Trinity Academy School and every lunchtime the queues of kids would stretch down the outside of the shop waiting for their pies and beans or sausage rolls served by Betty!"
Steve Morrison
"I lived in Grierson Square and from our bedroom window we could see the damage done to Steve's flat with the gales.
Steve said he delivered papers for Graham's newsagents, it was a brother and sister partnership, Jacky and Margaret Graham (previously run by their dad) and next door was a butchers."
More Shops
"I think the store (co-op) was underneath Steve's flat and up the road, opposite Wardie School, was Killin's the grocery shop, and at the top of Granton Road, Rinaldi's the Italian ice cream shop where we used to go and have iced drinks made with his home made ice cream"
Wardie Residents' Club
"We used to go to the Youth Club at the Wardie Residents Club every week and play badminton, table tennis etc."
Trinity Academy
"I, too, went to Trinity academy from 1970 to 1974 with Mr Brodie as headmaster. I was taught by Mr Sampson, too!
There was a Maths teacher called Mr Campbell who was really, really strict."
Elaine Gilbertson, England: 6 March 2013
** I've passed on the latest email address that I have for Steve Morrison to Elaine. I hope that Steve is still using the same email address now, and that they will be able to get in touch with each other.
Peter Stubbs, Edinburgh: 14 July 2017
Further Recollections
11.
Bill Aitchison
New Zealand
Thank you to Bill Aitchison who wrote:
Moray House
School Classes
"I was doing a search for Moray House School Motto and came across this page and photo on the EdinPhoto web site."
Moray House School - Class 3B - 1955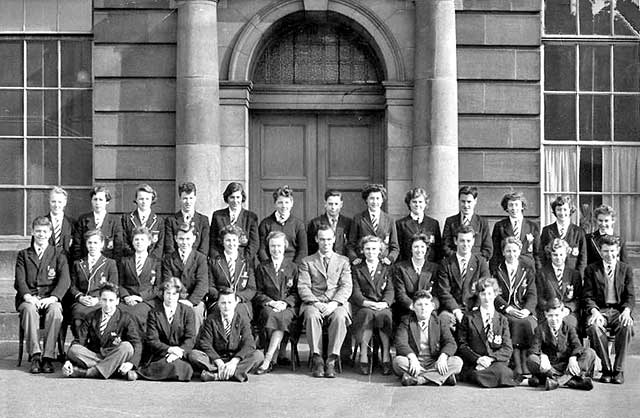 © Reproduced with acknowledgement to Ann Blissett (née Mackie), Vancouver. Photographer not known
"You have a contribution from George Robinson, who we knew as Dod. I recollect him as being a fantastic cartoonist.
I was in Class 3A and recognise most of the people in the class 3B photo - although can't name too many of them."
Ice Creams
Snowballs
"One definition (from Australia) for Snowball is:
'an ice cream, with a marshmallow base in between wafers, with a layer of ice cream on top and then another single wafer.'
This is actually a description of what we used to call called a 'black man' ice-cream, from Boni.
My mum used to send us out for 'two black men and three sliders' The 6p black men were for mum and dad and the three 3p sliders were for us kids."
Duncan's
Chocolate Factory
"Duncan's (or Fry's) Walnut Whips have been mentioned.
Duncans had a factory in Sighthill. I got my first ever paid job there when I was 15, working the 'back shift' - 5pm till 10pm.
It sounds very cliched, but most of the people who worked that shift were married women who (as they told me) were keeping out of the way whilst their men were at the Silver Wing pub.
Because of this, they were pretty relaxed and spent as much time chatting as doing anything else."
Piecework
"The work was piecework. We were paid a pittance and then 6p a hundred for anything over the basic quota.
Our job was to put the spirals on top of the chocolates - no fancy machines, just a big 'icing bag' hanging on a pulley and we swirled the chocolate on manually.
There were two people on each belt, one either side. There was a knob on the machine which controlled the speed for your belt. I was on a belt with a girl who was saving to get married and I was paying my way through Leith Nautical College so we kept speeding up the machine to earn more money.
After a couple of weeks we were doing twice as much as the women, so the women called in the union who had us sacked because they were scared we were pushing up the quota."
Calder Road
"I've been reading the sections of the EdinPhoto web site on:
- Murrayburn School,
- Sighthill POW Camp and
- Edinburgh Airport, which in my day was called Turnhouse.
We lived on Calder Road in a tenement block of 10 houses. Our block was bounded by Parkhead Terrace, Parkhead Avenue and Parkhead Place."
'Old Ned'
"Just opposite us was the Shaw Estate, which was originally a grand old house with a pig farm attached. The gate house, just across the road, was occupied by 'Old Ned' who's job it was was to keep everyone out of the property."
The Calder Road Coronation Party was held in the field behind Old Ned's House in 1953. The property was changed into some sort of administration building and then most of it became a housing estate, Broomhouse, mainly (we were told) for people being displaced from the Gorbals in Glasgow and re-housed in Edinburgh.
More Housing
"The open areas to the east, down towards Stenhouse and opposite the Saughton Prison Farm was also a housing project which we called 'The Orlits' (I think that was the building company name) and then became Saughton Mains.
To the west towards Sighthill was the POW Camp. The inmates used to walk around freely and I remember seeing them in the street but we were told not to talk to them."
Wartime
"During the war, German planes that were on the way to Leith Docks used to just drop their incendiary bomb loads anywhere if they could not get to the docks, and the fields across the road in what is now Broomhouse were often set on fire. I don't recollect anyone being hurt.
One German aircraft shot down and it crashed in the field opposite the Silver Wing and the local shops. As the story goes, the on-duty Home Guard men captured the army observer (the pilot had died). My father 'souveniered' his leather belt and used it for years as a razor stop. I still have it, along with the 'Got Mitt Uns' buckle."
Post-War
"I went to Murrayburn School from 1946 to 1952, then went to Moray House. I left school at 14 and attended Leith Nautical College, before joining the New Zealand Shipping Company as a Radio Officer.
Over the years I have done many things and lived many places including New Zealand, Australia, Netherlands, USA and South Africa. I'm now back in New Zealand.
Bill Aitchison, New Zealand: 31 January 2017
Further Recollections
12.
Gloria M Rigg
New Zealand
Thank you to Gloria Rigg who replied
Craigentinny Primary school
Swimming Pool
"I attended Craigentinny Primary school in the 1960. We used the Abbeyhill school pool for swimming lessons. I remember the teacher at that time, Mr Carrigan - I think.
I also remember the black rubber brick we had to retrieve from the deep end of the pool but I don't remember the contraptions to help learners to swim described by Duncan Reid in his Abbeyhill School Recollections 15.
Death of Kennedy
"I was in the wee shop near the school (buying my favourite cinnamon flavoured chewing gum) when I heard about the assassination of JFK on the radio."
Leith Academy
Swimming and Ice Skating
"When I progresses to Leith Academy Senior Secondary school, we used the pool at Dr Bell's school on Great Junction Street, but by then I no longer enjoyed swimming as I had moved on to ice skating at Murrayfield with Gillian, Rose, Valerie and Marilyn from school.
Gloria Rigg, New Zealand 16 October 2017
Further Recollections
13.
Gloria Rigg
New Zealand
Thank you to Gloria Rigg for responding to Bill Aitcheson's Recollections 11 (above)
Sweets, Drinks, Snacks, Cakes
Digestive Biscuits and Walnut Whips
"Whilst a pupil at Leith Academy Senior Secondary, our classes paid visits to various factories - McVitie's digestives was one and Duncan's walnut whips was another. Both were within walking distance of the school.
The line at McVitie's was making fully-coated, individually wrapped milk and plain digestive biscuits and the line at Duncan's were making walnut whips as described by Bill above, all hand-made !!!"
Ice Cream
"Our ice cream came around in a van. The different ice cream shops each ran their own vans in different areas of the city.
As for the Ice cream, yes - an extremely un-PC 'Black Man' was a wafer, a layer of vanilla ice cream and a mallow-filled double wafer with chocolate edges. A 'Double Black Man' was 2 mallow filled chocolate edged wafers with vanilla ice cream sandwiched in the middle - pure extravagance !"
Oyster
"An oyster was a clam shaped wafer, each half of the shell half dipped in chocolate and coconut, with one half filled with mallow. The ice cream was scooped into the centre of this.
Snowball
"A snowball was 2 wafers with vanilla ice cream and a Tunnock's snowball smashed into the centre with the ice cream."
Bongos
"Bongos were hard frozen balls of ice cream on a stick & coated with crisp chocolate."
Ice Cream Vans
"Our ice cream came around in a van. There different ice cream shops, each running their own vans in different areas of the city.
We moved around Edinburgh from St James' Place, to Muirhouse (for less then a year) then to Craigentinny. All the various vendors used the same names for all of these ice cream treats, even although their companies all had different names.
Even on a visit to Granny who lived at at Harthill, I found that the ice cream man used the same names for these treats, and his van came through from Glasgow. He was called 'The Cappochi Man'."
Please also see here for further recollections of sweets, drinks,
snacks and cakes sent to me earlier by Gloria and others.
Gloria Rigg, New Zealand 16 + 17 October 2017