Recollections - Entertainment
Gonk Club
Tollcross
1960s Music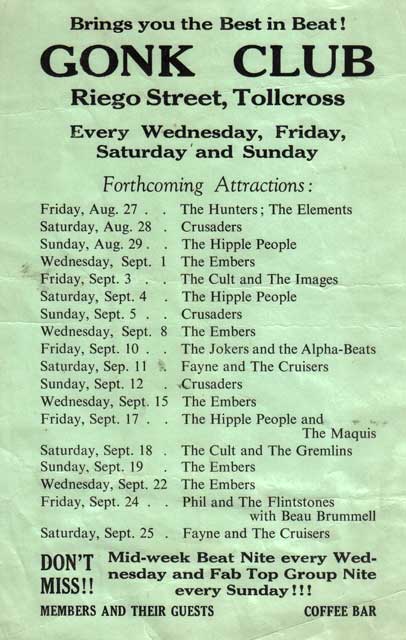 © Reproduced with acknowledgement to Frank Ferri, Newhaven, Edinburgh
Gonk Club
Thank you to Frank Ferri who wrote:
1960s
"Here's a blast from the past - the 1960s - and some of the bands of the time that may bring back memories to your readers.
My old band, the 'Jokers Rhythm & Blues', are listed. We did all the city clubs, Kirknewton America Airbase, Lothians, Borders and as far as Aviemore and McDuff."
Groups
I noted on your site a reference to the 'Embers'. I knew them all well and worked with most of them in Ferranti'
I remember the Boston Dexters with Toto McNaughton, Tam White, Frankie Conners and Tam Paton when they were called the Crusaders.
Reunion
Last year, I organised a reunion of '60s musicians in Leith Dockers club on a Sunday afternoon.
Johnny (Rainbow) Laidalw and Frankie Conners came up from London to attend. Totto McNaughton and many others showed up. We had a great session.
Frank Ferri: Newhaven, Edinburgh: May 7, 2008