Bruce Peebles
Engineering Works, East Pilton, Edinburgh
The main employer in the East Pilton district of Edinburgh was Bruce Peebles engineering works - a large factory was beside the railway line between the Boswall estate and Crewe Toll.
Bruce Peebles moved from Bonnington Toll to East Pilton in 1903. They remained there until their works were destroyed in a fire in 1999.
This is one of their large transformers being shipped from nearby Granton Harbour in the 1960s:
©
The area has now been redeveloped with new housing.
Recollections

1.

Emerald, Victoria, Australia

- First Employment

- Girls

- Trade School

- Works

- Manufacture

- Workers

2.

Penicuik, Midlothian, Scotland

- 1960s

- Boswall Avenue

- Pond

- Steam Whistle

- Lunchtime

- Railway

- Christmas Parties

- Steam Whistle - Again

3.

New South Wales, Australia

- Christmas Parties

4.

New South Wales, Australia

- The Works Siding

5.

Burnie, Tasmania, Australia

- Wardie Burn

- The Works Railway

- Railway Modernised

- Other Railways

6.

Burnie, Tasmania, Australia

- Fire

7.

Duns, Borders, Scotland

- Fire

8.

Sunshine Coast, Queensland, Australia

- Transformer

9.

Trinity, Edinburgh

- Illustrated Talk

10.

Winnipeg, Manitoba, Canada

- Transformer Winding Shop Gang

11.

Sunshine Coast, Queensland, Australia

- Transformer
Recollections
1.
Eric Sloane
Emerald, Victoria, Australia
Thank you to Eric Sloane for his recollections below of work at Bruce Peebles. Eric lived in the Boswall area of Edinburgh from the 1940s until emigrating to Australia in 1963
Eric wrote:
First Employment
In 1961, at 15, school and I parted company on mutual terms - we hated each other!
I met with the a "career advisor" who poo-poo'd my ideas of going to sea on the Granton trawlers (a dying trade) or going to agricultural college (there's no farming in Edinburgh) and asked if I'd thought about engineering.
I ended up as an apprenticed armature winder at the West Pilton Engineering Works which I think was called Bruce
Peebles.
Girls
Being a winder was considered a step above being a fitter or turner. It also meant you could work with girls!
Those girls were rumoured to be worldly-wise and to subject new apprentices to unspeakably evil initiation rites involving milk bottles and the like. We were scared witless of 'em.
Trade School
There was a special set of huts at the north end of the works, near an old and rusty steam engine, that served as a trade school where we spent 6 months before moving into the works proper.
Works
The works main building was immense and noisy. They made huge generators that were shipped out to Australia and South Africa.
There were two cranes that ran on rails and spanned the entire building from east to west. The crane head travelled across the span and the control cabin was at one end. They travelled south to north carrying huge sections of the generators from manufacture to assembly.
Around the perimeter was a gallery that was home to the apprentice winders and some turners. The main floor housed most of the fitters and turners and the skilled winders.
Manufacture
We younger winders started out working on machines that spun thick, square copper wire into loops - rather like turning skeins of yarn into balls in reverse. The process was to clamp the wire to one end of the looping arm, spin it round 4 or 5 times, tie it with (precisely) 6 ties to hold it together then cut it off, remove to loop from the machine to a wooden palette and start again. Heavily intellectual work!
The loop ends were cleaned and dipped in solder then wound round with insulating tape - precisely two layers or you did it again, then taken to another machine that stretched them into a polygonal shape. These went down to the main floor where they were assembled into electro magnetic arrays which formed the armature.
On the main floor, outside the washroom were big drums of Swarfega - a green goo that removed grease from your hands and smelt awful. The air was filthy with metal dust and it was near impossible to remove the smell of engineering from oneself.
Workers
Our foreman was Jimmy Brown, a cheerful little man who had a country dance band. I used to help him set up for gigs (as I was set to be a rock star at the time). I recall him as being a good people manager - he had to be!
The guys and girls got on pretty well (once we got over the
aforementioned legends) and many of us used to go to the "Palais De Dance" hall on a Friday night. Everybody got hopelessly drunk before going to the dance and even more so inside.
Eric Sloane, Emerald, Victoria, Australia - formerly Edinburgh - October 2005
Recollections
2.
Donald Grant
Penicuik, Midlothian, Scotland
Thank you to Donald Grant who wrote:
1960s
"I have just had a look through the photos of Bruce Peebles on the site and found the shots showing the building of the new transformer building in the 60s fascinating."
Boswall Avenue
"I lived in Boswall Avenue (1956-1970) on the eastern side of the Bruce Peebles site. Our house,which can be seen in this photo on the site of East Pilton Station, looked up Boswall Place."
Pond
"There is a tenement block across the street from our house, and behind that at the northern end of the Bruce Peebles building was a pond, presumably used for some purpose by the factory as it was on their land. It possibly had a connection with the steam boilers. The pond was large enough to attract swans from time to time."
Steam Whistle
"We could see the factory steam whistle from our house and indeed used it as a kind of free alarm clock! It used to sound several times every working morning and the 08:30 whistle was the one that signified to me that it
was time to leave for school."
Lunchtime
"I can remember as a very small pre-school boy some of the workers saying 'Hello' as they made their way to and from the factory at lunch time. They must have been very local, as from memory the lunch break was only half an hour. Talking to a child would be frowned upon these days, but thinking back the fact that they would be local meant they were probably known to my family and besides, my mother worked in the offices as a cleaner."
Railway
"The workers used a footpath at the top of Boswall Place that ran alongside the ex-Caledonian Railway's Princes Street to Leith North line. Indeed, Bruce Peebles had a private siding accessing the line although I don't recall it ever being used."
Christmas Parties
"My mother worked at Bruce Peebles so I used to get to go to the annual kids Christmas Parties. I wonder if any of your website visitors have photos of any of the parties, I'd love to see them.
It's too long ago to remember now but I suppose the parties must have been held in the works canteen which to a small boy seemed absolutely huge."
Steam Whistle - Again
"As a footnote, the last time I saw the factory steam whistle I was quite taken aback by how big it was. Bear in mind that we saw it from ground level and it was on top of one of the buildings and we had no perception of its actual size.
This time it was up close, in the People's Museum in the Royal Mile."
Donald Grant, Penicuik, Midlothian, Scotland: February 22, 2008
Recollections
3.
Helen Lane
New South Wales, Australia
Thank you to Helen Lane who wrote:
Christmas Parties
"Do you know of any photographs of the canteen at Bruce Peebles, Pilton? I remember attending a Christmas party there about 1954/55.
Entry, I think, was at ground level. There was balustrade at the top level, looking down to a lower level.
Best dresses, Christmas Carols and games for all the youngsters. I can't remember whether or not Santa came!
There were what looked like collapsible tables stored at the back corner of the room."
Helen Lane, NSW, Australia: March 4, 2008
Unfortunately, I don't have any photos. Perhaps somebody else might have photos or memories of the Bruce Peebles parties.
Recollections
4.
Alex Dow
Fife, Scotland
Thank you to Alex Dow who wrote
The Works Siding
"Donald Grant (2 above) may be interested to know that I knew the son of the Bruce Peebles Engine Driver back in the 1950s.
If I remember the history of that works siding, it was electrified by overhead wire, almost identically to the Edinburgh Tramways of the period.
I seem to recollect seeing a photo of the Bruce Peebles locomotive. It was an industrial steeple-cab affair with trolley pole, very similar to that used in Glasgow to take railway trucks from the main-line, along one of the streets and into a shipyard.
I think this link existed before Glasgow Tramways; and as a result of differing flange requirements of railway v tramway, depth of groove in the rails etc, Glasgow Tramways (and Portsmouth) had a gauge of 4ft 7.75 inches, compared to the more normal 4ft 8.5 inches.
I've no idea of how often the Bruce Peebles siding was used in the post-WW2 period; but it almost certainly was heavily worked in the earlier years when road transport was much less capable of carrying the heavy transformers etc that were stock-in-trade for Bruce Peebles."
Alex Dow, Fife, Scotland: July 19, 2008
Thank you to Alex Dow for also mentioning that the Granton History Group web site includes a brief history of the Bruce Peebles company and some of its products.
Recollections
5.
Douglas Beath
Burnie, Tasmania, Australia
Thank you to Douglas Beath who wrote:
Wardie Burn
"Bruce Peebles' east boundary and the pond (with its tadpoles) were on the course of Wardie Burn, near its source behind Wardieburn House. This and the railway line could have been factors in siting the industry there.
Yes, it was probably a reservoir for the boilers, though it was also reputed to be a discreet dump for the occasional workpiece mistake!
The low houses at the north end of Boswall Terrace could flood, so the burn was piped and became a sewer with outfall off Granton Beach."
The Works' Railway
"The works internal railway's electric shunting locomotive used to fascinate me. It was built (presumably by themselves) on a conventional four-wheel goods wagon underframe with axles motorized. The artless steeple cab was amidships, with ballast weights over each end.
Sand for traction on wet rails was carried in a side-hung bucket. Repeatedly reversing the trolley must have kept the crew fit!
The overhead wire was lowish and occasionally had to be propped up with planks to get high loads through the yard."
Railway Modernised
In 1954 while Edinburgh was dismantling its tramways, Beeps (Bruce Peebles) bought a complete set of Edinburgh Corporation Transport overhead equipment: poles, rosettes, span wire, hangers, frogs, trolley wire and a trolley.
This was installed it at a greater height. The trolley base was raised off the cab roof, and a wooden telescoping tower was mounted on the loco for line maintenance."
Beeps kindly let me rescue the the old trolley and it graced my Boswall Drive back garden for a few years. The swivelling base, worn to near-failure, was of American make as used on the Manx Electric Railway.
The head, whose wheel shield swivelled on a large bronze ball race, was by Brecknell Munro & Rogers (or Willis?), I passed it to the Derby Tram Group in 1961 along with an Edinburgh tram carbon-insert trolley head."
Other Railways
"I don't know when Bruce Peebles loco ceased working. Other industrial electric railways near Edinburgh were at:
- Kinleith Paper Mill at Currie
- Oakbank Oil Company at Winchburgh northwards
- Westfield Paper Mill near Bathgate.
In 2003 I passed on my photos of all these and believe they were deposited in an industrial railway society archive."
Douglas Beath, Burnie, Tasmania, Australia: July 29, 2008
Recollections
6.
Scott Wright
Fire - April 1989
There was a major fire at Bruce Peebles' Transformer Factory on April 12, 1999. Thank you to Scott Wright for sending me these two photos that he took of the fire.
Acknowledgement: Scott Wright: May 13 +17, 2010
Recollections
7.
Steven Oliver
Duns, Borders, Scotland
Steven Oliver wrote:
Fire - April 1989
"I've just seen Scott Wright's photos of the transformer shop fire at the Bruce Peebles factory in East Pilton in April 1999. They are breathtaking and give a good indication of how fierce the fire was.
In both photos you can see the steel cladding on the exterior of the transformer shop starting to melt from the heat of the fire. From what I can remember reading about it, the fire was visible for quite some distance.
My grandparents had not long moved from Boswall Parkway when it occurred and, coincidently, we were at their new house in Coldstream when we saw the television news coverage of the fire. None of us could believe what we were seeing. Had they still been in Edinburgh, they would have had a grandstand view of it from their sitting-room window, which overlooked East Pilton Park and across to the works
The burnt-out shell of the transformer shop was still visible when I passed along Boswall Parkway on a bus in June 1999, just over two months after the fire occurred. It had gone by March 2000 when I next passed by, and if my memory is correct, work was about to start then on the demolition of the rest of the works. All of the buildings had gone by summer 2001.
Acknowledgement: Steven Oliver, May 19, 2010
Recollections
8.
Mary Nyberg
Sunshine Coast, Queensland, Australia
Mary Nyberg wrote:
Transformer
"I've lived in Australia for thirty 37 years. My father worked at Bruce Peebles for many years until retirement. He helped sandblast transformers which were made for the Snowy Mountain Hydro Scheme in New South Wales.
He came out to OZ in 1973 to join us. He went on a trip with his Senior Citizen club here and, would you believe it, they did a tour around the Hydro Scheme.
He did not believe he would ever see the finished product working."
Mary Nyberg, Sunshine Coast, Queensland, Australia: January 28, 2011
Recollections
9.
David King
Trinity Edinburgh
David King wrote:
Bruce Peebles
Illustrated Talk
7 Nov 2012
"Ian Lutton and I, who both live in the area, have organised an illustrated talk about Bruce Peebles, a major local industry in the area for almost all of last century.
The talk will be at Wardie Church Hall, Primrose Bank Road, Trinity, Edinburgh, on Wednesday 7 November, starting at 7:30 p.m., and will include many slides of the works that as far as we know have not been seen publicly before.
This is a 'one-off', not part of any group's programme."
David King, Trinity, Edinburgh: October 27, 2012
NOTE: David King and Ian Lutton have both been involved in recent years
in organising meetings of the Granton History Group.
There is more information on Bruce Peebles on this page of David Kings Granton History web site.
Recollections
10.
Jim Little
Winnipeg, Manitoba, Canada
Thank you to Jim Little for sending me the photograph below of the Bruce Peebles Winding Shop Gang.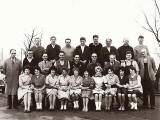 ©
Thank you to Jim for also providing the names of many of the men in this photo. Jim added that he could not remember any of the lassies' names.
Please click on he thumbnail image above to enlarge the photo and see a table giving the names of many of the workers.
Jim wrote:
Bruce Peebles
Transformer Winding Shop Gang
"This is a photo of the new Transformer Winding Shop gang from 1963/64. It was taken just after new shop opened. This is only half the squad (the day shift ). We alternated: 1 month day, 1 month night shift."
Jim Little, Winnipeg, Manitoba, Canada: May 20, 2014
Recollections
11.
Mary Nyberg
Sunshine Coast, Queensland, Australia
Thank you to Mary Nyberg for writing again. Mary wrote:
Transformer
"My father worked for Bruce Peebles for many years and, would you believe, he was employed to sand blast the Transformers. However, he went to N.S.W. on a trip and was shown around the Snowy Mountain Hydro Plant, hearing the history of it all.
He was standing in front of one of the transformers and got a huge surprise. In front of him was a brass plaque saying:
These Transformers were made and delivered to Australia by Bruce Peebles, Edinburgh Scotland.
He was so proud but I wish someone had taken a picture of him."
Mary Nyberg, Sunshine Coast, Queensland, Australia: January 28, 2011