Bruce Peebles Ltd
Edinburgh
Transformer Winding Shop Gang - 1963-64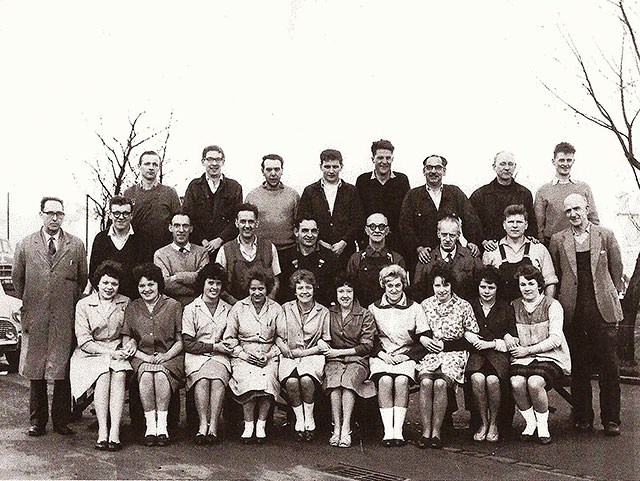 © Reproduced with acknowledgement to Jim Little, Winnipeg, Manitoba, Canada
Recollections
1.
Jim Little
Winnipeg, Manitoba, Canada
Thank you to Jim Little for sending me the photograph above of the Bruce Peebles Winding Shop Gang.
Thank you to Jim for also providing the names of many of the men in this photo. Jim added that he could not remember any of the lassies' names.
Jim wrote:
Bruce Peebles
Transformer Winding Shop Gang
"This is a photo of the new Transformer Winding Shop gang from 1963/64. It was taken just after new shop opened. This is only half the squad (the day shift ). We alternated: 1 month day, 1 month night shift."
Jim Little, Winnipeg, Manitoba, Canada: May 20, 2014
Back Row

Middle Row

Front Row

1

Owen Butler

Adam Rose GAFFER

?

2

?

Gordon Robertson

?

3

Jim Little

?

?

4

George Paterson

Matt Leask

?

5

Don Hird

?

?

6

Tony Galerite

?

?

7

Eric Hunter

?

?

8

George Anderson

John Murraay

?

9

?

?

10

?

Acknowledgement for all the names above: Jim Little, Winnipeg, Manitoba, Canada