Craigmillar Community Arts
"Who Are You?
Where Are You?"
An exhibition of photos of Craigmillar People
At
John Maxwell Gallery
(Old Craigmillar Primary School)
Artspace, 11 Harewood Road, Craigmillar, Edinburgh
12.00pm to 4pm, Mondays to Fridays
19 to 30 April 2010
Admission: Free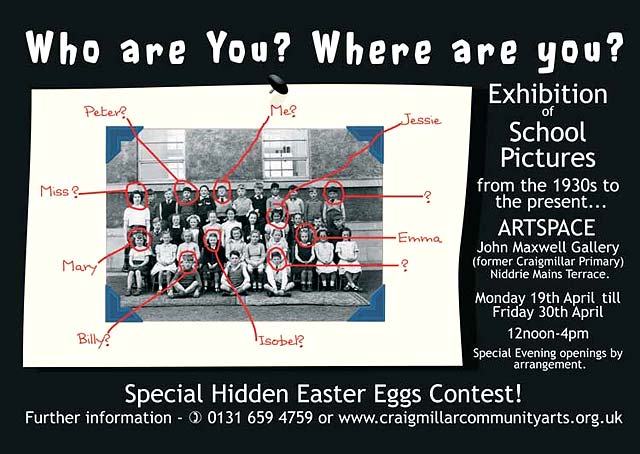 © Reproduced with acknowledgement to Craigmillar Community Arts
Craigmillar Community Arts
Photos of Craigmillar People
Johnni Stanton, who compiled this exhibition, wrote:
Craigmillar Children
"This exhibition is designed to highlight the path of Craigmillar's children through the corridors of education at the many schools that have served the area:
- Newcraighall
- Lismore
- Brunstane
- Niddrie Mill
- Craigmillar
- Greendykes
- Peffermill
- St Francis
- Castleview
- the new Moffat Way Joint Campus
OR
- Niddrie Marischal
- James Clark's
- St Anthony's
- Holy Cross
- St Thomas Aquinas
- St John's
- Portobello
- Holyrood
- Castlebrae."
Craigmillar Children
"We have over 400 pictures of schools, classes, football and hockey teams, first communions and even teachers from the 1930s onwards - many of them donated by local people and former residents who have long-since left the area.
But who are, or were, these pupils, children, teachers? Are they the parents and grandparents of Craigmillar schoolchildren of today?"
Information supplied by Louise Williams, Audience Development Worker,
Craigmillar Community Arts, Artspace: Mar 29, 2010
Update
More Photos
The Exhibition was a success. There were many visitors, some of them bringing more photos with them. Another four hundred old photos were added to the Craigmillar Community Arts Collection during the exhibition.
Peter Stubbs: May 2, 2010
Craigmillar Community Arts

Exhibition Photos

Here are a few photos that I took on the last day of the exhibition:

'Who Are You? Where Are You?'

Please click on the thumbnail images below to enlarge them.