Souness & Spiers
"I worked for Souness & Spiers on Warriston Road in the early 1960s. They were a timber merchants
They felled their own trees at Newbattle Abbey, Dalkeith, and other locations. They then cut and 'naturally dried' them in large open timber sheds which ran along the wall opposite the Water of Leith.
Their office was a small brick building, now the entry to Boat Green flats.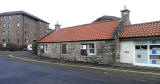 ©
The cottage to the right of entry road is now a photography studio. It was the original railway cottage and was occupied by our cleaner and yard caretaker."