Younger's and McEwan's
Breweries
Holyrood, Edinburgh
Demolition of Brewery Buildings - August 6, 1995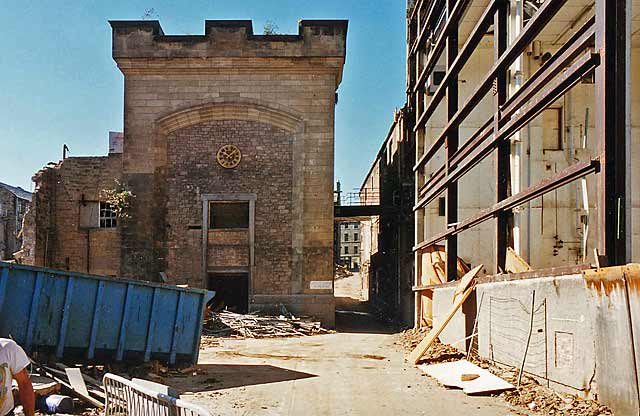 © Copyright: Ian Scott, Hazlemere, Buckinghamshire, England
Demolition of Brewery Buildings in Holyrood Road
This site, where the brewery was demolished in the 1990s, lies between:
- Holyrood Road
- Canongate
- St John's Street and
- Reid's Close.
The new Scottish Parliament has now been built immediately to the east of this site (out of the picture, on the right).
The tower with the clock on the brick wall looks interesting, but I don't know anything more about this building.
Recollections
1.
George T Smith
British Columbia, Canada
Thank you to George T Smith, British Columbia, Canada for sending the following comments.
George wrote:
The Clock Tower
"Regarding the Holyrood Brewery: I think the building with the clock on it was the building around which the workforce gathered at noon for their 'horn' - that is the free pint provided as one of the benefits of working in a brewery.
I can't be sure of this, as it is so long ago and I only attended that brewery a few times.
Incidentally in whisky warehouses and distilleries it is/was the
custom to provide a 'nip' at lunch time. Since water is under lock and key in such places (to prevent substitution or unofficial dilution) it was served at cask strength and, in my experience at a major blenders, from a shared tot glass seldom cleaned between issues.
I queried the hygiene of this practice only to be told "Och! alcohol is an antiseptic, is it no'?"
Nanaimo, Vancouver Island, British Columbia, Canada: November 7, 2006
Recollections
2.
Bryan Gourlay
Biggar, Lanarkshire, Scotland
Thank you to Bryan Gourlay who replied:
Youngers and McEwans
"Like George T Smith, I have recollections of the breweries in Holyrood.
In the early 1950s, before Scottish & Newcastle Brewers was created, I think Youngers and McEwans were both part of the same firm."
Deliveries
"Sometimes, I went with my dad, when he was transporting empty barrels between the brewery on the east side of Holyrood Road, about where the Scotsman building is now, to the brewery at Marionville Road near Abbeyhill, where the retail park is today. I think Youngers was in Holyrood and McEwans at Marionville."
"Pundy"
"One of my lasting memories is the brewery workmen swigging beer . They used to stroll over to a tap on the wall somewhere and fill up their large, stoneware-type jugs with what I'm sure they called 'pundy'. It looked very dark and treacly to me.
The supply of 'pundy' didn't seem to be rationed in any way, or maybe the men had found a way of tapping in to the system. They certainly quaffed their fair share in a day.
If they were going with the lorry from Holyrood to Marionville, they used to fill up their jugs to the brim, so they could sit on the back of the lorry on the journey and not waste good drinking time."
Bryan Gourlay, Biggar, Lanarkshire, Scotland: November 8, 2006
Recollections
3.
David Malcolm
North Island, New Zealand
Question
David Malcolm, New Zealand took this photograph of a memorial plaque at Younger's Brewery, Holyrood Road, Edinburgh. The photo was taken in 1986. The brewery was demolished in 1995:
David wrote:
The Memorial Plaque
"The photograph below is of the memorial plaque that was placed on the Brewery wall, commemorating those employees who lost their lives while serving during WWII.
I took this photo in 1986 while on a visit to Edinburgh. My uncle's name (Brown R) is on the list."
Where is it Now?
"I have been unable to find the relocation site of the plaque. Maybe another reader of your site can supply that information, which would be greatly appreciated.
In June 2007, I visited my uncle's grave at the war cemetery at Anzio, Italy, a beautifully landscaped and maintained cemetery.
I would like to think that Edinburgh has treated the plaque with similar care."
David Malcolm, North Island, New Zealand: January 16, 2008
Can You Help?
If you can help to answer David's question, please e-mail me, then I'll pass on your message to him.
Thank you. - Peter Stubbs: January 26, 2008
Recollections
4.
Aaron Winfield
Question and Answers
David Malcolm, New Zealand referred to a memorial plaque formerly at Younger's Brewery, Holyrood Road, Edinburgh, now demolished. David asked: "Where is the plaque now?"
Thank you to those who answered this question, including Aaron Winfield who photographed the plaque, and another also dedicated to William Younger employees. Both plaques are now in the grounds of Canongate Kirk.
Please click on the links below to see Aaron's photos of these plaques:
World War I Plaque

World War II Plaque

Both Plaques
Acknowledgement: Aaron Winfield, September 4, 2008
Recollections
5.
A L Knowles
Thank you to A L Knowles, who wrote:
Scottish & Newcastle
Plaques
"These plaques were displayed on the Holyrood Road elevation of the Scottish & Newcastle Head Office at Abbey Brewery, at 111 Holyrood Road, until it was demolished in 1998 to make way for the Scottish Parliament Building."
Rededication
"As the Premises Manager I was responsible for the care of the Head Office heritage, including the memorials, before and during the demolition. I suggested that they should be taken down, refurbished and rededicated in an appropriate location.
According to "The Younger Centuries", written to mark the two hundredth anniversary of the company in 1949, eighty members of the Company were killed in action in the First World War.
Losses in the Second war are not recorded in the book but in both instances most of these employees would undoubtedly have lived locally and the Board of Directors felt it most appropriate that the memorials should remain in the Parish of Canongate."
Canongate Kirk
"Consequently the plaques were dismounted and refurbished and re-patinated by Powderhall Bronze. They were rededicated at a Special Service in Canongate Kirk and an Act of Remembrance at the plaques which now hang on the West wall of the kirk."
Breweries
"William Younger & Co Ltd, Scottish Brewers Ltd, Scottish & Newcastle Breweries Ltd and Scottish & Newcastle plc. had an unbroken association with that site from about 1806 to 1998."
A L Knowles: January 31, 2012
Recollections
6.
Drew Gurney
(née Andrewina DUFF)
Thank you to Drew Gurney, who wrote:
Samuel Duff
Cooper
"I'd like to find out more about my grandfather, Samuel Duff, who was a cooper with William Younger's brewery. I know that he was Secretary of the Coopers' Union in Edinburgh during the war years but I always seem to reach a dead end in discovering more about him.
We have a photo, in the family, of Grandad Sam down at Downing Street with Clem Attlee, Prime Minister of the day, in Downing Street."
Drew Gurney, (née Andrewina Duff): 12 August 2015
Reply to Drew Gurney?
If you know anything about Drew's grandfather and would like to send a message to Drew, please email me to let me know, then I'll send Drew's email address to you.
Thank you.
Peter Stubbs, Edinburgh: 15 November 2015