Great King Street
Edinburgh New Town
View to the east along Great King Street from Howe Street - December 2007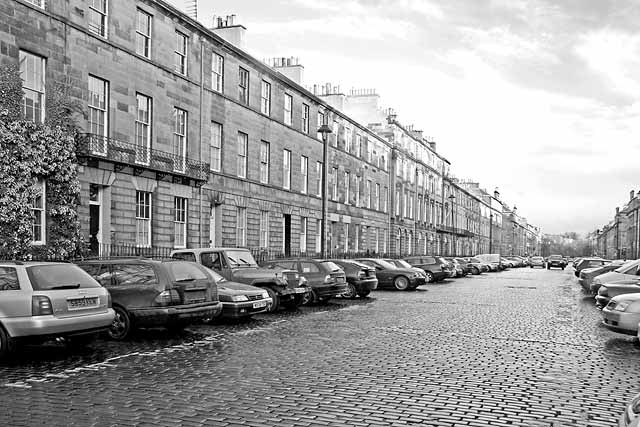 © peter.stubbs@edinphoto.org.uk Photograph taken December 22, 2007
Great King Street
View to the East
This view looks to the east along Great King Street from Howe Street.
Edinburgh Photographic Society's premises are at No 68, on the left-hand side of the street in the photograph above.
No 68
Recollections
1.
John Clark
Canada
Thank you to John Clark who saw the picture at the top of this page and wrote:
Royal Engineers Club
"I am 70 now. I lived in Great King Street with my parents until I was married in 1960.
The photo I see, with the house with the black door looks like the house we stayed in. It was the Royal Engineers Club. My Dad was the Clubmaster of the club, and we lived in the house below.
Does anyone know if the club still exists or is it long gone? I had many happy times with my parents and of course all the members."
John Clark, Canada: December 31, 2007
Reply
Yes, John. The Royal Engineers (Edinburgh) Club still seems to be at that address, 78 Great King Street.
- Peter Stubbs: December 31, 2007
Update
I've recently started to attend meetings in that building. The Edinburgh Transport Group holds monthly meeting there (except in the summer months when they have monthly bus tours).
- Peter Stubbs: December 30, 2009
Recollections
2
Elizabeth Fraser (née Betty Simpson)
Sydney, New South Wales, Australia
Thank you to Betty Simpson who wrote:
Solicitor's Office
"Looking at Gt King Street made me remember one of my first jobs as a teenager in a Solicitor's office. I think it was at No. 16. I lived in St Vincent Street, so it was just a short walk to work.
I used to take the late lunch-hour, from 1 til 2, as it made it easier for others. The woman caretaker, who lived in the basement, used to bring up some beautiful home baking for me.
I went down to see her one day and down in the double-sunk basement. She showed me the biggest wooden mangle I had ever seen. It's probably in a museum by now, or it might still be there!
I think the original (empty) wine cellar was also down there. Of course, these buildings were originally private homes.
The typist pool was in the top storey. We had one small bucket of (rationed) coal with four or five typists trying to get a bit of the heat and heating our carbon paper so it could be re-used!"
John Clark: December 31, 2007
Reply
I have been a member of Edinburgh photographic Society since the 1960s. The society had bought its present premises at 68 Great King Street in 1954. These premises had large rooms on the ground floor and first floor which we use for lectures, studio, library, etc.
They also have a basement, used for darkrooms and exhibitions, and a lower basement that few people ever visit.
- Peter Stubbs: December 31, 2007
Recollections
3.
Evelyn Boyd Southgate (née Browne)
Croydon, Surrey, England
Thank you to Evelyn Southgate, now living in Croydon, England, who lived as a child in Challenger Lodge, from 1942 to 1951, for writing about her birth place in Great King Street.
Evelyn wrote
71 Great King Street
"I was born at 71 Great King Street, but I didn't begin to investigate the details that appear on my birth certificate, which was all I had relating to my biological mother, until I was nearly sixty.
This was partly because of my final foster mother giving me the impression that I had come from a very lowly background and very likely a disreputable situation in addition to the fact that I was illegitimate. I imagined some nasty little backroom being my birthplace.
Research
"So it took me rather a long time to decide that none of this really made any difference to who I am and to investigate and accept whatever 'nasties' I might come across.
I visited No 71 with my daughter and we were surprised to see what a splendid street I was born in.
I eventually enquired at the Edinburgh Room in Edinburgh Central LIbrary and discovered that, at the time of my birth, the building was being used as a maternity home. It would appear that my mother had probably paid privately for me to be delivered there.
Interestingly, my mother died a single woman - but I suppose there was a huge shortage of men at that time, or perhaps she was just a very independent type of person!
Evelyn Southgate, Croydon, Surrey, England: June 11, 2010
Recollections
4.
Evan Reid
Ayrshire, Scotland
Thank you to Evan Reid who wrote:
71 Great King Street
"I can confirm that that 71 Great King Street was once used as a Maternity Home. I, too, was born there in the late 1930s.
I understand that, at that time, the Matron was a Miss Cavendish. My Family at that time lived in the Stockbridge area with addresses in Reid Terrace and Henderson Row."
Evan Reid, Ayrshire, Scotland: June 30, 2010
Recollections
5.
Pat Inman
Abbeyhill, Edinburgh
Pat Inman is another person who sent a message about 71 Great King Street. Pat wrote:
71 Great King Street
"I was born at the Maternity Home at 71 Great King Street in December 1944. My parents were caretakers of the Royal Engineer Club opposite the Maternity Home."
Royal Engineers' Club
I believe that the The Royal Engineers' Club in Great King Street survived until very recently, with dwindling membership. About five years ago, before the club moved out of its Great King Street premises, I attended a few Meetings of the Lothian Bus Group there.
Incidentally, the Royal Engineers' Club was a few doors to the west of Edinburgh Photographic Society's premises in Great King Street.
Peter Stubbs, Edinburgh: 27 October 2015
"My mother said that it cost her £1 per tablet when she had me in the Private Nursing Home."
£1 per Tablet
That sounds like a lot of money in 1944!
Peter Stubbs, Edinburgh: 27 October 2015
Pat Inman, Abbeyhill, Edinburgh: 27 October 2015 (2 emails)