Portobello Beach
'The Skylark'
'The Skylark' at Portobello Beach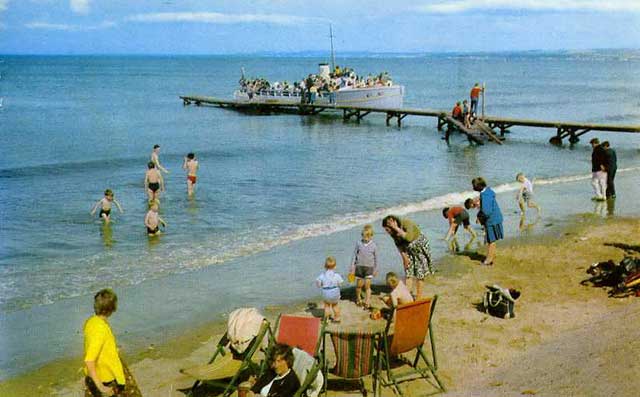 © Reproduced with acknowledgement to Archie Foley, Joppa, Edinburgh Postcard No.PT36367 - Publisher not named
At Portobello
The Postcard
Thank you to Archie Foley, Joppa, Edinburgh for allowing me to reproduce this postcard of 'The Skylark' beside its mobile jetty at Portobello Beach.
This postcard is postmarked September 11, 1968. The photograph may have been taken a few years earlier.
The publisher of the card is not named, but the card is numbered PT36367.
Postcard Question
The Publisher
Do you know who published this postcard? If so, please e-mail me
Thank you: - Peter Stubbs: September 2, 2007
Answer
John Hadden replied:
W S Thomson, Glasgow
"This postcard bears a close resemblance to one sold on eBay recently. A publisher is named there."
John Hadden, Edinburgh : September 3, 2007
Thank you, John, for your quick reply. The card on eBay does, indeed, seem to be from the same negative. All the figures are in the same position on both images. It is just some of the colours that have been changed, particularly the shirt of the boy in the foreground. It has changed from white to bright yellow!
The publisher of this postcard, named on eBay is W S Thomson, Glasgow.
- Peter Stubbs: September 3, 2007
Recollections of the Skylark
Recollections
Several people have mentioned their memories of 'The Skylark' in the Portobello Recollections section of this web site. 'The Skylark' seems to have continued to sail from Portobello Beach until at least the early 1960s.
Where is it Now?
The Postcard
Thank you to Bev Corrigan for writing to tell me what has happened to 'The Skylark'.
Bev wrote:
"I think that Eddie was the man at Portobello who used to sail 'The Skylark'. He was still alive in the 1980s. I don't know whether or not he is still alive now.
'The Skylark' is now at Balloch near Loch Lomond and is used daily."
Bev Corrigan: May 2+13, 2009