Postcard
Granton Middle Pier
View from Granton Square
Postcard - Posted 1923
© Reproduced with acknowledgement to Alastair McBeath, Granton, Edinburgh
Granton Middle Pier
Thank you to Alastair McBeath for sending me this postcard.
Alastair wrote:
1923
"This card has no manufacturer's name. It was posted on August 8, 1923, Written on the back is:
' Dear Dad.
Just a card. Have seen these ships and have been hunting for winkles.'
The View
"The writer appears to have placed a little cross above each of the ships' funnels in the Western Harbour. The railway rolling stock is nicely picked out where the new development Corinthian Quay now stands."
Granton Square
"This photo captures just how busy the pier was. It also made me wonder when the public toilets were built in Granton Square.
Alastair McBeath, Granton, Edinburgh: May 12+16, 2010
Reply 1
Trams
With a little more research, I think we may be able to discover when this photo was taken. There appear to be fittings for the tram wires turning from Granton Square in to Lower Granton Road, in the sky (upper-right) and possibly tram lines from Granton Road being laid (lower-right).
1955 Photo
Below is another photo of Granton Square, this one taken in 1955, the year before Edinburgh's trams were discontinued. This photo shows the toilet block that Alastair mentions in the middle of Granton Square. Was it serving as a shelter for tram and bus passengers when this photo was taken?
Peter Stubbs: May 16, 2010
1955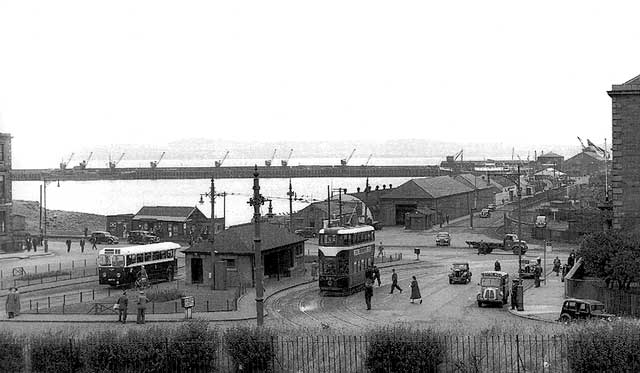 © Reproduced with acknowledgement to the photographer, WAC Smith, Glasgow, and to Irwell Press, Caernarfon, Gwynedd, Wales
This is one of the photos that appeared in 'An Illustrated History of Edinburgh's Railways' (WAC Smith + Paul Anderson)
Reply 2
Comparison with Earlier Photos
The 1955 photo above shows the building at the Granton Square end of Middle Pier that can be seen in the postcard, posted 1923, at the top of this page.
It also shows the little coffee house that can be seen immediately to the left of the trawlers berthed at Middle Pier in this photo:
Peter Stubbs: May 16, 2010