Around Edinburgh
The Forth Bridge
Postcard by an Unidentified Publisher - The Forth Bridge, 1890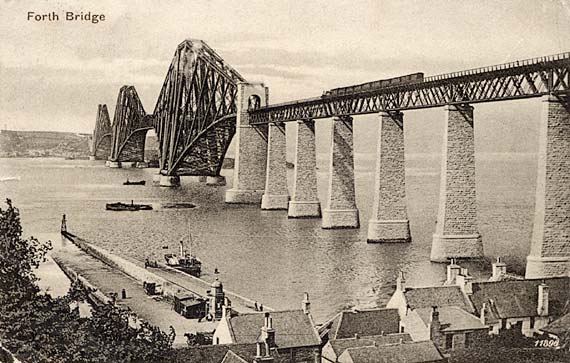 © Copyright: Peter Stubbs - please contact peter.stubbs@edinphoto.org.uk
Postcard (back)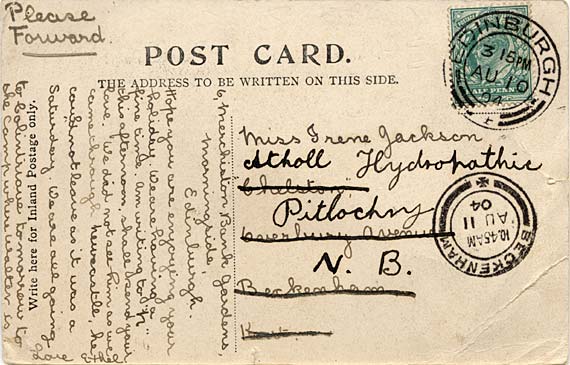 © Copyright: Peter Stubbs - please contact peter.stubbs@edinphoto.org.uk
The Forth Bridge
This postcard shows a train heading to the north across the Forth Bridge, and shipping in the Firth of Forth near Hawes Pier.
Many cards of the Forth Bridge have been published, with trains in this position on the bridge, but usually they have been heading to the south, approaching the camera.
Valentine Postcard?
I believe that this card will have been published by Valentine or perhaps published by somebody else who made a copy of a Valentine card, including the negative number allocated by Valentine (11896).
If the number is indeed a Valentine number, it indicates that the photo was taken in 1890, the year that the Forth Bridge opened.
The card was posted in 1904. It was not unusual for Valentine & Co to publish postcards many years after the photograph on the card was taken.
Halfpenny Postage
Here the sender got value for the halfpenny postage. The card was sent on the afternoon of 10 August from Edinburgh to Kent, about 400 miles to the south. But the recipient appears to have been on holiday in Scotland at the time, so the card was sent back 500 miles to the north again, the following morning, with the message 'Please Forward' to Atholl Hydropathic, Pitlochry.
One halfpenny (before decimalisation in the 1970s = approx £0.002.
Update
Frank Hay
Queensferry
Thank you to Frank Hay for confirming that the postcard at the top of this page is, indeed, based an original postcard by Valentine - whoever it was that published it!
Thank you to Frank for also sending me an original Valentine postcard of this scene Valentine may well have published this photo as a postcard in several different formats in the early 1900s. That would not be unusual for them.
In the example below, the 'Valentine' name can be seen at the bottom of the postcard, but has been cropped out of the postcard above.
Frank added
The Paddle Steamer
"The steamer at the Hawes appears to be New Undaunted (tall mast, black topped funnel and white paddle covers) and so we can date the photo from this Kilburn page on the EdinPhoto website."
The Date
"The Queensferry Jetty has been removed in the postcard (unlike the stereo image) and so the date is between the removal of the jetty and 1893. ** "
Frank Hay, Queensferry, Edinburgh: March 3, 2010
1890
** In fact, I believe that we can probably date this photo more precisely, to 1890, based on Valentine's number on this card.
Source: Booklet: University of St Andrews Valentine Collection: Publ. St Andrews University Library, 1999. I have found this source to be reliable, so I have no reason to doubt that this photo was taken in 1890.
Valentine Postcard - The Forth Bridge, 1890
© Reproduced with acknowledgement to Frank Hay, Queensferry, Edinburgh