Calton Hill
Bird's Eye View
Post Card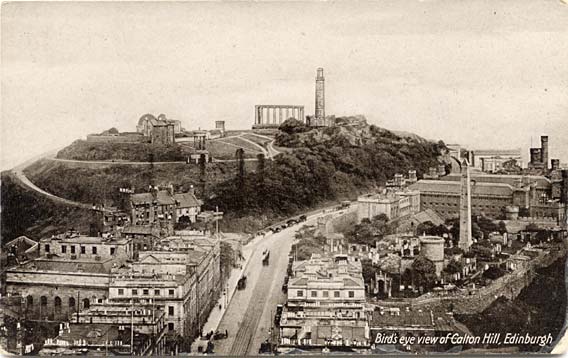 © Copyright: For permission to reproduce, please contact peter.stubbs@edinphoto.org.uk
Calton Hill
Bird's Eye View
This view looks up Regent Road to the east, towards Calton Hill from a high point close to the east end of Princes Street.
The publisher and date of the card are not known, and the card has not been sent through the post. However, the Government building, St Andrew's House has been built (centre right), where Calton Jail used to stand, above Calton Graveyard
Please click below to see an earlier view from a similar position, but zooming-in a little more on Calton Hill.
Calton Graveyard
Calton Graveyard, on high ground on the south side of Regent Road and almost opposite Rock House, is on the right-hand side of this photo.
The graveyard includes monuments to:
- the Political Martyrs (the tall obelisk in this photo)
- Robert Adams
- David Hume (circular)
The wording on the Political Martyrs Monument reads:
To the memory of Thomas Muir, Thomas Fyshe Palmer,
William Skirving, Maurice Margarot and Joseph Gerrald.
Erected by the friends of parliamentary reform.
England and Scotland 1844