Ian Ross of the 1st Leith Boys' Brigade Company Ex-Members' Association wrote:
Photographic Collection
"The photo is one of many hundreds held by the 1st Leith BB Company Memorial Club, collected by previous Captains and Officers since 1894! About 100 of these photos are included in a new book which will be launched on March 12, titled:
'From Humble Beginnings - The Story of The 1st Leith BB'."
1917 Inspection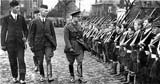 ©
"This photo was taken at the Annual Inspection of the Leith Battalion, The Boys' Brigade on April 28, 1917. The BB Officer to the rear and half hidden is A J Lethem who was Captain of the 1st Leith Company which was being inspected at that moment.
He is the gent who bought and donated the Memorial Club to the 1st Leith, and also Lethem Park to the Leith Battalion.
The Inspecting Officer was Brigadier-General E Morton commanding 24th Reserve Infantry Brigade. The 1st Leith was actually the largest Company on parade that day."
1917 Inspection
"Dummy rifles were used as an aid to drill from the beginning of the Brigade in 1883. However, the First World War was to eventually bring an end to this tradition.
Many Parents and Ministers felt that it was inappropriate to see young boys in a military-style situation after so many of their relatives had died in the War and, one by one, the Companies abandoned use of the rifles.
Brigade HQ eventually decreed in 1924 that all Companies were to stop drilling with the dummy weapons."
Ian Ross, Craigentinny, Edinburgh: February 28 + March 2, 2010