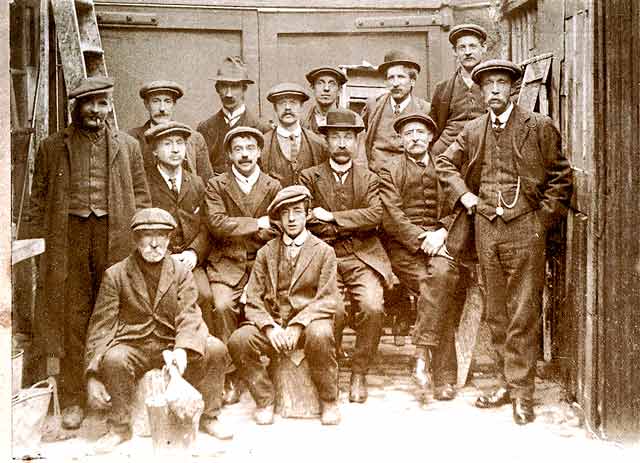 © Reproduced with acknowledgement to Liz Gatley, England
Painters
Thank you to Liz Gatley for allowing me to reproduce this photograph of a a group of painters.
Liz wrote:
"Here is a photograph of some painters in Edinburgh. The one in the Trilby hat is my Great Grandad, James Malcolm Brown, born 1872.
The photograph may have been taken about 1900.
I don't know where the photo was taken but it must have been in Edinburgh as that is where my Great Grandad worked all his life.
Someone else on your site mentioned a stable yard that had connections with painting and decorating, near Inverleith. Could be a connection there? I'm not sure."
Liz Gatley, England: November 3 + 12, 2007
Answer 1
Thank you to Ed Thomson, Glamis Castle, Angus, Scotland, for identifying this group of workers:
Ed wrote:
George Greenhill & Son
"This photograph is of George Greenhill & Son's workshop in Inverleith Terrace Lane. The photo is reminiscent of the workshop in the 1930s, when my late uncle, Peter Greenhill was running the business.
The corrugated shed backed on to the external wall of the Gasworks station at Canonmills, and the double doors opened on to the Gasworks site where my uncle used a bit of waste ground to store scaffolding."
History of the Business
"The business was founded by my Grandfather, George Greenhill. He was a master Gilder specialising in Church Notice boards and Heraldic Insignia. Originally from Perth, he married in 1889 and came to live in Clarence Street Stockbridge.
His first workshop, which he built himself, was a wooden hut at the corner of Goldenacre Terrace and Inverleith Row. I remember it as 'Robrtsons the Newsagents' as it existed well into the 1950s.
My grandfather employed about six painters until moving to more commodious workshops at Inverleith Terrace Lane and opening a shop at 4 Summer Place which also was his family home in 1902.
This was dismantled before the WWII by Uncle Peter when he expanded the premises after taking over Dunbar's derelict stables in the Lane.
The business lasted for over 75 years and only closed following the death of my Uncle Peter Greenhill in 1971."
Ed Thomson, Glamis Castle, Angus, Scotland: December 4 + 5, 2007
Painters
Liz Gatley who sent the photograph above wrote:
"It's fantastic to get a reply so soon.
Does Ed know anyone in the photo?"
Liz Gatley: December 6, 2007
Answer 2
Ed replied:
"I was only 10 years old, back in 1939, but I recall the name of one of the Painters who worked at Greenhills for over 40 years. He was Alexander (Sandy) Campbell.
He may be in the photograph. He was the Foreman Signwriter.
Sorry I cant help more than that."
Ed Thomson, Glamis Castle, Angus, Scotland: December 18, 2007