Photograph by Wullie Croal
Looking down on
Dumbiedykes
following demolition
mid-1960s
Looking down on Dumbiedykes following demolition
Only the church is still standing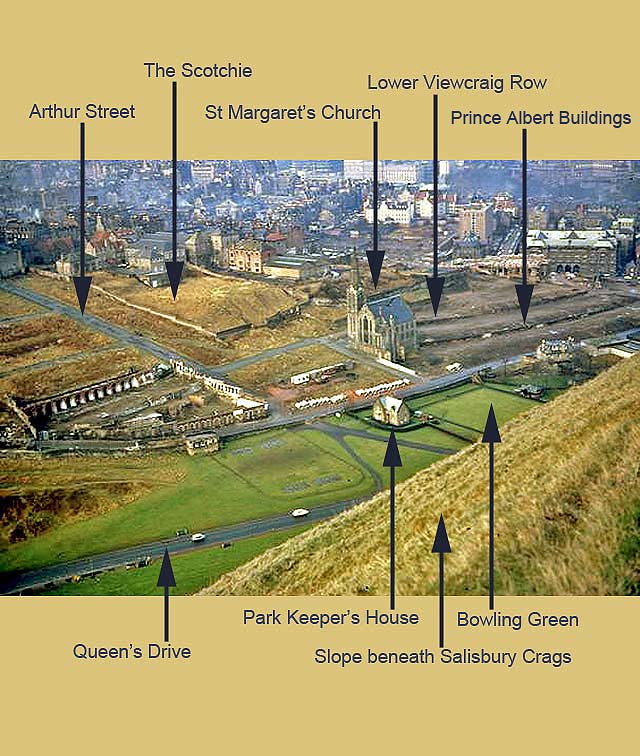 © Wullie Croal. Thank you, also, to Tam Croal (Wullie's son) for providing this photo. Key added by Peter Stubbs
Map of Dumbiedykes
The view in this picture approximately matches the map below.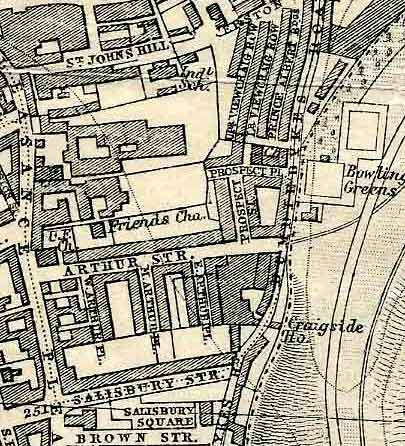 © For permission to reproduce please contact peter.stubbs@edinphoto.org.uk
Looking down on Dumbiedykes
Memories
Thank you to Tam Croal, Edinburg, for allowing me to reproduce the photograph above, looking down on the Dumbiedykes area following demolition, with only the church still standing.
This photo was taken by Tam's dad, Wullie Croal, probably from the Radical Road that runs beneath Salisbury Crags, close to the Cat's Nick
Please continue to scroll down this page to read comments about this photo.
Looking down on Dumbiedykes - Memories from Bob Henderson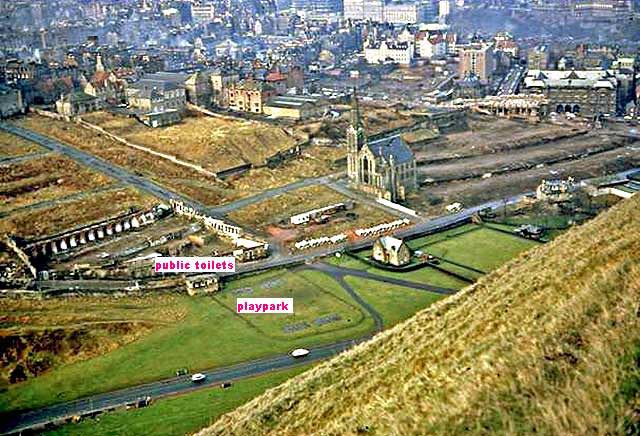 © Wullie Croal. Thank you, also, to Tam Croal (Wullie's son) for providing this photo. Key added by Bob Henderson
Recollections
1.
Bob Henderson
Burdiehouse, Edinburgh
Memories
Thank you to Bob Henderson, Burdiehouse, Edinburgh, for annotating Tam Croal's photo (above) and for sending his memories of playing and sledging in Holyrood Park
Bob wrote:
Public Toilets
"As you'll see (above), the small building, a third of the way in from the left, was a public toilet block. It was accessed from Dumbiedykes Road with no direct access from the park."
Sledging
"The slope in the park, to the left of this building, now covered in trees, was our favourite sledging slope. You could come all the way from Jimmy's (James Clark School) down to the rectangular line round the play park.
This line shows the position of a substantial flat iron fence, about 3 foot high with only about 4 inches of clearance beneath the bottom rail. We used to crash into this quite a lot."
Playground
"In the playground rectangle the tarmac bases of the four sets of swings can be seen. There were no bucket seats for toddlers in those days.
In the centre of this playground was a roundabout which, when the bigger children propelled it, made a great launcher of little children as I found to my cost many times.
Holyrood Park
"The park, when I was young, was the most magical of play grounds, with:
- Soldiers marching up and down what we called the soldiers' hill, and using live rounds at the Hunters Bog firing range.
- Three lochs, all with their own legends.
- St Anthony's Chapel to climb to.
- St. Margaret's Well.
- Dunsapie Hill.
- The scary walk along the top of Salisbury crags, getting as close as you dare to the edge.
- Then the best bit of it all, Arthur's seat with our wonderful city laid out before us.
What boy could ask for more."
Bob Henderson, Burdiehouse, Edinburgh: March 1, 2009
Recollections
2.
Bill Cockburn
Comely Bank, Edinburgh
Memories
Thank you to Bill Cockburn, Comely Bank, Edinburgh, for his comments below, and for identifying an error (now corrected) in the names of the streets listed in the picture at the top of this page.
Bill wrote:
Streets
"The ridges on the right-hand side of this photo are Lower Viewcraig Row and Prince Albert Buildings.
Above Lower Viewcraig Row is Upper Viewcraig Row, and above that, when I was a youngster was a derelict building which was a factory called 'The Sheffield Cutlery'. In this picture it would be to the right of The Scotchie."
School and Homes
"Beyond The Sheffield Cutlery was St Patrick's Primary School.
I lived at 16 Prince Albert Buildings from approx. 1955 to 1963 when I got married. My mother continued to stay there for a while longer, before moving to West Richmond Street, prior to demolition.
Friends
Memories of the good old days, right enough. I worked as a paper boy between 1957 and 1959 at Yardley's paper shop. My fellow paperboys and girls were:
- John Lothian, who stayed in Lower Viewcraig Row.
- Frances Sneddon, who stayed in 33 Prince Albert Buildings.
- Irene Younger, from 35 Prince Albert Buildings.
My best friends from those days were:
- Katie Honan, with whom I have made contact with, through your website.
- Jimmy Logan, whom I have contacted through Friend's Reunited.
- Eddie and Dougie Scott.
- Willie Sneddon, brother of Frances.
- Johnny Christie.
I would be delighted to hear from any of them.
Bill Cockburn, Comely Bank, Edinburgh: March 4, 2009
Recollections
3.
Bill Cockburn
Comely Bank, Edinburgh
Thank you to Bill Cockburn who added:
Sheffield Cutlery Building
Location
"I referred to the derelict Sheffield Cutlery building (in 'Recollections 2' above).
It was bounded by:
- Waterson Avenue, to the north.
- The Scotchie, to the south.
- St John's Hill and St Patrick's School, to the west.
- the back greens of Upper Viewcraig Row, to the east."
History
"It would be interesting to know some of the history of this building. The entrance was next door to St Patrick's School and there was a yard that extended to Waterston Ave.
The building itself appeared to have formerly been a very large country-house-sort-of-building, and there were what appeared to be workshops added to it on the south, east , and west."
Question
Derelict Building
"As kids we used to explore this derelict building, and we had a gang hut in the attic of one of the out-buildings. I wonder if anyone can shed any history on the origins of this building, and why it became derelict and empty for many years before demolition. I recall it being derelict from 1955 to 1963.
Perhaps you can try to throw some light on this matter."
Thank You
"Once again, my thanks to you and all the contributors to the website, for many memories of the Dumbiedykes and the strong community spirit of the people who lived in the area."
Bill Cockburn, Comely Bank, Edinburgh: March 9, 2009
Answer?
If you know the answer to Bill's question about the derelict building, above, please email me, then I'll pass on your message to him.
Thank you. - Peter Stubbs: March 9, 2009