W Gardiner
Baker and Confectioner
Proprietors outside W Gardiner's Baker and Confectioner shop
on the corner of Dean Street and Hermitage Place, Stockbridge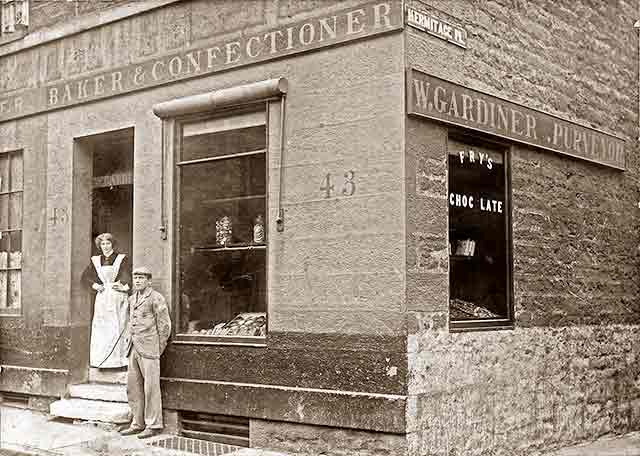 © Reproduced with acknowledgement to Arthur Dutch, Clashmore, Sutherland, Scotland:
formerly a partner in Lonsdale & Dutch, Tinsmiths, Stockbridge, Edinbuurgh
Recollections
1.
Arthur Dutch
Clashmore, Sutherland, Scotland:
formerly Stockbridge, Edinburgh
Thank you to Arthur Dutch for providing this photo.
Arthur added:
Hermitage Place
"I remember when there were two pillars at each end of Hermitage Place. They had metal archways between them and there would have been a lantern n each of them.
They were there until the horse-drawn dust carts were replaced by lorries. What a great pity they have gone. They were very attractive pieces of metal work.
I have very happy memories of Stockbridge."
Arthur Dutch, Clashmore, Sutherland, Scotland; formerly Stockbridge, Edinburgh.
The comments above are taken from a letter that Arthur Dutch wrote to Joan M
Beattie, Stockbridge, Edinburgh on 21 September 2015.
Re-naming of
Hermitage Place
Hermitage Place is a short street running between Raeburn Place and Dean Street at Stockbridge. The street is shown on the Kirkwood 1817 map of Edinburgh.
There was also a Hermitage Place at Leith. In order to avoid confusion between the two, Hermitage Place at Stockbridge was re-named Raeburn Street in 1968.
These details come from 'The Place Names of Edinburgh' (Author: Stuart Harris)
Peter Stubbs, Edinburgh: 24 October 2015
Recollections
2.
Joan Taylor (née Lamb)
Burlington, Ontario, Canada
Yesterday, I added Arthur Dutch's Recollections 1 to this page (above)
Today, I received the message below from Joan Taylor
Peter Stubbs, Edinburgh: 25 October 2015
Joan wrote:
Arthur Dutch
"It's so nice to see that Arthur is still contributing to your website.
I grew up knowing Arthur and his sister Margaret.
Their mother and father Ella and Jock Dutch (Moir & Baxter, Comely Bank) were life-long friends of my parents, George (Coal Merchant, Comely Bank Row) and Agnes Lamb
I wish Arthur well."
Joan Taylor, (née Lamb), Burlington, Ontario, Canada
Recollections
3.
Arthur Sutherland
York, Yorkshire, England
Thank you to Arthur Sutherland who wrote:
The Bakery
"I was Interested to see this photo of the shop on the corner of Dean Street and Hermitage Place. I recall it as being a licensed grocers. I think it was called Shaws.
I lived in the top floor of 67 Raeburn Place, in the next block."
Arthur Dutch
"I was also interested to see that the photo came from Arthur Dutch, of Lonsdale and Dutch, whose workshop was just up the road from my Grandma's house at 29a Howe Street.
I used to spend nights there trying to get to sleep, thinking that I had terrible tinnitus. It wasn't until many years later that I realised that the noise that I was hearing came from the ultrasonics of the forge on the Lonsdale & Dutch premises."
Arthur Sutherland, York, Yorkshire, England: 16 November 2016