John wrote:
37 Arthur Street
"My great grandfather and his daughter (my grandmother) owned a shop at 37 Arthur Street and lived above the shop until 1926.
My Grandmother was born in New York in 1890. She moved back to Edinburgh with my Great Grandfather in 1893. I assume that is when they bought the shop. (See also ** UPDATE below)
In this picture, are:
- my Grandmother, Lily Cullen (standing on the left)
- my Great Grandfather (standing on the right, beside Thomas Cullen).
Family
"My Gran married in 1916 and had three children:
- Tommy
- Winnie
- Elizabeth (Betty, my own Mother)
They all lived in the flat above the shop until 1926 when they bought a small house in West Catherine Place which they all moved into.
Here is a photo of my Aunt Winnie, standing in West Catherine Place, around 1950.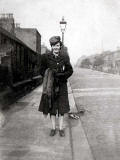 ©
- My Great Grandfather died in 1929.
- My Uncle Tommy died in 1945
- My Grandfather died in 1956
- and my Grandmother in 1985 aged 95
- My Aunt Winnie continued to live in the house at West Catherine Place until she had to move into a Nursing Home in 2006. She lived for 80 years in that house! The house was then sold."
Old Photos
"Uncle Tommy and Aunt Winnie never married so my mum and hence I have inherited all of Aunt Winnie's old photos. She was a bit of a hoarder and has all sorts of documents from way back (trade receipts from as far back as 1907, a funeral invoice from 1882, and photos of all sorts of people."
Another Shop
"Great Grandfather also had a half share in another shop in Victoria Road, with Messrs Lumsden. I believe their shops went on well into the 1960's."
John Smith, Paisley, Renfrewshire, Scotland: July 31, 2008