Hutton Bros, Plumbers
23 Argyle Place, Marchmont
Marchmont lies to the south of The Meadows
Mid-1920s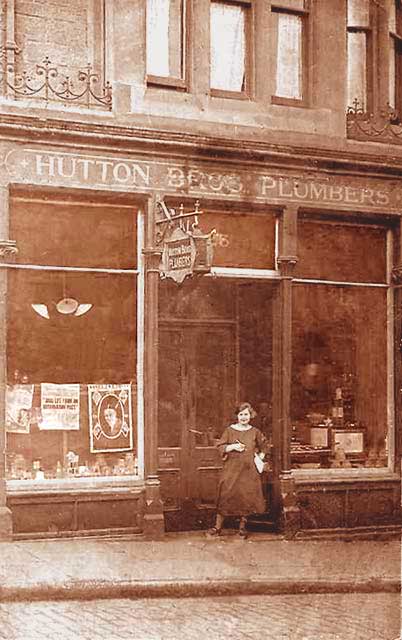 © Reproduced with acknowledgement to Ian Thomson
Lake Maquarie, New South Wales, Australia
Hutton Bros, Plumbers
23 Argyle Place
Thank you to Ian Thomson, Lake Maquarie, New South Wales, Australia, for sending me this old photograph.
Ian wrote:
Hutton Bros, Plumbers
"This old picture shows the front shop of Hutton Bros, Plumbers, around the mid-1920s. My mother, in the picture, was a clerkess with them.
My father also worked with them as a plumber. This is where they met. I remember dad telling me of how he use to set out from his house in Cheyne Street, Stockbridge and go up over Princes Street, George IV Bridge and The Meadows, all on shank's pony (walking), then in reverse coming home.
In a strange twist of fate, I worked with Eddie Giles, plumber at Argyle Place in 1959, just prior to migrating to Australia on the £10 ticket with my wife and son.
Ian Thomson, Lake Maquarie, New South Wales, Australia
The Window
I cannot read the writing on the posters in the window on the left, but the poster on the right looks familiar to me. Perhaps somebody will email me and tell me more about it.
History of the Company
I checked several old editions of the Edinburgh & Leith Post Office Directory and found that Hutton Bros were based at 23 Argyle Place for several decades, beginning some time between 1905 and 1910.
- The company was listed as being at this address in the directories for 1910, 1920, 1930, 1940 and 1950 (but not 1961).
- In the 1950 directory, their name had become 'Hutton Bros incorporating Adam Grieve'