UPDATE 2
Thank you to Tammy Mitchell for sending me the results of some of her research into the Mitchell family. Below, are the details of the Grierson Mitchells in the family.
The family history seems a little complicated, so please let me know, Tammy, if I've misinterpreted your comments in any way.
The details below are taken from emails sent to me by Tamm Mitchell.
As well as the three Grierson Mitchells listed above there was a Grierson Mitchell, born 1833. I'll call him Grierson Mitchell (2a). He is the Edinburgh photographer named Grierson G MItchell.
An very abbreviated family tree would look like this: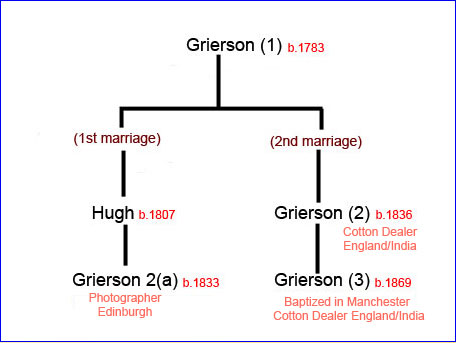 Grierson Mitchell (1) born 1783
- His parents were Hugh Mitchell and Marion Grierson, married 1770
- He was one of twelve children born between 1771 and 1793.
- 1st marriage: to Christian Patterson (children Hugh, George, Elizabeth)
- 2nd marriage: to Margaret Wilson (children Grierson (2), William Esq)
Grierson Mitchell (2) born 1836
- He was the son of Grierson Mitchell (1) through his marriage to Margaret.
- He was educated in Edinburgh and moved to England where he worked as a buyer in the cotton industry between India and England.
Grierson Mitchell (2a) born 1833
- He was Grierson Gordon Mitchell, artistic photographer.
- He was born on May 4, 1833, son of Hugh Mitchell (above) and Celia Gordon, so was grandson of Grierson Mitchell (1)
In fac, he was younger than Grierson Mitchell(2), son of Grierson Mitchell (1).
Grierson Mitchell (3) born 1869
- Grierson Mitchell (3) was born in 1869, in Manchester, England
- He was the son of Grierson Mitchell (2) and Margaret Jane McKerrow.
- He was living with his mom at the time of the 1881 census.
- His mother passed away in 1888 in Altrincham.
- His father died in 1917 in Warrington
- His siblings were: Henry (aka Harry) McKerrow & Frank A.
- His Uncle was Sir William Wilson Mitchell Esq.
- His Uncle William's children were all born in Ceylon, India.
___________________
Tammy Mitchell also provided the following information from censuses and other records relating to Grierson Gordon Mitchell. i.e. Grierson Mitchell 2(a)
Tammy wrote:
Grierson Mitchell 2(a)
In 1851, Hugh Mitchell was living with his step mom Margaret (née Wilson) who was 1 year younger then him. Hugh had been a candle maker located on Cross Causeway most of his adult life. In this census he is an 'invalid'. He is a Widower.
In 1851, Grierson Gordon Mitchell is about 17 and is in the home of his grandmother Agnes Gordon. Occupation: Clerk In Wholesale Warch.
In 1861, I found him living alone at the same address as 1851, 2 Murray Street, Edinburgh St Cuthberts, Newington district, Midlothian, Scotland
In 1871, I found him with his wife Helen, and their first two children. In the ancestry.co.uk index his name appears as George Mitchell. But his wife and children's names are correct. He is living at 3 Gladstone Place, Occupation: photographer, spelled wrongly.
In 1881, he is living at 3 Gladstone Place, Edinburgh St Cuthberts, still, with his wife Helen and his children, Henry Cecil (16), Alice Pauline (13), Ernest Gordon (9), Helen Main (6). Occupation: Photographic Artist.
In 1891, he and his family (above) are living at 12 Queen Street, Edinburgh St Andrew. Occupation: Photographer
In 1901, he is living at 31 Sciennes Rd, Newington with his wife and youngest daughter Helen. Occupation: Photographer (Portrait).
Well it looks like he lived there until he died in 1916. *
( * Tammy also sent me a copy of the death certificate for Grierson Mitchell (2a), showing that he was a photographer married to Helen Duncan, and that he died at 31 Sciennes Road Edinburgh, aged 83, on April 29, 1916.)
Tammy concluded:
"1. I don't believe there was a George G Mitchell photographer, unless you yourself have knowledge of his work. I'm wondering if that name appears on your page because in the 1871 census, Grierson is listed incorrectly as George G Mitchell.
I think you are probably correct in assuming that there was probably not a professional photographer in Edinburgh named George G Mitchell. I believe that in the entry in Slater's directory for 1889 listing the studio at 25 North Bridge should have referred to the name 'George' should have been listed as 'Grierson'.
However, there was an Edinburgh Photographic Society Member whom I have referred to above as George G Mitchell above. He was in fact Secretary of EPS in the late 1880s. I'll check the records and see whether he might have been Grierson, or whether he is likely to have been a different photographer, named George.
2. As you can see, Grierson Gordon Mitchell was a photographer from before the 1861 census, probably until well after 1901 (I don't think they had pensions then) - so to answer your question, I think it was just one man who was the photographer throughout all those years!"
Tammy Mitchell, Chilliwack, British Columbia, Canada: March 3+4, 2009