Questions
Below, are some questions I have not been able to answer.
If you can help me to answer any of these questions, please e-mail me.
Please click on the links below, or scroll down this page.
Ayton - Rugby Photograph
Alex Ayton's photographed the England and Scotland rugby teams playing at Inverleith, Edinburgh, on 19 Mar 1910.
QUESTION: Where can I get a good copy of this photo?
Asked by: Chris F Newby-Robson
John Counsell
John Counsell was a photographer in Brighton, then Edinburgh. He later moved to Cornwall, and took up photography there under the name of John Counsell Stephens.
QUESTION: Why did John Counsell change to using the name John Counsell Stephens?
Asked by: David Simkin and Deirdre Long
Alan Daiches
Alan Daiches has lectured to Edinburgh Photographic Society in 1966 and has exhibited his work in EPS Exhibitions.
Jennifer Toleikis hopes to use some of Alan Daiches photographs, believed to be held at the Getty Museum in Los Angeles, in a book on the artist Allan Kaprow. But first she needs to obtain copyright permission to do so.
QUESTION: Does anybody know how to contact Alan Daiches, or the person who currently holds the copyright to his work?
REPLY: Many thanks to Liz Kettle (brother of Alan Daiches) for contacting me - July 2003
Asked by: Jennifer Toleikis
John Edmonstone - Bird Stuffer
John Edmonstone was a bird-stuffer who shared premises with the early Edinburgh photographer, James Howie, in the 1830s. I have been told that he was a freed Guyanan slave, and that he taught Charles Darwin taxidermy.
QUESTION
Does anybody have a photograph of John Edmonstone, or any further information about John Edmonstone?
ANSWER 1
Since I first asked this question, probably about 3 years ago, I have just had one response. It comes from Janet Baker, Wakefield, West Yorkshire, England. Janet writes:
"I can only add that he was taught taxidermy by Squire Waterton, an eccentric landowner and naturalist from Walton near Wakefield in Yorkshire. Waterton travelled to Guyana. I would like to know how Edmonstone arrived in Edinburgh. And anything more about his history?"
Feb 19, 2006
ANSWER 2
Janet wrote, 3 days later, with an update:
"I now have a little, just a very little, more information about John Edmonstone, though it asks rather more questions than it answers and no pictures I'm afraid.
It's an article from 'Notes and records of the Royal Society of London, vol. 33, no. 1 August 1978' called Darwin's negro bird-stuffer. I got a copy from my local museum."
Feb 22, 2006
ANSWER 3
My search on the Internet about 3 years ago found very little, but today (Feb 22, 2006) a search for "JOHN EDMONTON" EDINBURGH on Google has produced far more.
This seems to be mainly because John Edmonton appeared in a list of '100 Great Black Britons' compiled by Patrick Vernon in 2004.
Here are a couple of extracts from these web sites:
"Professor Janet Browne told Making History that Edmonstone was brought from British Guyana to Glasgow by his master Charles Edmonstone, who owned the Cardross Park estate to the north of the city.
A friend, Charles Waterton, who also owned land in Guyana, was an early naturalist who brought specimens back with him. It was he who taught the young slave, John, how to stuff animals.
When he was freed, John Edmonstone used his new taxidermy skills first in Glasgow and then in Edinburgh where he worked occasionally at the university - where Darwin was studying.
It is thought that Edmonstone lived for a while in Lothian Street, Edinburgh, though there is no plaque to commemorate."
BBC Making History Program October 25, 2005
Charles Darwin learnt taxidermy from John Edmonstone. Darwin was 16 years old at the time and becoming disillusioned with learning medicine
He described Edmonstone as, "'very pleasant and intelligent". John Edmonstone gave Darwin inspiring accounts of tropical rain forests in South America and may have encouraged Darwin to explore there.
Edmonstone also told young Charles Darwin about his life as a slave. Throughout his life Darwin hated slavery. Edmonstone may have encouraged this detestation in Darwin.
Certainly the taxidermy Darwin learnt from Edmonstone helped him greatly during The Voyage of the Beagle.
Wikipedia - Internet encyclopedia: February 2006
Asked by Fraser MacLean
A W Elson - Carbon Photographs
I have received several emails from people who have large carbon photographs by A W Elson of Boston. Here are further details and some examples of Elson's work
QUESTION: Can anybody tell me more about the history of A W Elson and the photographs that it produced. This would enable me to give a fuller answer to any future questions that I receive.
I have received many emails on the work of A W Elson, Boston.
Empire Studio - Open when?
The address, 92-96 Nicolson Street, appears on the back of some Empire Studio photos. Several photographers were based at this address, from 1897 until 1945, usually operating under their own names.
QUESTION: When was 92-96 Nicolson Street the address of Empire Studio?
Asked by: Jenna Robertson
FGOS
I have received an e-mail from somebody who has some prints by:
- GWW = George Washington Wilson (Aberdeen)
- JV = James Valentine (Dundee) and
- FGOS - Who was he?
ANSWER
He was Francis Godolphin Osborne Stuart, a London photographer, 1881-82.
ANSWER (continued)
Francis Godolphin Osborne Stuart was:
- started work as a carpenter and camera maker in Aberdeen
- became a professional portrait and landscape photographer
- spent some time in London (1881-82)
- established a home and studio in Southampton (by 1883).
- began publishing postcard pictures in 1901and covered much of (mainly southern) Hampshire and adjoining counties, as well as shipping and London.
The family business was continued under his name into the 1930's. His postcard pictures are still keenly collected.
[With acknowledgement to Mike Pettigrew for the above details. Most of the information has been taken from a booklet of FGOS' picture postcard reproductions (of Southampton), published by Ensign Publications.]
Asked by: Heather
A Healey Hislop
A Healey Hislop gave a criticism of the Edinburgh Photographic Society Exhibition in December 1924 and gave a lecture to the society in November 1925, entitled:
Principles of Photography with a Pinhole Camera
Roger Bloomfield tells me that he has been looking at some etchings by A Healey Hislop of Paris and other places, including Gothic interiors, and would like to learn more about him.
QUESTION: Do you have any information about A Healey Hislop or his work?
Asked by: Roger Bloomfield
ANSWER: Peter Casey tells me that he has a railway poster produced for the London Midland & Scottish Railway Company, not sure of the year this was produced but the image is signed by Healey Hislop. Could this be one and the same person Roger Bloomfield refers to?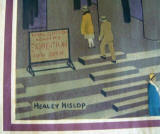 The image is a street scene with Edinburgh Castle in the background and in the foreground a sign reads Royal Scottish Academy Exhibition.
Please click on the image above to enlarge it.
Please e-mail me if you have any further comments. Thank you.
Reply received from Peter Casey
Charles Kinnear and T Melville Raven
Charles Kinnear toured France and Spain.
T Melville Raven toured France; both in the mid-19th century.
They took photographs that were displayed in Edinburgh exhibitions.
QUESTION: Does anybody know where any of these photos taken by Kinnear and Raven are now?
Asked by: John Hannavy
Louis Saul Langifer - Early Days
Louis Saul Langfier had a studio in Glasgow before Edinburgh.
QUESTION 1: Where was he before Glasgow?
QUESTION 2: Was he related to Adolph Langfier, who had a studio in Harrogate?
Asked by: Frances Rive
ANSWER 1 and 2: Louis Saul Langfier and Adolph Langfier were brothers. Both came from Poland to Britain. The date that they came to Britain is not known. Did they come directly to Glasgow?
Answered by Doreen D Brady, New Jersey USA, granddaughter of Louis Saul Langfier
John Moffat
| | |
| --- | --- |
| John Moffat produced this 16x12 ins photograph, which was found recently in its frame, with a copy of an 1886 edition of The Scotsman newspaper used for matting. | |
QUESTION: Does anybody recognise this sitter?
Asked by: Brian Smith
Photographic Convention of the UK
QUESTION 1: When was the Medal issued?
QUESTION 2: Were Medals issued at Conventions?
Asked by Robert Griffin
Photographic Medals
David Likar lives in Australia and collects photographic medals. He is researching Royal Photographic Society Medals up to 1914. He also has two FAPA Scottish Medals awarded to Robert Sinclair
QUESTION 1: Does anybody own any of these medals. If so would they be willing to answer questions about them.
QUESTION 2: What is FAPA?
Asked by David Likar
Railway Worker and Photographer
| | |
| --- | --- |
| This railway worker and photographer took many photos around Edinburgh in the 1950s. Do you recognise him?. | |
QUESTION 1: Who is the person in the photograph above who took the photo below and many similar railway photos?
Asked by Archie Foley
Robert W Reid
Robert W Reid took some photographs of animals in this Highlands of Scotland. Some can be found on this web an Old Scotland web site.
QUESTION: Does anybody know anything about this photographer?
My e-mail correspondent has 144 of Robert Reid's photographs, and has been trying to trace Robert Reid for the past 25 years!
Asked by Dennis Thompson
Frederick George Sykes
Frederick George Sykes was a Senior Police Officer in Edinburgh between 1930 and 1950. He was a Member of Edinburgh Photographic Society for five years, and an exhibitor in Open Exhibitions.
QUESTION: Does anybody have a photograph of Frederick George Sykes, or know any information about him?
Asked by George Taylor
Valentine & Co - Snapshot Booklets
Valentine & Co have published many small "Valentine Snapshots" booklets, showing views, particularly of Scotland.
QUESTION 1: When were these booklets produced?
QUESTION 2. What was the original price of these booklets?
QUESTION 3: Which areas were covered by these booklets?
Asked by: Lisa Unsworth