George Oman's
Tobacconist Shop
3 High Street, Hawick
3 High Street, Hawick - 2000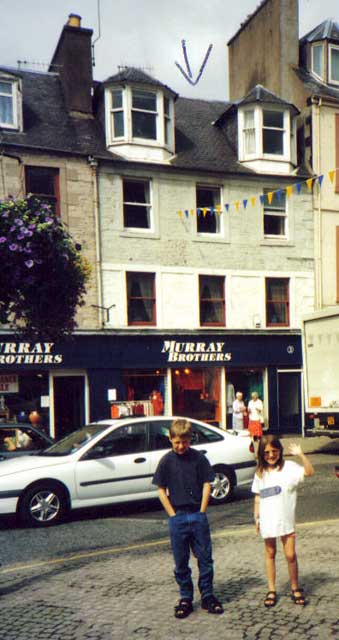 © Aileen Oman Riddet
great-great-granddaughter of George Oman
3 High Street, Hawick
The photograph above is of 3 High Street, Hawick, taken in 2000.
In 1875, this was a tobacconist's business run by the photogrpaher, George Oman. The two children in this photograph are great-great-great-grandchildren of George Oman.
Thank you to Aileen Oman Riddet, Warwickshire, England, great-great granddaughter of George Oman for the details below.
Aileen wrote:
"In January 1875 when George Oman's daughter Mary Ann (my great grandmother) was born, they were living at 3 Market Street, Hawick (photo above).
His trade was listed as 'Tobacconist' on her birth certificate.
You've got the details of the 1881 Census already, and in the 1891 Census, he was still living at Caledonian Street with wife and two daughters, Jemima (Russell's grandma) and Mary Ann (my great grandma). He is listed as a Photographer then also.