EPS Premises
68 Great King Street
68 Great King Street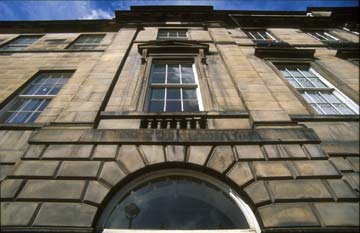 © Copyright: For permission to reproduce, please contact peter.stubbs@edinphoto.org.uk
Premises purchased
By 1954, the New Premises Fund had reached £1,100, and possible premises had been found at 68 Great King Street. The Asking Price was £1,950.
A special Meeting held on 7 August to agree the purchase of the premises. They were acquired in November for £1,650.
Members made an interest-free loans of £1,055 and donations of £120. This enabled the society to spend a further £100 on structural alterations and £480 on plumbing, painting, electrical work and fitting out.
Edinburgh Photographic Society's premises occupy the 1st floor, Ground Floor, Basement and Sub-Basement of this building.
The Opening of the Premises by Edinburgh's Lord Provost took place on Wednesday 5 October 1955
A home again
A band of about 50 volunteers started work on rewiring, interior paintwork, fitting out darkrooms, kitchen and studio almost immediately after the premises were acquired. By the start of the 1955-56 season, the premises were ready for use.
The Premises, comprising a large lecture room, a spacious studio, a reading room, small kitchen and a ladies room, were officially opened by the Lord Provost, John Banks, on 5 October 1955.
The members were clearly very pleased to have its their premises again:
"Once before in its history, the EPS owned its own rooms. That it ever parted with them, even for the awe-inspiring affiliation with the Royal Scottish Society of Arts, has mystified many of us during our involuntary sojourn in the wilderness of homelessness." [EPS Bulletin No 30]
Darkrooms
1958 report:
"Finally, a source of peril has been removed. Intrepid members who ventured to open that sinister little door marked 'Danger' in the darkroom flat, will have found that it plunged directly into Stygian blackness of a sub-basement. The council, in their mercy, have now stretched the funds to the wiring of this, so 'Let there be light'."
1959 advice to darkroom users:
"At the present time, the need to conserve water supplies in Edinburgh is real and pressing. … Sea-water can be readily obtained by most people living in Edinburgh. The modern 2-gallon plastic container with stopper is a handy adjunct to use for its collection and storage. Sea water can be used satisfactorily for washing prints. After using sea water, a final rinse or two in plain water is necessary."
In 1967, a colour darkroom was created, but the same year, dry rot and wet rot was found in the basement and sub-basement. expect the darkroom to be closed for 2 or 3 months
Damage and Improvements
In 1979 and 1980, the premises were flooded on three occasions from burst pipes in the flat above. The Board Room, Lecture Hall and Monochrome Darkroom were damaged, but fortunately the society's valuable collection of photographs by Hill & Adamson and others were well protected and survived. These are now in the care of the Scottish National Portrait Gallery.
The society continues to set aside funds for structural repairs. Several thousand pounds was needed for repairs to the roof and a garden wall in recent years.
In 1996 and 1997 work was the society's Main Hall, Entrance Hall, stairs, Library and Black & White Darkrooms were all redecorated, making the premises more welcoming to old and new members.
Further major redecoration of the premises was undertaken in 2004-05, this time calling on the services of professional decorators rather than EPS volunteers.
68 Great King Street
Bust of DO Hill
Please click on any of the thumbnail images below.
All 3 images below are on the same page.
OR
click here to see: small photos (640 pixels) or medium photos (1024)
Edinburgh Photographic Society
68 Great King Street
Please click on the thumbnail images above to see photos of the bust of David Octavius Hill in Edinburgh Photographic Society's premises at 68 Great King Street, Edinburgh.
Can anybody tell me when EPS acquired this bust, and who from? It must have been some time between
- 1868 (It was not one of the items listed on the society's inventory that year) and
- 1963 (That's the year that I joined EPS. The bust has been in the society's premises throughout my membership.)
Peter Stubbs, Edinburgh: June 22, 2012