Recollections
Brunswick
Shops and other Premises including
Miller's Wireless
Recollections
1.
Rod Wallace
Kincardine on Forth, Fife, Scotland
Thank you to Rod Wallace who wrote sending me some of his old photos, taken on his Instamatic 126 camera. Rod says that's all he could afford at the time.
Rod wrote:
Miller's Wireless
"Mr Miller was a character. I'm sure many will remember him. I knew him very well. He encouraged my teenage interest in electronics. Although chemistry was my eventual career choice, I had holiday jobs with his firm, Millers Wireless until it closed in 1976."
132 Leith Street
"The original Miller's Wireless shop at 132 Leith Street was well known. It was demolished to make way for the St James Centre. These premises were mainly below ground level. They were a warren, packed with contemporary and government surplus electrical equipment, presided over by Mr John Calderwood Miller, a polymath ex-merchant navy radio officer.
The shop literally represented the history of radio and TV broadcasting, with examples of sets from every decade, together with a huge stock of spares."
Brunswick Place
"Miller's Wireless moved to the new premises on the corner of Brunswick Place and Elm Row in 1971 and continued as a successful business until Mr Miller retired."
*** In fact Murray's Stores and Millers Wireless shop, seen in the photo above, were on the corner of Brunswick Place and Brunswick Street. See Recollections 7 below.
Mr Miller and his Staff
"Here is a photo of Mr Miller (on the right) at his home near Musselburgh. Later he sold this house and his unique collection of early broadcasting items to the well known collector Mr Michael Bennett-Levy.
The gentleman on the left in this picture, coincidently also called John Miller, and a real character in his own right, was an ex-Bengal Lancer and on the shop's staff from the late 1960s.
Other part-time staff members from that era were:
- John Kerr
- Andrew Miller
- Archie Morgan
- Tom Glencross
- Norman Stewart.
Rod Wallace, Kincardine on Forth, Fife, Scotland: May 2+6, 2011
Recollections
2.
Bob Henderson
Burdiehouse, Edinburgh
Thank you to Bob Henderson who replied:
Miller's Wireless
Miller's
"These photos were a real blast from the past for me. Thanks to an uncle who shared a room with me, I have been interested in radio since I was five years old.
I have held an amateur radio licence for nearly forty years. In the beginning, after the war, Millers was 'THE' place to get anything radio-related.
Mr Miller was always able to make time for us youngsters and give advice, whilst of course selling us what were euphemistic-ally known as boat anchors, i.e. very large ex WD sets which invariably worked first time and provided many happy hours of listening on the short wave bands. I still have a couple of these in the hut which used to be my shack.
So it is a big thank you to Rod Wallace for the pictures."
Brown's
"I wonder if anyone will come up with photos of Brown's in George the Fourth Bridge."
Bob Henderson, Burdiehouse, Edinburgh (GM4DTJ): May 6, 2011
Recollections
3.
Tony Ivanov
Bo'ness, West Lothian, Scotland
Thank you to Tony Ivanov who wrote:
Aladdin's Cave
"I remember Millerís Wireless very well. In my 'teens I was very interested in electronics and used to build many devices.
I had a keen interest in radio communication and used buy army surplus radio equipment, when I could afford it, from Millerís.
From what I recall it wasnít that expensive at the time and the staff were always very helpful. This shop was an Aladdinís cave of electronic gear."
Tony Ivanov, Bo'ness, West Lothian, Scotland: May 6, 2011
Recollections
4.
Eric Gold
East London, England
Thank you to Eric Gold who replied:
Miller's Wireless
Miller's Wireless Shop
"It was great to read and see photos of Miller's wireless shop in Leith Walk. As Bob Henderson said, it was a blast from the past.
When I was at school, I went for a job at Miller's shop as an apprentice TV and wireless engineer, but no luck.
Mr Miller gave me a big speaker, like the voting vans and the police use to speak to large crowds, and said 'Take it home and fix it.' He said, 'If you come here, I'll give you a discount on what you buy.'
A few years later, when I was at sea, I went to Miller's shop and bought a flagship radio called a Pye Cambridge. It had every shortwave band possible and was a lovely radio, and Mr Miller kept his promise and knocked a few quid of it.
I'll never forget Mr Miller as he was a man with a good sense of humour"
Brown's Radio Shop
"As Bob said about Browns radio in George the IV Bridge, I'd would love a photo of that too, as I went there many times."
Photograph
Thank you to Paul Sutherland, Glasgow, Scotland, for letting me see a photo of Browns radio shop at George IV Bridge, taken from the Scran web site.
I like the transport in this photo. It captures the atmosphere of the period well.
I'm not able to add a copy of this photo to the EdinPhoto web site for copyright reasons. However, I've passed on Eric Gold's email address to Paul, so that Paul can let Eric see this photo.
Peter Stubbs, Edinburgh: 23 February 2019
Hi-Fi Shop: Nicolson Square
"In Nicholson Square there was a Hi Fi shop where I bought my first record player when I docked from New York with all my jazz albums I think ithe record player was called Hendersonís but if anyone has the right name it would be a help.
I'm 98% sure that the shop was called Maitland Radio."
Radio Shop: Home Street
"There was another radio shop in Home Street, Tollcross. His prices were too expensive but he had great radios - Marconi etc."
Bob Henderson, Burdiehouse, Edinburgh (GM4DTJ): May 9+17, 2011
Recollections
5.
Rod Wallace
Kincardine on Forth, Fife, Scotland
Thank you to Rod Wallace for writing again with more details. Rod wrote:
Miller's Wireless Shop
"Thanks for putting up the Millers photos and text. I'm glad they seem to be of interest to folk."
Maitland Radio
"I can confirm for Bob Henderson's information that the shop in Nicolson Sq. was Maitland Radio. They had other branches in the city too, and a workshop at the foot of Newington Place."
James Robb
"The shop that Bob mentions at Tollcross was probably James Robb (which may still exist). Incidentally, Mr Robb was a great pal of Mr Miller, and also a car enthusiast, if I remember correctly. He had a Wartburg Knight, a 3 cylinder East German 2-stroke, which was highly unusual."
Marchmont Radio
"People might also remember Marchmont Radio, a small shop on Beaufort Rd run by a disabled chap whose name escapes me. He had also worked for Mr Miller at one point, but later set up on his own."
Scrap Sets
"My pal Alastair and I used to go round a lot of these premises in the 1960s asking for scrap sets to dismantle. It's a tribute to the various proprietors that I cannot remember ever being told to get lost - even if they had nothing, they would tell us to come back again another day."
History
"I really appreciate your website; it's helping to keep alive social reference points and little scraps of history that would otherwise vanish."
Rod Wallace, Kincardine on Forth, Fife, Scotland: June 11, 2011
Recollections
6.
John Smith
Paisley, Renfrewshire, Scotland
Thank you to John Smith for responding to Rod Wallace's comments in 'Recollections 5' above.
John wrote:
Murray's Stores
"Rod Wallace mentioned Maitland Radio
Here is an invoice for the purchase of an Ekco A160 wireless in 1954. I imagine the sum of £27, 6 shillings was a fair bit of money then - more than a week's wages, I'd have thought.
My Grandfather bought this wireless for the family."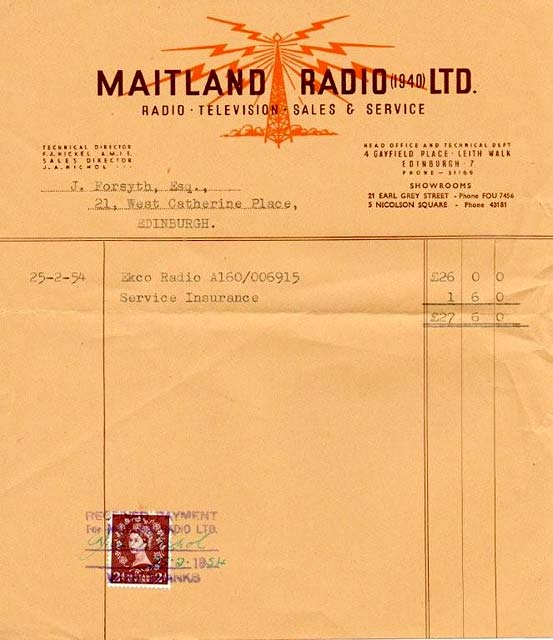 © Reproduced with acknowledgement to John Smith, Paisley, Renfrewshire, Scotland
John Smith, Paisley, Renfrewshire, Scotland: July 1, 2011
Recollections
7.
Gordon S Aitchison
Edinburgh
Thank you to Gordon Aitchison who wrote:
Murray's Stores
"I was having a wee look at Rod Wallace's Recollections 1 above and enjoyed seeing the photo of Murray's Stores who sold linoleum, but strictly speaking it is not the corner of Brunswick Place and Elm Row but Brunswick Place and Brunswick Street."
Vittoria's Restaurant
"I was brought up in 74 Elm Row for the first 23 years of my life until I got married and many a time I was in Vittoria's but more so when it was Crolla's before.
I think it was his nephew who bought it from him. I remember also that my mum said he got his shop window broken during the second world war as he was Italian and he had to put a notice in the window telling everyone that he fought in the first world war as a British soldier.
After that, he was left alone. He stayed across the road in McDonald Road, as I recall."
Gordon S Aitchison, Corstorphine, Edinburgh: 27 January 2014
Recollections
8.
Gavin Maclean
Thank you to Gavin Maclean for sending me a message about about Millers Wireless shop.
Gavin wrote:
My Grandfather
"John Miller was my grandfather. He had two daughters, Isobel and Anna, and Anna was my mum. I was born in 1966 and I can just remember his shop in Leith Street that was demolished for St James Centre.
It is fascinating to see all the lovely memories people have of him. He certainly was a 'polymath', and the house near Musselburgh (at Old Craighall) was stuffed with amazing oddities, including a collection of murder weapons that he had bought at a police auction. my brother and I loved playing there!
If anyone would like more info, I can try and help."
Gavin Maclean: 15 February 2019
Reply to Gavin?
If you'd like to contact Gavin, please email me to let me know, then I'll pass on his email address to you.
Peter Stubbs, Edinburgh: 21 February 2019