Dean Orphanage - 1840s
View looking over Dean Village in the valley of the Water of Leith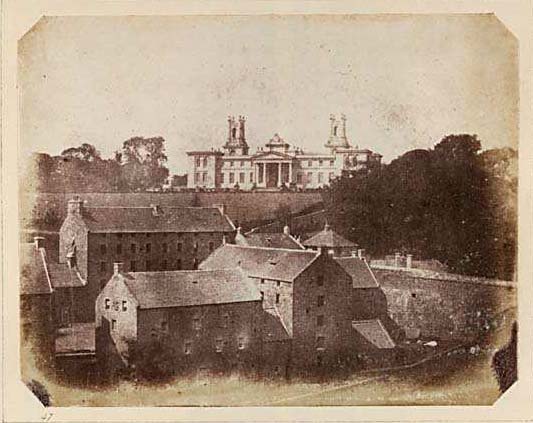 © Copyright: For permission to reproduce, please contact peter.stubbs@edinphoto.org.uk
Recollections
1.
Donald Campbell Veale
East Kent, England
Thank you to Donald Campbell Veale, formerly of Edinburgh, now living in East Kent for adding the following comment to the EdinPhoto Guestbook in January 2004:
The Last to Leave
"I was the last person to leave the Dean when it closed to Orphans. Mr Barnes the Governor saw me out with a couple of blankets under my arm. I went of to stay with my married sister for a short while.
I have made contact with one other ex-inmate in Oz. Are there any more out there?"
Reply to Donald?
If you'd like to send a reply to Donald, please email me, then I'll pass on your reply to him.
Thank you.
Peter Stubbs: January 2004
Recollections
2.
Susan Doran
Ireland
Susan asked this question in the EdinPhoto guestbook:
Which School?
"Would anyone know what school would children aged around 4 or 5 would have attended if they were in the dean orphanage around 1962/63? Any information would be most welcome."
SusanDoran, Ireland: Message and email address posted in EdinPhoto guest book: August 26, 2010
Reply to Susan Doran?
If you'd like to send a reply to Susan, please email me, then I'll pass on your reply to her.
Thank you.
Peter Stubbs: September 1, 2010
Recollections
2.
Reply
1.
Irene Shiell
North Berwick, East Lothian, Scotland
Thank you to Irene Shiell for replying to the question asked by Susan Doran, above.
Irene wrote:
Children from Dean Orphanage
Which School did they attend?
"From 1964 to 1967, I taught at The Flora Stevenson Primary School in the Infant Department, and am sure that children from the Dean Orphanage were amongst the pupils.
I was also Brown Owl of the Bristo Baptist Church Pack in Queensferry Road at that time. A number of my Brownies came from the Orphanage, and as a result, I was invited to a Christmas Party at the Dean in 1996.
Mr. Scobie, Headmaster of Flora's, also attended, I presume because they were his pupils.
I hope this information helps."
Irene Shiell, North Berwick, East Lothian, Scotland: May 31, 2013
Recollections
3.
Lois Pack (nee Cessford)
Bournemouth, Dorset, England
Thank you to Lois Pack who wrote:
Recent Visit
"I recently went to visit the Dean Orphanage. My grandmother, Mary Powell, who was living in Tay Street when I was born,
Tay Street
spent some time there as a child with her elder brother Alex who was killed in the Fist World War.
Dean Orphanage
For Children
Aged 5 to 15
My grandmother and her older brother were at the orphanage for at least five years, and were then joined by their sister. who had to be five before the orphanage would take her in.
I believe that children could only stay at the orphanage until they were fifteen. They were then put into service or joined the forces.
My great grandmother was widowed and I guess had no way of supporting my grandmother and her other children until she remarried.
I found the orphanage to be very iinteresting. The attic, which looked as though it had been a dorm as one time, has a fireplace at either end. I could just imagine the children going up and down the stairs to bed."
Lois Pack (nee Cessford), Bournemouth, Dorset, England: November 11, 2010
Recollections
4.
David Hutchison
Thank you to David Hutchison for replying to Susan's comments (2 above).
David wrote:
Which School?
"I'm not sure if this well help Susan, but children from the Dean Orphanage did go to the Dean Primary (in the Dean Village).
I went to the Dean Village primary until it closed. That would have been around 1960/61, so this may not 'fit' Susan's 1962/63, but I remember children from Dean Orphanage in my class."
David Hutchison: November 21, 2010
Recollections
5.
Bill Malcolm
Edinburgh
Willie Malcolm wrote:
Pre-War
"As a boy of 10, I was in Dean Orphanage in June, 1937. We were the Malcolm family:
- Mary, 12
- Willie, 10
- Sandy, 8
- John, 6
We were there until the war started 1939, and were then evacuated to East Calder.
We all went to Dean Village school and Mary later went to Flora Stevenson's Secondary School.
Mr Barnes was 'The Gov' and Miss Beattie was Matron at the Orphanage. Mr. Barnes lost his wife and later married Miss Beattie."
1945
"Our family never attended to the Orphanage after the war, but I did play snooker, as a former pupil, with Mr Barnes and some others in the Billiard Room before being called-up for Army Service in 1945."
Billl Malcolm, Edinburgh: February 26, 2011
Recollections
6.
Stephen McMahon
Stephen McMahon wrote:
Which School?
"I've been reading the various recollections above. I, too, have memories related to the place, but from a very different angle.
My family attended the services at Belford Church when it was still a church. (I was christened there, as were my brother and two sisters.)
I recall the children from the orphanage being brought there for Sunday School. They were a noisy bunch, but good fun to be with, especially at the Christmas parties we used to have at the church."
Stephen McMahon, July 31, 2011
Recollections
7.
Douglas Turner
Edinburgh
Thank you to
Douglas wrote:
Dean Primary School
"I was born in Dean Village and attended the village primary school, Dean Primary. The children from Dean Orphanage also attended Dean Primary.
I think my year was probably the last year to complete primary as numbers were falling. The school shut around 1960 and the remaining children, my sister included, were transferred to Flora Stevenson's in Comely Bank.
Douglas added:
Orphanage Children
"As a footnote, don't believe what was written by the author, Peter May, in his novel 'Lewis Man', about how the village children mocked the orphanage children
It was never a feature of our village community's upbringing and culture, which by the very nature of our roots was remarkably free of snobbery and prejudice.
Dean Village Reunion
"We recently held a reunion of villagers, and plan to hold another in November 2013 in the Ellersley Hotel, Edinburgh.
If any of your readers with a village or orphanage connection would like to come along to meet us 'ex-Dean Villagers', they would be welcome.
Douglas Turner, Edinburgh: Augus 17, 2013
Dean Village Reunion
If you'd like to contact Douglas, possibly concerning his proposed Reunion, in November 2013, please email me, then I'll pass on his email address to you.
Peter Stubbs, Edinburgh: August 16, 2013