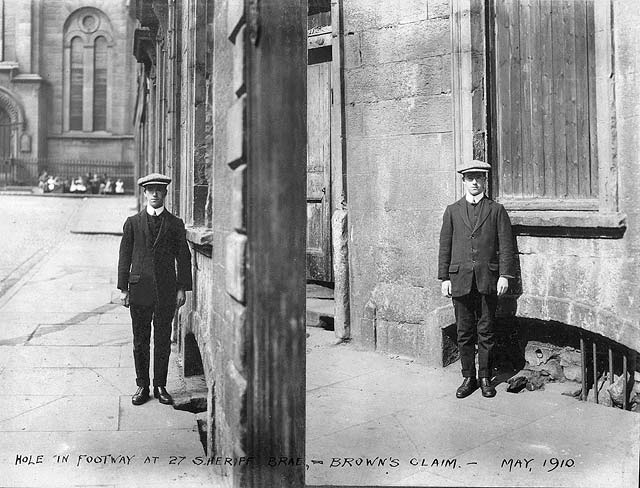 © Reproduced with acknowledgement to Archie Foley, Joppa, Edinburgh
Sheriff Brae
Location
These two photos are from an old photograph album, with a caption written, presumably for Leith Town Council, written across both of them.
The caption reads:
'Hole in footway at 27 Sheriff Brae - Brown's Claim - May 1910'
It looks as if Mr Brown might have been one of the first people to make a claim against the Council relating to a hole in the pavement. I wonder if he won his case!
Today
Today, all the buildings in this photo have been demolished and replaced by new housing, except for the church in the background at 1 Sheriff Brae which is still standing and has now become a Guru Nanak Gurdwara (Sikh Temple).
A Gurdwara is a gateway to the Guru: [Wikipedia]
Acknowledgement: Archie Foley, Joppa, Edinburgh: January 5, 2010
The photos above are from a series of photos posted onto boards in an old album that Archie Foley acquired a few years ago. Archie believes that these are likely to be official photos that probably once belonged to Leith City Council.