Piersfield Grove
At Piershill: a road leading north from Piersfield Terrace to the Railway Line
Bryan Gourlay and his cousin, Jimmy, holding Rusty - 1948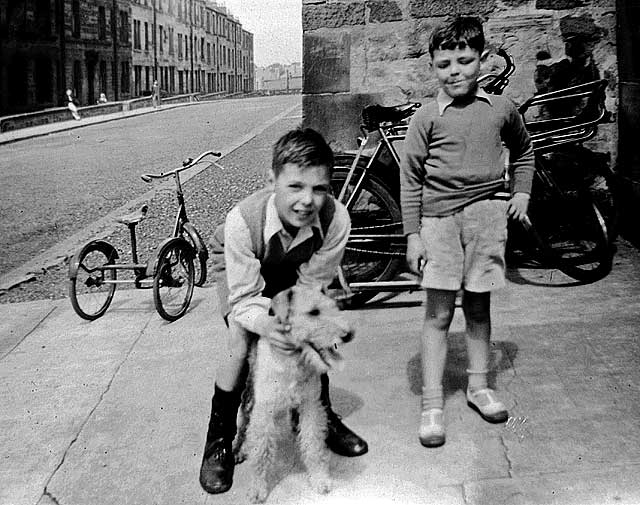 © Reproduced with acknowledgement to Bryan Gourlay, Biggar, Lanarkshire, Scotland
Recollections
Piersfield Grove
Thank you to Bryan Gourlay, Biggar, Lanarkshire, Scotland, who wrote
"This photo shows me and my cousin, Jimmy, holding my dog, Rusty. The photo was taken in 1948 The big difference from today is the complete absence of parked cars.
I lived about 15 yards to the right of the photo. We lived in the back room of the shop my parents owned at 119 Piersfield Terrace for two or three years. We didnít have the luxury of a bath Ė just one big room with a toilet in a cupboard at the back, with iron bars on the one window.
It was a quite noisy living on the main road (Piersfield Terrace) as we were only a few feet away from the busy tramline to and from Portobello and Musselburgh."
Bryan added:
"I canít remember much more about Piersfield Grove, other than we spent quite a lot of time looking over the wall at the very end, watching the big trains going by on the main Edinburgh-London line
My trusty Triang trike is in the background. After a visit to the Speedway at Meadowbank to see Edinburgh Monarchs, I was soon tearing along the pavements trying hard to emulate Jack Young who was one of Britainís top riders of the day."
Bryan Gourlay, Biggar, Lanarkshire, Scotland: October 11, 2009