Newhaven Road (west side, between Stanley Road and the old railway line) - 2006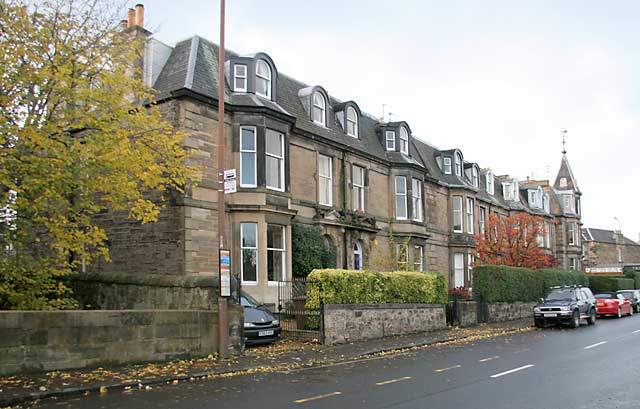 © Copyright: Peter Stubbs Photograph taken 11 November 2006
Newhaven Road
Devlin Family
Newhaven Road is one of the streets of Trinity, Newhaven and Leith that I photographed in connection with members of the Devlin family, trawler owners who operated from Granton Harbour. I intend to add more details about the Devlin family and their business to this web site later.
The Devlin family's connection was with No 203 Newhaven Road, the building in the foreground behind the bus stop
Whale Brae
Newhaven Road leads to the right out of this picture, then down the hill, formerly known as Whale Brae to the old village of Newhaven beside the Firth of Forth.
Whale Brae was so named, I have been told, "Because some fool tried to drag a whale up it".
The old Railway Line
This photograph was taken, standing on the bridge over the old Caledonian Railway line from Princes Street station to Leith North, via Craigleith, East Pilton, Granton Road and Newhaven.
The railway line has now been lifted and the route is now used by walkers and cyclists.