Railway Arches
Manderston Street
near the foot of Leith Walk, and
Gordon Street
at the east end of Manderston Street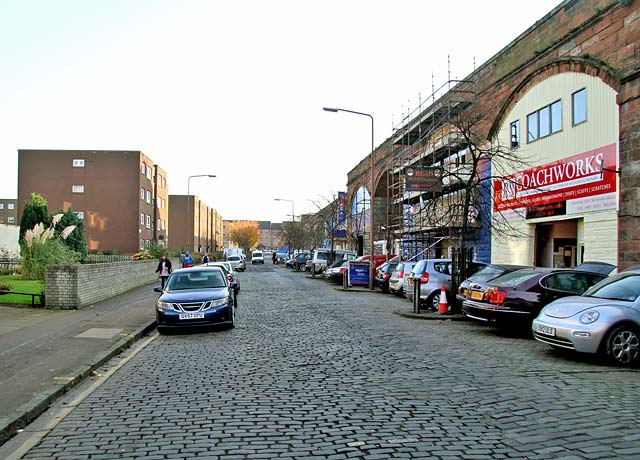 © Copyright: Peter Stubbs - please contact peter.stubbs@edinphoto.org.uk Photograph taken November 16, 2011
Manderston Street
Leith
Railway Arches
This view looks to the east along Manderston Street, close to the foot of Leith Walk. The photo was taken from Manderston Court at the west end of the street.
The arches on the right supported the Caledonian Railway line just to the east of the point where it crossed over a bridge across Leith Walk. passed high over Leith Walk
Heading to the left along this line, it led around Leith Links then looped back to South Leith Goods Station. To the right, it went through Bonnington to Newhaven Goods Station.
The arches are now used by a variety of businesses, mostly motor trades.
I visited Manderston Street after receiving an email from Michelle Parkins, Ipswich, Sussex, England who told me that in 1919 her grandfather, Alfred Garnham was a seaman working in Leith and lodging at 13 Manderston Street, South Leith.
I went to see if the buildings in which he lodged were still standing, but found that they have been demolished. No 13 would have been on the north side of Manderston Street. That's the left-hand side in this photo, where there is now just new housing and open land.
Bingo Hall
Leith Capitol Theatre and Cinema at 24 Manderston Street was the largest cinema in Edinburgh, seating 2,300, when it opened in 1928. The cinema remained open until 1961. It has now become a Mecca Bingo Hall.
The Mecca sign can be seen in the centre of this photo.
Recollections
1.
Yvonne Cain
Sydney, New South Wales, Australia
Thank you to Yvonne Cain, who remembers Manderston Street and wrote:
Madeline Hair Salon
"I used to work in a hairdresser in Manderson street. It was called Madeline Hair Salon. We had to go down the close opposed the wash house to go to the toilet - a very dark place!
Chip Shop
I remember that there used to be a chip shop there as well, but I'm not sure what number that was."
Yvonne Cain, Sydney, New South Wales, Australia: November 25, 2011
Recollections
2.
Forbes Wilson
near Guildford, Surrey, England
Thank you to Forbes Wilson, another contributor who remembers the darkness around that part of Leith.
Forbes wrote:
Streets
"I remember Manderston Street as a small boy, when visiting my grandparents' in Thorntree Street.
I remember the housing on the left hand side referred to by Michelle Parkins. If my memory serves me correctly, as you walked along Manderston Street from Leith Walk there was a road on the left hand side called Glover Street and at the end of Glover Street there was an enclosed archway for people to access Leith Walk either via Crown Street or Crown Place – all very dark for a small boy."
Ice Creams
"Further along Manderston Street was Gordon Street, and on the east-side corner of Gordon Street and Halmyre Street 'T' junction there was an ice cream wholesaler.
I can't remember the name (perhaps one of your readers can assist) but I do remember that my grandfather would buy me ice cream there which was kept in freezers underneath the shop floor.
With ice-cream cone in hand, we'd then set of for a visit to Leith Docks."
Forbes Wilson, near Guildford, Surrey, England: 26 November 2011
Recollections
3.
Richard Thornton
near Guildford, Surrey, England
Thank you to Richard Thornton, who used to live at 5 Gordon Street, Leith, for replying to the comment from Yvonne Cain in Recollections 2 above, about the ice cream warehouse that used to be in Manderston Street.
Richard wrote:
Sammy's
Ice Creams
"The Ice cream warehouse in Manderston Street was actually a small wholesaler who supplied ice cream vans. It was called 'Sammy's', after the name of the owner who was Italian and a lovely man with a number of sons.
The sons all worked at 'Sammy's' at some time while growing up. (Enzo and Steven are two names that come to mind.)
Living in Gordon Street, it was a great perk having 'Sammy's' right on our doorstep, and naturally we got to know Sammy and his sons very well."
Gordon St
Railway Arches
"The railway arches in Gordon Street were always busy, being used as garages, storages, car parking (not public), bonded warehouse. (I'm not sure about this. It seemed that one of them, down the Manderston Street end, was certainly storing barrels.)
They always helped to keep the street busy and the kids all had great fun using them - for various games, or simply trying to climb the walls and 'dreeping' down them."
Cinema / Bingo
"Another perk of living in Gordon Street was the cinema, but, this was dependant on whether or not you could afford to go. However, I do have some memories of a few Saturday morning matinees there.
In fact, my mother managed to get a job there as an 'usher' for a while, and still worked there when it changed to become a Bingo Hall.
She also worked in the chip shop mentioned by Yvonne Cain, where our Friday night treat was 'chips and better bits'."
Richard Thornton, Fareham, Hampshire, England: May 4, 2012
Recollections
4.
Heather Dewar (née White)
Clermiston, Edinburgh
Heather Dewar (née White) wrote:
5 Manderston Street
Home
"I lived at No.5 Manderson Street from 1969-72, when I was about 5 years old. It was an old tenement with outside toilet. We rented the tenement from an Italian couple, Carmella and Joseppi.
Shop
"There was an Ice Cream shop next to us. It was run by an Italian couple, Gloria and Aldo. Our family was quite friendly with them, and they were really nice to me as a kid. My Mum used to work in their shop."
Who else lived there?
"There was a girl called Florence who lived in the stair, and a wee boy called Charles on a red scooter. It would be great to hear from anyone who lived there."
Heather Dewar (née White), Clermiston, Edinburgh: August 11, 2012
Reply to Heather?
If you'd like to send a reply to Heather, please email me, then I'll pass on your message to her. Thank you.
Peter Stubbs, Edinburgh: August 11, 2012