View from
Edinburgh Castle
Looking down on The Grassmarket and
across to Arthur's Seat in Holyrood Park
View from Edinburgh Castle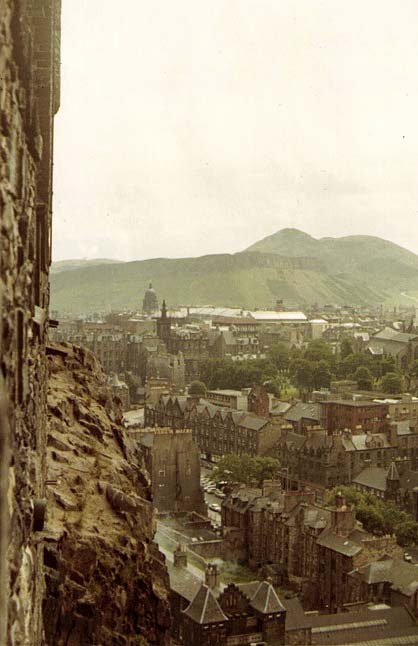 © Copyright: For permission to reproduce, please contact peter.stubbs@edinphoto.org.uk
View from Edinburgh Castle
This photo looks to the east from Edinburgh Castle, over the Grassmarket and out towards Arthur's Seat in Holyrood Park.
Thank you to Al Lorentzen who wrote:
The Prisoners' Walk
"I had a friend, Mr Clark, who was a caretaker at Edinburgh Castle. He took me down into the castle vaults and into the area that was used to hold French Prisoners in the mid-late 1700's. I don't think this area was open to the general public.
I took this shot in 1970 from what he called the prisoners' walk. I thought it might be of interest as it's taken from a different perspective than one usually see's from the castle."
Al Lorentzen, Inverness, Illinois, USA: October 21, 2010