St Paul's
United Free Church
St Leonard's, Edinburgh
The Organ - c.1900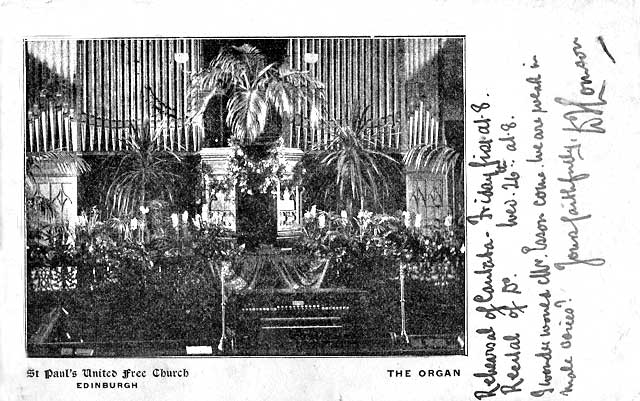 © Reproduced with acknowledgement to William Mearns, Church Manager, Mayfield Salisbury Parish Church, Edinburgh: Aug 11, 2009
St Paul's United Free Church
Interior of the Church
Thank you to William Mearns, Edinburgh for allowing me to reproduce the photograph above of the organ at St Paul's United Free Church at St Leonard's, Edinburgh.
This card comes from an unidentified publisher. The postage stamp has been removed, so the date of sending is not known. However, it has an undivided back (i.e. Only the address is to be written on the back. The message is to be written on the front.) So the card will have been published in 1902 or earlier.
Postcard
Address and Message
The address written on the back of the card is short:
"Miss Esson,
10 Parkside Terrace"
The message written on the front of the card reads:
"Rehearsal for Cantata - Friday first at 8
Recital of Do. - Wednesday 26 at 8
I wonder would Mr Esson come. We are weak in male voices?"
PSA Brotherhood
Here us a book label from inside a book, awarded as a prize at St Leonard's PSA Brotherhood, St Paul's United Free Church, in 1909