John Butler
The thumbnail images above are taken from the web site:
John Butler's Landscape Photography
John's web site, includes many photographs taken on the 'North of Scotland Way', and other long distance walks which, taken together, provide a continuous route from Land's End in England to John o' Groats in Scotland, a total distance of 1,392 miles.
The 'North of Scotland Way' route passes Altnabreac Station.
.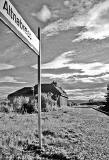 ©