David Forrest and Family
Owner-operator of
Grocery Shop
1 Waverley Place, Abbeyhill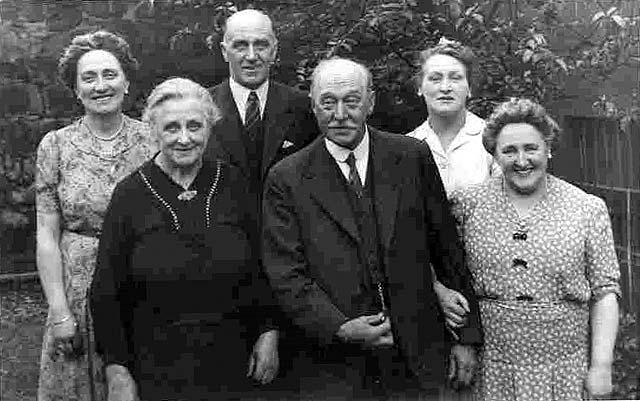 © Reproduced with acknowledgement to Sandra Cochrane, Consecon (née Johnson), Consecon, Ontario, Canada
Christmas Party - 1951
Thank you to Dorothy Addison for allowing me to reproduce this photograph of her grandparents and family.
Dorothy wrote:
Grandparents
"Here is a photo of my grandmother and grandfather in their garden at 1 Waverley Place. The photo was taken on thier 60th Wedding Anniversary.
Their children, William, May, Helen and Jean are also in the photo. Helen is my mother. She is on the right in the back row.
Grocery Shop
"My grandfather was the owner-operator of the grocery shop on the main street at the top of Waverley Place, opposite the Abbey Church in Abbeyhill Edinburgh.
Grandfather seemed to work non stop and did not retire until he was in his 70s. His shop was a licenced grocer. As you walked into the store, all down the right hand side, almost up to the ceiling there were bottles of alcohol, I believe. I remember him climbing up a ladder to secure what the customer wanted.
His big black cat was a permanent fixture on the counter for all the customers to pet. The cat was left in the store at night, in the basement, to do its duty as mouse catcher."
Dorothy Addison (née Jenkins), Tsawwassen, British Columbia, Canada: November 28, 2011
More Recollections
Please click here to read more recollections, of Abbeyhill, including more comments by Dorothy Addison about her grandfather's grocery shop at Abbeyhill.