Edinburgh Fire Brigade
Fire Engine
Merryweather
Fire Engine - 1906 Merryweather Fire King
When and Where?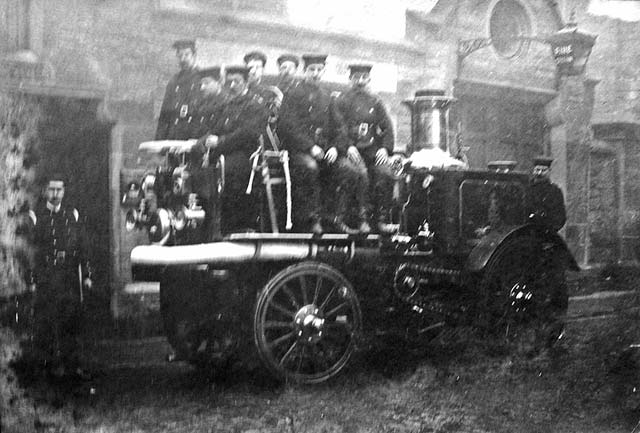 © Reproduced with acknowledgement to George Haggarty, National Museums of Scotland, Edinburgh
Fire Engine
Thank you to George Haggarty for allowing me to reproduce this old photo.
George wrote:
Questions
"Here is an image that I took from an old photograph of an Edinburgh fire engine. Can anybody give me some feedback. e.g. approximate date?"
Reply
1.
Peter Stubbs
Edinburgh
This photograph appears to have been taken outside one of the Edinburgh fire stations. I don't know when it would have been taken.
The vehicle looks to be the same as this 1906 Merryweather Fire King, photographed outside Braid Place Fire Station, except that the vehicle in the photograph above appears to have acquired a mudguard for its rear wheel.
Here is another photograph of the 1906 Merryweather Fire King, this one photographed passing the Royal Infirmary in Lauriston Place (complete with a mudguard for the rear wheel!)
Peter Stubbs, Edinburgh: May 12, 2011
Reply
2.
Bob Henderson
Burdiehouse, Edinburgh: May 13, 2011
Thank you to Bob Henderson who wrote:
West Port
"This looks to me very like what I have always thought of as Edinburgh's first fire station in the West Port."
Bob Henderson, Burdiehouse, Edinburgh: May 13, 2011
Reply
3.
Ian Scott
Hazlemere, Buckinghamshire, England
Thank you to Ian Scott who wrote:
Fire King
"Thanks for drawing my attention to this photo. It's a new one to me. Yes, the fire station is Braid Place, and the date would have been anywhere between 1906 and 1915 when the station closed.
This Fire King shown is the 1906 one, Reg No S612. It was either scrapped or given in part-exchange for a new pump in 1915-16. Rear mudwings were added to both Fire Kings.
This Fire King would have attended the Lafayette fire at the Empire Theatre in 1911."
Ian Scott, Hazlemere, Buckinghamshire, England: May 14, 2011