Tynecastle High School
The Old School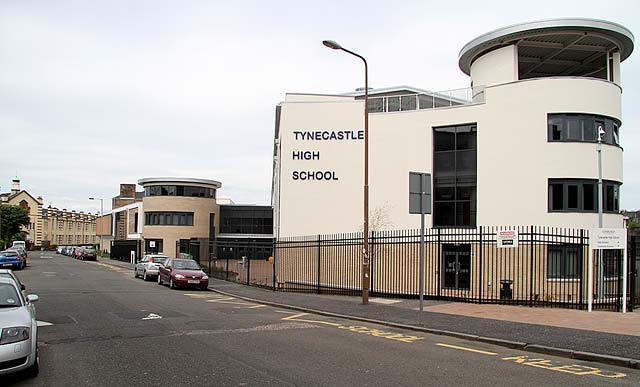 © Copyright: Peter Stubbs Photograph taken June 15, 2010
Tynecastle Secondary School
Old School
The old Tynecastle High School is a B-listed building. It opened in 1912.
In April 2007, Edinburgh Council approved the sale of the school and nearby nursery to Heart of Midlothian Football Club. It was expected that the school would be demolished to allow new building by the football club to proceed.
However, in May 2007, a Liberal Democrats / Scottish National Party coalition took control of Edinburgh City Council and vowed to oppose any plans to demolish the old school, a B-listed building.
New School
Edinburgh Council's, in April 2007*** gave approval for a new Tynecastle High School to be built in McLeod Street in McLeod Street, close to the old school.
The school has now been built. It opened in January 2010.
*** But see 'Reply 1' below.
Old School - Sepia Photo
Please click on the thumbnail image below to convert the photo at the top of this page to sepia.
Scienne
Reply
1.
Donald Wilson
Edinburgh
I had based my comments above on reports that I had read in the Edinburgh Evening News. However, Donald Wilson, Labour Councillor for Sighthill Gorgie ward wrote:
Political Background
"The photo is good but the commentary is a bit politically misleading! The approval for the new school was given by the previous Labour Administration before the Lib Dem / SNP coalition came to power. I remember it well because I was one who fought hard for it for years.
The Lib Dems opposed the new school for Tynecastle on at least two separate occasions at the Full Council. It is ironic therefore to give the impression that the new school was anything to do with them. We had to make sure it was in tablets of stone before they came in so that they could not stop it!
' B Listed' Building
The old school building was nothing to do with it as this was part of the new stadium plans, rather than the relocation of the school which was dependent solely on the relocation of the Council roads depot.
Overturning the B listing on the old school was always clearly understood to be entirely a matter for Hearts. This would be a matter for Planning and is not within the gift of the Administration."
Donald Wilson, Edinburgh, Labour Councillor for Sighthill Gorgie: December 17, 2010