St Stephen's Church
and
St Vincent Bar
Photograph taken with a Pinhole Camera - April 2007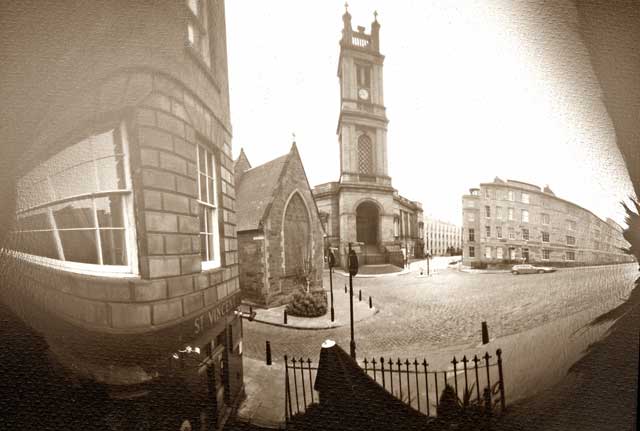 © Copyright: Peter Stubbs - please contact peter.stubbs@edinphoto.org.uk Photograph taken 10.40am on April 29, 2007
St Stephen's Church and St Vincent Bar
Location
This photo was taken, looking to the north towards St Stephen's church at the foot of St Vincent Street.
St Vincent Street is close to 68 Great King Street, where Edinburgh Photographic Society holds its meetings. EPS members have often moved on to the St Vincent Bar after the meetings and have held exhibitions of their prints around the walls of the St Vincent Bar.
Pinhole Camera
The photograph above was taken using a home made pinhole camera - a cardboard tube, 125mm diameter with pinhole 0.55mm, f229, loaded with Kentmere photographic paper 16 x 12 ins. The exposure was 60 seconds.