Rutherford's Lounge Bar
converted to become an extension of
Ciao Roma Restaurant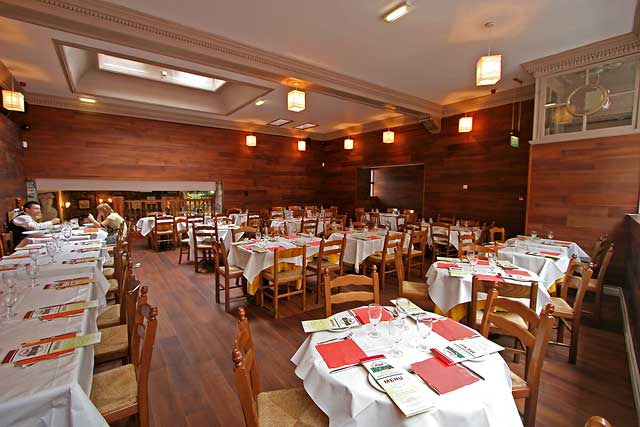 © Peter Stubbs: Please contact peter.stubbs@edinphoto.org.uk Photograph taken: August 15, 2008
Ciao Roma Restaurant
Café Open
After being refurbished for several months, the conversion of Rutherford's Lounge Bar to become an extension of Ciao Roma Restaurant is now complete.
The extension to the restaurant opened about a week before I took this photo on August 14, 2008. The entrance to the restaurant is from 'round the corner' at 64 South Bridge, rather than from Drummond Street.
Café Open
Franco Martone, owner Ciao Roma, tells me that he plans to decorated his restaurant in a 'Treasure Island' theme in late-September 2008. Robert Louis Stevenson, author of 'Treasure Island', used to frequent Rutherford's Bar
Peter Stubbs: August 23, 2008
UPDATE
When I passed Rutherford's today:
Restoration
- I saw that restoration of the exterior of the building is continuing. It's now looking good.
Treasure Island Theme
- I learnt that the 'Treasure Island' theme, mentioned above has not yet been added to the Café - maybe some time in November. The props are still on their way from Italy to Edinburgh.
Peter Stubbs: October 27, 2008
Links to other pages

Rutherford's Lounge Bar / Ciao Roma Restaurant